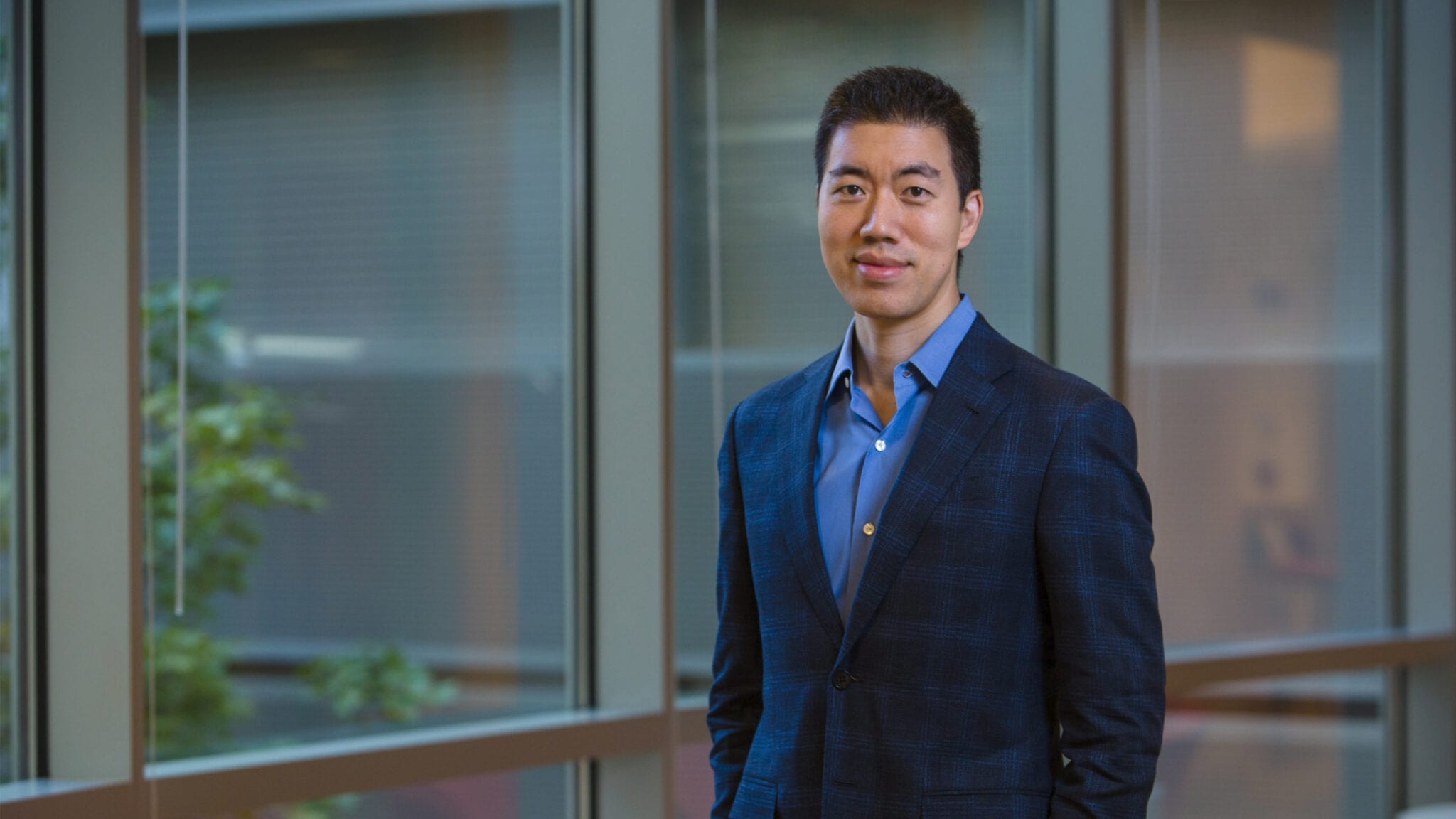 David Liu, Broad Institute
Re­ly­ing on an ul­tra-rare vari­ant, David Liu un­veils a new ap­proach to edit­ing sick­le cell
There are now at least five dif­fer­ent ap­proach­es to cur­ing sick­le cell in or near­ing hu­man test­ing from at least eight dif­fer­ent com­pa­nies or aca­d­e­m­ic cen­ters. But re­searchers have not stopped look­ing for im­prove­ments.
David Liu, the co-in­ven­tor of base edit­ing and co-founder of Beam Ther­a­peu­tics, un­veiled in Na­ture Tues­day a new ap­proach for us­ing gene edit­ing to turn pa­tients' sick­ling he­mo­glo­bin in­to a healthy form of the pro­tein. If it plays out in hu­mans, ex­perts say, the strat­e­gy could of­fer a more di­rect and po­ten­tial­ly safer way of treat­ing the de­bil­i­tat­ing ge­net­ic dis­ease.
"It's a step for­ward," said Ste­fano Riv­el­la, who works on gene-based cures for blood dis­or­ders at Chil­dren's Hos­pi­tal of Philadel­phia and was not in­volved in the study. "It's very promis­ing and def­i­nite­ly some­thing nov­el com­pared to the oth­er tech­nolo­gies."
Over the last half-decade, com­pa­nies have large­ly re­lied on two gene-based strate­gies for treat­ing sick­le cell, nei­ther of which ac­tu­al­ly deal with the mu­ta­tion di­rect­ly. Blue­bird bio us­es gene ther­a­py to give pa­tients a func­tion­ing, lab-syn­the­sized copy of the gene. And the var­i­ous CRISPR com­pa­nies — CRISPR Ther­a­peu­tics, Ed­i­tas and In­tel­lia — all use a cre­ative workaround: They shat­ter a gene that stops peo­ple from mak­ing fe­tal he­mo­glo­bin, the form of the pro­tein that most peo­ple stop mak­ing in in­fan­cy. In sick­le cell pa­tients who re­ceive the treat­ment, the fe­tal he­mo­glo­bin turns back on and be­gins fer­ry­ing oxy­gen around the body.
Both ap­proach­es have yield­ed func­tion­al cures in the clin­ic, clear­ing dozens of pa­tients of the dev­as­tat­ing pain crises that are the hall­mark of the dis­ease. But they al­so come with risks that, while not yet seen in hu­mans, have been well es­tab­lished in the lab.
To de­liv­er its gene, blue­bird re­lies on lentivirus, a re-en­gi­neered form of HIV that in­te­grates ran­dom­ly in­to a pa­tients' DNA and could in­ter­fere with genes that sup­press tu­mors. CRISPR breaks the DNA in half, rais­ing sim­i­lar con­cerns about how the frac­ture could re­ver­ber­ate across the genome.
"I'm def­i­nite­ly con­cerned," said Hans-Pe­ter Kiem, a gene edit­ing re­searcher at Fred Hutch. "It's a the­o­ret­i­cal risk, but I'm def­i­nite­ly con­cerned."
De­spite clin­i­cal suc­cess, those con­cerns have on­ly grown in the last cou­ple of years, as re­searchers spot­light­ed new ways CRISPR cuts could the­o­ret­i­cal­ly man­gle the genome: re­ar­rang­ing chro­mo­somes, for ex­am­ple, or in­ter­act­ing in pre­vi­ous­ly un­fore­seen ways with par­tic­u­lar ge­net­ic vari­ants com­mon in peo­ple with African an­ces­try.
"We have not seen any­thing yet (in the clin­ic)," said Fy­o­dor Urnov, a gene edit­ing re­searcher at UC-Berke­ley. "But this is the clas­sic ex­am­ple of where ab­sence of ev­i­dence is not ev­i­dence of ab­sence."
Liu and a post­doc, Greg New­by, tried to find a way to fix the mu­ta­tion more di­rect­ly, with­out break­ing any­thing. That's not a straight­for­ward task. Sick­le cell is caused by a change at a sin­gle base: a switch from A to T. Base edit­ing, the strat­e­gy Liu pi­o­neered in 2016, al­lows re­searchers to swap one base for an­oth­er with­out break­ing the dou­ble-he­lix, but it on­ly works for a frac­tion of com­bi­na­tions. T-A isn't one of them.
In­stead, Liu and New­by de­signed a base ed­i­tor that would turn the T in­to a C, mim­ic­k­ing an ul­tra-rare he­mo­glo­bin vari­ant first iden­ti­fied in Makas­sar, In­done­sia. De­spite the mu­ta­tion, peo­ple make func­tion­al he­mo­glo­bin and live healthy lives.
"It's sim­ply a sim­pler and more di­rect way," Liu said. They're "con­vert­ing a gene vari­ant that caus­es the dis­ease to one that we know ex­ists in peo­ple who are healthy."
Work­ing with Mitchell Weiss' lab at St. Jude, Liu and Win­ters used an elec­tric cur­rent to get ed­i­tor in­to stem cells from hu­man donors, suc­cess­ful­ly cor­rect­ing 80% of them. They did the same with mice — re­mov­ing, edit­ing and trans­plant­i­ng stem cells back in­to mice, where they per­sist­ed and were func­tion­al for 16 weeks. They then took stem cells from those mice and trans­plant­ed them in­to new mice — a way of prov­ing that the edit­ed cells had tru­ly sup­plant­ed them. Even the mice who had un­der­gone "sec­ondary trans­plan­ta­tion" pro­duced 70% edit­ed he­mo­glo­bin.
The ap­proach is high­ly sim­i­lar to one Beam Ther­a­peu­tics un­veiled in late April, when the com­pa­ny showed da­ta on edit­ing the Makas­sar mu­ta­tion in­to cell lines. Beam CSO Giuseppe Cia­ramel­la said they would take their own ap­proach in­to the clin­ic, but that Liu's pro­vid­ed a proof-of-con­cept in an­i­mals.
"It demon­strates that this Makas­sar pro­tein is like the nor­mal and func­tion­al­ly cures the dis­ease," he said.
Cia­ramel­la said Beam planned to de­vel­op both the Makas­sar ap­proach and their own base-edit­ed fe­tal he­mo­glo­bin ap­proach and, af­ter ear­ly stud­ies, de­cide which one to bring in­to a piv­otal tri­al. The fe­tal he­mo­glo­bin strat­e­gy, called Beam-101, should en­ter the clin­ic this year, he said, with the Makas­sar not far be­hind.
The hope is that the Makas­sar can pro­vide more ben­e­fits than just safe­ty. Cia­ramel­la not­ed that al­though fe­tal he­mo­glo­bin has been proven to ef­fec­tive­ly elim­i­nate pa­tients' pain crises, many of the dis­ease's worst ef­fects – in­clud­ing life ex­pectan­cy in the mid-40s — come not from crises, but from or­gan dam­age that builds up over time.
Pa­tients who re­ceive gene edit­ing ther­a­py to pro­duc­ing fe­tal he­mo­glo­bin con­tin­ue to al­so pro­duce sick­ling he­mo­glo­bin. It's pos­si­ble that elim­i­nat­ing sick­ling he­mo­glo­bin — or at least as much sick­ling he­mo­glo­bin as pos­si­ble — could fur­ther re­duce the risk of dam­age.
"The da­ta for el­e­vat­ing fe­tal he­mo­glo­bin look very im­pres­sive, but they're re­cent," said Urnov, who is al­so de­vel­op­ing a CRISPR-based strat­e­gy for di­rect­ly cor­rect­ing he­mo­glo­bin. "The gene ther­a­py da­ta look very im­pres­sive. They're al­so very re­cent."
Urnov added that com­pa­nies and the med­ical world had an oblig­a­tion to bring as many op­tions for­ward as pos­si­ble for sick­le cell, a dis­ease that pri­mar­i­ly af­fects African Amer­i­cans and where pa­tients have long been ig­nored by drug de­vel­op­ers and faced sys­temic dis­crim­i­na­tion when try­ing to seek treat­ment.
Liu's strat­e­gy, though, doesn't solve all the prob­lems with the first gen­er­a­tion of sick­le cell gene ther­a­pies. Riv­el­la not­ed that, while their strat­e­gy re­duces off-tar­get ed­its, it doesn't elim­i­nate them en­tire­ly.
It al­so doesn't get at the biggest risk that's al­ready shown it­self in hu­mans: The in­ten­sive con­di­tion­ing that pa­tients in every tri­al have to go through be­fore re­ceiv­ing their edit­ed cells. The chemother­a­py used, busul­fan, has been linked in the past to can­cers and ex­perts now sus­pect it may al­so have helped trig­ger the cas­es of leukemia and myelodys­plas­tic syn­drome blue­bird re­cent­ly saw in its sick­le cell tri­als.
Kiem said he could en­vi­sion us­ing Liu's strat­e­gy with the in-vi­vo ap­proach he is try­ing to de­vel­op, which would elim­i­nate the need for any kind of con­di­tion­ing. And oth­er com­pa­nies are try­ing to de­vel­op gen­tler al­ter­na­tives busul­fan. The ef­forts, though, re­main ear­ly stage.
"As long as peo­ple use busul­fan," Riv­el­la said. "It doesn't mat­ter if you use gene ad­di­tion, gene edit­ing, or base edit­ing. The prob­lem will be there."