Re­searchers de­vel­op a small-mol­e­cule 'sun­less tan' to guard against skin can­cer
Re­searchers have de­signed a small-mol­e­cule SIK in­hibitor ca­pa­ble of pen­e­trat­ing hu­man skin, which could lead the way to a 'sun­less tan' that has the po­ten­tial to re­duce the risk of skin can­cer. The mol­e­cule, de­vel­oped at Mass­a­chu­setts Gen­er­al Hos­pi­tal and the Dana-Far­ber Can­cer In­sti­tute, by­pass­es the de­fec­tive re­cep­tor that pre­vents many fair-skinned peo­ple from tan­ning and stim­u­lates melanin pro­duc­tion fur­ther down the line.
Ex­po­sure to ul­tra­vi­o­let light doesn't al­ways lead to tan­ning in fair-skinned in­di­vid­u­als be­cause many of them lack a func­tion­al melanocortin 1 re­cep­tor (MC1R). Re­searchers orig­i­nal­ly be­lieved this re­cep­tor and the hor­mone that stim­u­lates it—MC1R lig­and melanocyte stim­u­lat­ing hor­mone (MSH)—were nec­es­sary to pro­duce melanin in re­sponse to UV light ex­po­sure.
Pre­vi­ous re­search showed they could stim­u­late the pig­men­ta­tion in mice that didn't have a func­tion­al re­cep­tor by ap­ply­ing forskolin, a cyclic AMP ag­o­nist. The mice pro­duced pig­ment with­out the func­tion­ing re­cep­tor, but this ear­li­er mol­e­cule wouldn't pen­e­trate thick­er hu­man skin to have the same ef­fect.
The team turned to SIK in­hibitors which, like forskolin, work on the same path­way fur­ther down the line than the Mc1R re­cep­tors. SIK in­hibitors were known to pro­duce the same out­come by en­hanc­ing ex­pres­sion of the MITF tran­scrip­tion fac­tor, which reg­u­lates ex­pres­sion of en­zymes that pro­mote biosyn­the­sis of melanin.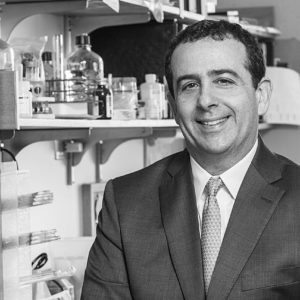 David Fish­er, MGH Can­cer Cen­ter
Once the team showed that the SIK in­hibitor had stim­u­lat­ed the path­way to pro­duce melanin in red-haired mice — who, like red-haired hu­mans, gen­er­al­ly don't tan — they worked with Nathaneal Gray, vice chair of re­search in pe­di­atric on­col­o­gy at Dana Far­ber, to find a small mol­e­cule SIK in­hibitor that was able to pen­e­trate hu­man skin. They rubbed the drug on­to skin sam­ples for eight days, and showed a grad­ual dark­en­ing of the skin. Af­ter they stopped, there was a grad­ual light­en­ing — just like a re­al tan.
If the mol­e­cule grad­u­ates in­to the clin­ic, it'll face long odds against an un­yield­ing late-stage fail­ure rate. Should it be­come a prod­uct, some con­sumers might find this mol­e­cule ap­peal­ing for cos­met­ic rea­sons, as it cre­ates a tan us­ing the body's nat­ur­al mech­a­nism for col­or­ing skin.
Ex­cept MGH re­searcher David Fish­er tells BBC News: "[Our] re­al goal is a nov­el strat­e­gy for pro­tect­ing skin from UV ra­di­a­tion and can­cer … dark pig­ment is as­so­ci­at­ed with a low­er risk of all forms of skin can­cer — that would be re­al­ly huge."