Pres­i­dent Trump names Scott Got­tlieb as the next FDA com­mis­sion­er. What now?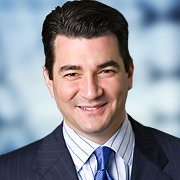 Scott Got­tlieb
Pres­i­dent Trump has named Scott Got­tlieb as the next FDA com­mis­sion­er, re­solv­ing an is­sue that has huge im­pli­ca­tions for the bio­phar­ma in­dus­try and drug de­vel­op­ment.
Got­tlieb's nom­i­na­tion will be wide­ly ap­plaud­ed by the bio­phar­ma in­dus­try, which will see the move as a com­mit­ment for con­tin­ued re­form with­out the kind of whole­sale dereg­u­la­tion that would scut­tle the agency's gold stan­dard for drug re­views.
"Thank God it's Got­tlieb," mes­saged Baird's Bri­an Sko­r­ney in his week­ly wrap-up.
As I re­port­ed two weeks ago, Got­tlieb has mapped out an ag­gres­sive re­form agen­da in an­tic­i­pa­tion of this ap­point­ment.
Ac­cord­ing to his state­ments as well as com­ments he's made to peo­ple fa­mil­iar with his think­ing on the FDA, Got­tlieb in­tends to shoot for the rapid ap­proval of com­plex gener­ics, ush­er­ing in a wave of less ex­pen­sive ri­vals to some of the biggest block­busters on the mar­ket. He's al­so like­ly to spur the FDA to fol­low the course laid out by agency can­cer czar Richard Paz­dur in speed­ing new ap­provals, pos­si­bly set­ting up a spe­cial unit aimed at or­phan drugs to has­ten OKs with small­er, bet­ter de­signed clin­i­cal tri­als.
Got­tlieb is like­ly to roll back rules re­lat­ed to pre-mar­ket de­vel­op­ment, most no­tice­ably the car­dio­vas­cu­lar out­comes stud­ies for some new meds. A new em­pha­sis on bio­mark­ers as a sur­ro­gate end­point along with an open em­brace of sim­u­la­tion and mod­el­ing could be next.
Oth­er po­ten­tial re­forms in­clude the pos­si­ble quick adop­tion of new de­vices that could be used to im­prove the kind of medtech Ap­ple, Ver­i­ly and oth­ers have been work­ing on.
Got­tlieb has al­so backed the pub­li­ca­tion of the FDA's com­plete re­sponse let­ters, de­tail­ing the rea­sons why the agency re­jects a drug. Over the years reg­u­la­tors have rou­tine­ly com­plained that many com­pa­nies have been less than hon­est in re­count­ing the FDA's po­si­tion on a drug. The FDA is cur­rent­ly re­strict­ed by law in its pub­lic dis­cus­sion about a new drug ap­proval.
The move could spell re­lief for Am­i­cus Ther­a­peu­tics $FOLD and CEO John Crow­ley, who per­son­al­ly lob­bied the pres­i­dent on the FDA's de­ci­sion to de­lay any fi­nal de­ci­sion on their drug for Fab­ry dis­ease so they could see the re­sults of a safe­ty study in 2019.
Left out in the move: Jim O'Neill. The close as­so­ciate of Pe­ter Thiel, O'Neill fa­mous­ly sug­gest­ed that drugs should be ap­proved based on safe­ty alone, let­ting con­sumers sort out what works. That left many fear­ing that Trump in­tend­ed to toss out the reg­u­la­to­ry frame­work for new drug ap­provals, rais­ing fears that his idea of com­pe­ti­tion would al­low de fac­to place­bos to com­pete for mar­ket share.
Trump has re­peat­ed­ly crit­i­cized bio­phar­ma for out­ra­geous­ly high drug prices, vow­ing to sim­pli­fy the drug de­vel­op­ment process as he al­so sought to dra­mat­i­cal­ly low­er the price of drugs. Got­tlieb will be ex­pect­ed to de­liv­er.
"Among the FDA com­mis­sion­er can­di­dates we've read about, Dr. Got­tlieb is well known to in­dus­try and has the req­ui­site ex­pe­ri­ence and tal­ent to re­form and stream­line the FDA ap­proval process," Hol­land & Knight's Michael Ga­ba told me re­cent­ly.
One of the rea­sons that Got­tlieb is well known in the in­dus­try is that the physi­cian and for­mer FDA of­fi­cial un­der George W. Bush has plen­ty of di­rect ties to it. As a ven­ture part­ner at New En­ter­prise As­so­ci­ates he's a board mem­ber at Me­dA­vante, which mar­kets soft­ware for an­a­lyz­ing clin­i­cal tri­al da­ta. And he's been an ad­vi­sor to Glax­o­SmithK­line, which has shown no ap­petite for rad­i­cal change in the way de­vel­op­ers prove a drug works.
Those ties, along with Trump's free­wheel­ing com­ments on dereg­u­la­tion, will now be­come tar­gets for De­moc­rats in Wash­ing­ton DC. But un­less there's a nasty sur­prise hid­den from view, none of it presents a se­ri­ous chal­lenge to his ac­cep­tance as head of the FDA.
White House con­firmed to me @ScottGot­tlieb­MD is Trump's pick for #FDA#phar­ma #biotech #gener­ics #drug­prices #drug­pric­ing https://t.co/V5jbZiyLjp

— Don­na Young (@Don­naY­oungDC) March 10, 2017