Rhythm eyes a piv­otal test af­ter rolling through PhII with up­beat re­sults for rare obe­si­ty cas­es
Boston-based Rhythm can now boast about pub­lish­ing the re­sults of a new Phase II obe­si­ty drug study in the pres­ti­gious New Eng­land Jour­nal of Med­i­cine. The da­ta, while on­ly cov­er­ing two pa­tients, points to the po­ten­tial of their drug set­melan­otide for ex­treme­ly rare cas­es of pro-opi­ome­lanocortin (POMC) de­fi­cien­cy. And the biotech is mov­ing to a mid-stage read­out for an­oth­er pro­gram on Prad­er-Willi syn­drome, which just de­feat­ed Zaf­gen's piv­otal ef­forts af­ter two pa­tients died in their study, as it sets the stage for a near-term piv­otal tri­al.
The pep­tide drug set­melan­otide is a melanocortin 4 re­cep­tor (MC4R) ag­o­nist de­signed to hit the MC4 path­way, where sin­gle ge­net­ic de­fects play hav­oc with a pa­tient's weight. There are on­ly about 50 known pa­tients with POMC de­fi­cien­cy.
Both pa­tients re­spond­ed in dra­mat­ic fash­ion. The first lost 112.4 pounds over 42 weeks, af­ter weigh­ing in at 341.7 pounds. The sec­ond lost 45.2 pounds over 12 weeks, from a base­line weight of 336.9 pounds. Here are the re­sults di­rect­ly from NE­JM: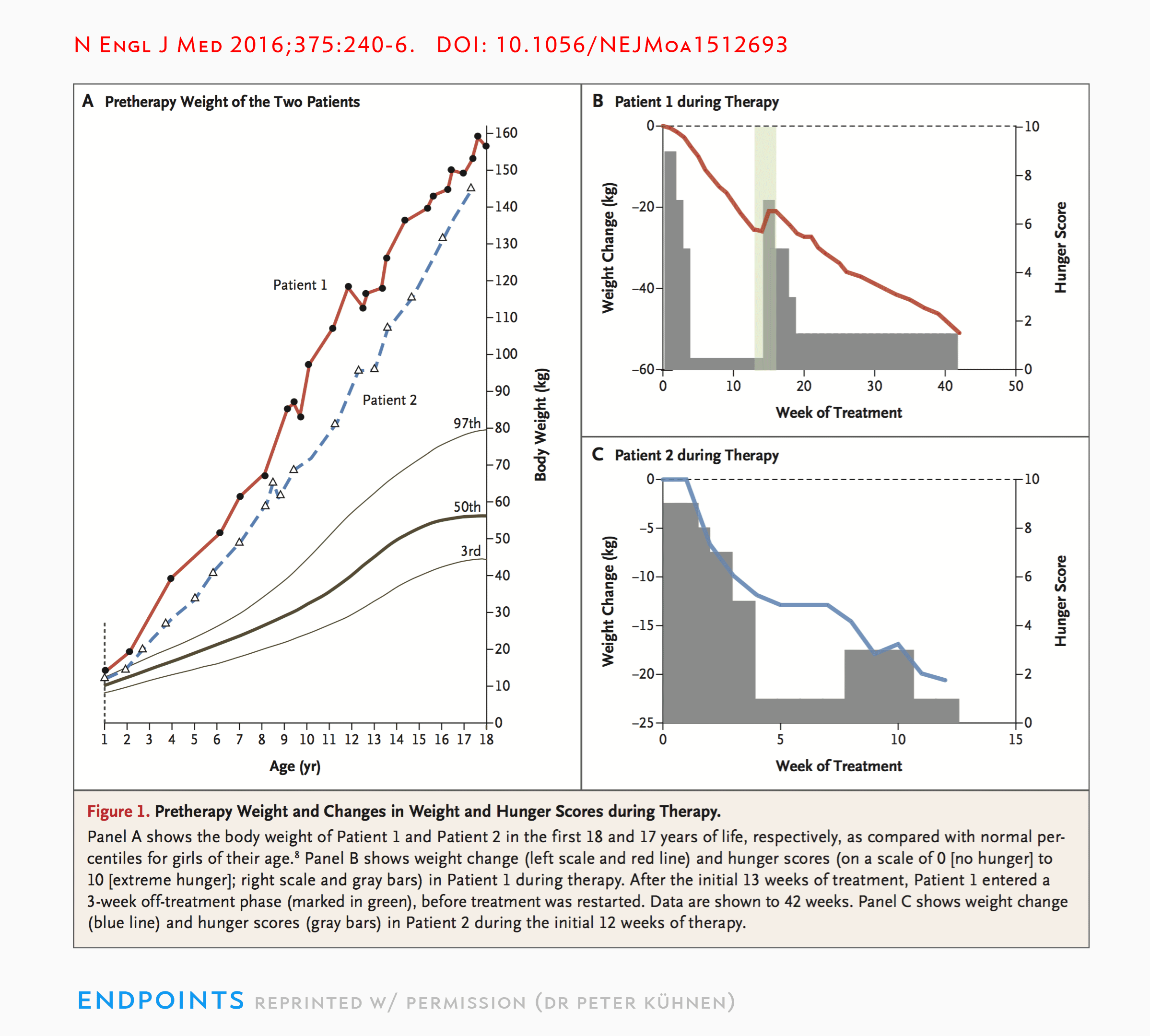 Obe­si­ty drugs, in gen­er­al, have had a pro­found­ly un­hap­py record over the past decade. Three new drugs for over­weight sub­jects have foundered in the U.S. mar­ket. And Zaf­gen was forced to scrap its piv­otal-stage drug af­ter back-to-back deaths. But Rhythm is look­ing to thread the nee­dle by stick­ing with rare, ge­net­i­cal­ly tar­get­ed cas­es of obe­si­ty.
"We clear­ly have shown lim­it­ed short term da­ta that is quite ex­cit­ing," says Rhythm CEO Kei­th Gottes­di­ener.
Back in Jan­u­ary, the FDA hand­ed out its break­through drug des­ig­na­tion for this drug, which will help Rhythm hus­tle to the FDA with plans for a piv­otal tri­al for its lead in­di­ca­tion that should get start­ed lat­er this year, Gottes­di­ener tells me. Then the com­pa­ny will have a chance to look at the mid-stage Prad­er-Willi da­ta be­fore the end of the year as well. And there's a new ef­fort un­der to broad­en the scope of its re­search with a pro­gram that fo­cus­es on the lep­tin re­cep­tor, up­stream to POMC.
If they're suc­cess­ful at win­ning ap­provals, Rhythm will launch its own com­mer­cial ef­fort in the U.S., and pos­si­bly Eu­rope as well. And while the team at Rhythm will keep an eye on Zaf­gen as it un­veils more da­ta about its failed Prad­er-Willi pro­gram, the set­back "re­al­ly doesn't change any­thing," says the CEO. "It's an en­tire­ly dif­fer­ent mech­a­nism and path­way. We're not adding, we're re­plac­ing some­thing that is nat­u­ral­ly there. And the un­met need is ex­tra­or­di­nary."
Said Pe­ter Küh­nen, the lead in­ves­ti­ga­tor from the In­sti­tute for Ex­per­i­men­tal Pe­di­atric En­docrinol­o­gy, Char­ité Uni­ver­sitätsmedi­zin in Berlin:
These re­sults pro­vide fur­ther val­i­da­tion of the crit­i­cal role of the MC4 path­way in weight reg­u­la­tion and the po­ten­tial for set­melan­otide to re­store lost ac­tiv­i­ty in this path­way by by­pass­ing up­stream de­fects of MC4R and by ac­ti­vat­ing the MC4 path­way be­low such de­fects. In this way, set­melan­otide may serve as re­place­ment ther­a­py to reestab­lish weight and ap­petite con­trol in pa­tients with POMC de­fi­cien­cy and po­ten­tial­ly oth­er ge­net­ic dis­or­ders as­so­ci­at­ed with obe­si­ty.