Boston-based Rhythm can now boast about publishing the results of a new Phase II obesity drug study in the prestigious New England Journal of Medicine. The data, while only covering two patients, points to the potential of their drug setmelanotide for extremely rare cases of pro-opiomelanocortin (POMC) deficiency. And the biotech is moving to a mid-stage readout for another program on Prader-Willi syndrome, which just defeated Zafgen's pivotal efforts after two patients died in their study, as it sets the stage for a near-term pivotal trial.
The peptide drug setmelanotide is a melanocortin 4 receptor (MC4R) agonist designed to hit the MC4 pathway, where single genetic defects play havoc with a patient's weight. There are only about 50 known patients with POMC deficiency.
Both patients responded in dramatic fashion. The first lost 112.4 pounds over 42 weeks, after weighing in at 341.7 pounds. The second lost 45.2 pounds over 12 weeks, from a baseline weight of 336.9 pounds. Here are the results directly from NEJM: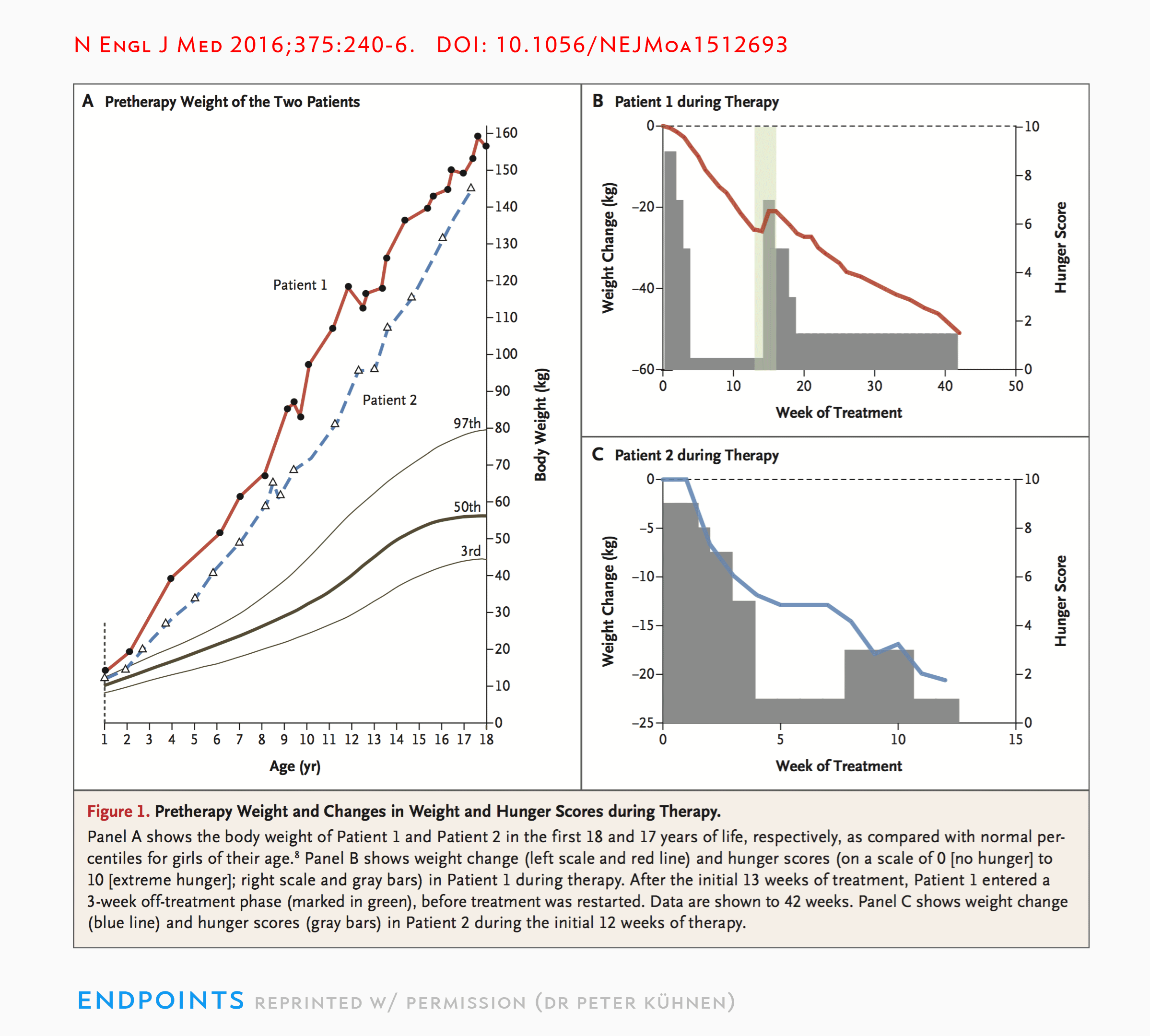 Obesity drugs, in general, have had a profoundly unhappy record over the past decade. Three new drugs for overweight subjects have foundered in the U.S. market. And Zafgen was forced to scrap its pivotal-stage drug after back-to-back deaths. But Rhythm is looking to thread the needle by sticking with rare, genetically targeted cases of obesity.
"We clearly have shown limited short term data that is quite exciting," says Rhythm CEO Keith Gottesdiener.
Back in January, the FDA handed out its breakthrough drug designation for this drug, which will help Rhythm hustle to the FDA with plans for a pivotal trial for its lead indication that should get started later this year, Gottesdiener tells me. Then the company will have a chance to look at the mid-stage Prader-Willi data before the end of the year as well. And there's a new effort under to broaden the scope of its research with a program that focuses on the leptin receptor, upstream to POMC.
If they're successful at winning approvals, Rhythm will launch its own commercial effort in the U.S., and possibly Europe as well. And while the team at Rhythm will keep an eye on Zafgen as it unveils more data about its failed Prader-Willi program, the setback "really doesn't change anything," says the CEO. "It's an entirely different mechanism and pathway. We're not adding, we're replacing something that is naturally there. And the unmet need is extraordinary."
Said Peter Kühnen, the lead investigator from the Institute for Experimental Pediatric Endocrinology, Charité Universitätsmedizin in Berlin:
These results provide further validation of the critical role of the MC4 pathway in weight regulation and the potential for setmelanotide to restore lost activity in this pathway by bypassing upstream defects of MC4R and by activating the MC4 pathway below such defects. In this way, setmelanotide may serve as replacement therapy to reestablish weight and appetite control in patients with POMC deficiency and potentially other genetic disorders associated with obesity.
---
The best place to read
Endpoints News

? In your inbox.

Comprehensive daily news report for those who discover, develop, and market drugs. Join 41,700+ biopharma pros who read Endpoints News by email every day.

Free Subscription
---
---
---