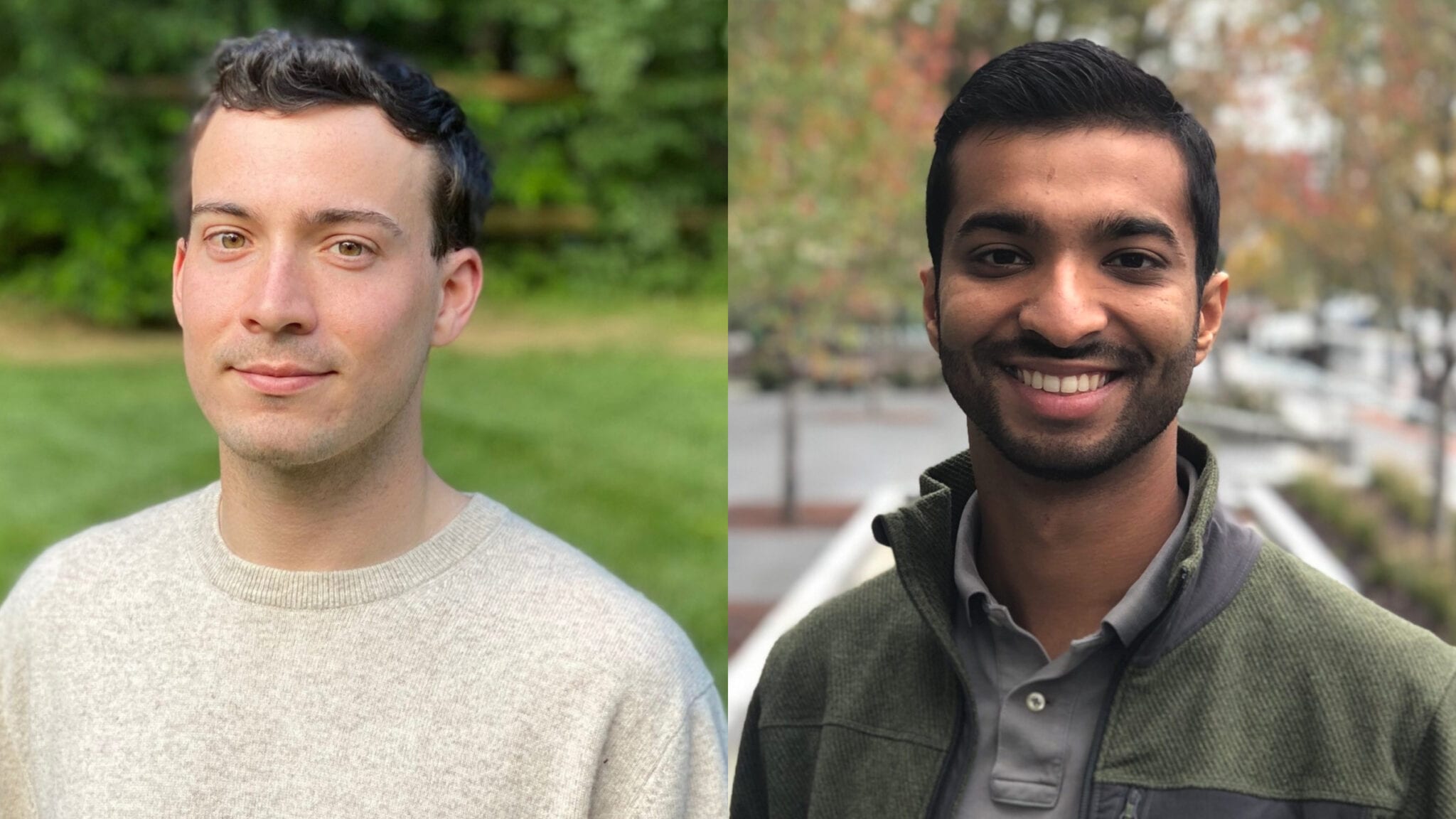 Reverie Labs founders Jonah Kallenbach and Ankit Gupta
Roche and Genen­tech's lat­est AI col­lab­o­ra­tor rais­es $25M Se­ries A to rein­vent one of the old­est can­cer tar­gets
Jon­ah Kallen­bach spent the sum­mer be­fore his se­nior year with An­ton, the hulk­ing flu­o­res­cent su­per­com­put­er housed in the mid­town Man­hat­tan of­fices of hedge fund D.E. Shaw. Armed with 512 proces­sors run­ning in par­al­lel, it's been used since 2008 to probe some of the biggest ques­tions in pro­tein fold­ing and struc­ture.
Kallen­bach can't talk much about what he worked on, but he was hooked, and af­ter his last year at Har­vard, he want­ed to go in­to drug de­vel­op­ment. But when he went look­ing for phar­ma roles, he found few of the com­pa­nies had space for com­pu­ta­tion­als. Or they had space, but that space was small and cor­doned off from the rest of a mas­sive or­ga­ni­za­tion.
"No one was lis­ten­ing, no one was ac­tu­al­ly dri­ving de­ci­sions," Kallen­bach told End­points News. That "was a light­bulb mo­ment."
It's a fa­mil­iar sto­ry by now for com­pu­ta­tion­al bi­ol­o­gists, as was what Kallen­bach did next: He found­ed his own com­pa­ny with a long­time col­lege friend and col­lab­o­ra­tor, Ankit Gup­ta. Brand­ed Rever­ie Labs, the Cam­bridge start­up land­ed seed fund­ing at Y Com­bi­na­tor and late last year a rare mul­ti-tar­get col­lab­o­ra­tion with Roche and Genen­tech. Now, they've raised their first sig­nif­i­cant cap­i­tal, rais­ing a $25 mil­lion Se­ries A led by Ridge­back Cap­i­tal to ad­vance a pipeline of tar­get­ed can­cer drugs.
The biotech will use ma­chine learn­ing and oth­er com­pu­ta­tion­al meth­ods to study the struc­ture of ki­nas­es and ul­ti­mate­ly de­sign drugs that can knock them out. The pro­teins — among the first-ever hit with tar­get­ed can­cer drugs — are an old fo­cus for a young com­pa­ny, and Kallen­bach says he ini­tial­ly faced push­back from in­vestors.
"A lot of peo­ple were like, 'Who cares about ki­nas­es?'" Kallen­bach said. "Ki­nas­es are a solved prob­lem, ki­nas­es are easy."
Kallen­bach ar­gued, though, that ki­nas­es are an ide­al fo­cus for a com­pu­ta­tion­al start­up. Be­cause they've been stud­ied vo­ra­cious­ly over the past few decades, re­searchers have de­vel­oped huge da­ta sets on their struc­ture and func­tion — da­ta sets that ma­chine learn­ing can turn in­to drug­gable in­sights.
Ki­nas­es are al­so an area where speci­fici­ty be­comes cru­cial; a "healthy" ki­nase and an onco­genic one may on­ly dif­fer by an amino acid or two, and a drug that hits both may run in­to the kind of safe­ty is­sues that plagued the Pi3K space for a decade. New tools can help dis­cern the dif­fer­ence.
Kallen­bach and Gup­ta hope that for their tar­gets, they can trun­cate the years of work and set­backs that went in­to the first Pi3K ap­proval. Al­ready work­ing with Roche, they want to even­tu­al­ly look some­thing like Nim­bus: A sought-af­ter dis­cov­ery en­gine that can de­vel­op mol­e­cules par­tial­ly in-house, be­fore large com­pa­nies bring them through the home stretch.
The en­gine will be par­tic­u­lar­ly im­por­tant, Kallen­bach said, as de­vel­op­ers push deep­er in­to com­bi­na­tion ap­proach­es that over­come re­sis­tance to in­di­vid­ual drugs. Every new drug in a com­bo brings the po­ten­tial of new tox­i­c­i­ties, rais­ing the bar for how safe each in­di­vid­ual mol­e­cule is.
"The fu­ture of can­cer ther­a­py is to ac­tu­al­ly be able to cure peo­ple of can­cer, and not just give them a 3 or 6-month boost in PFS," he said. "And the on­ly way we can ac­tu­al­ly do that and have the pa­tient tol­er­ate that ther­a­py, is if those ther­a­pies are pret­ty spe­cif­ic."