Roche boasts of stalling lung can­cer with Tecen­triq/chemo com­bo -- but ri­val Mer­ck stays out front
CHICA­GO — Roche ar­rived at AS­CO boast­ing a sig­nif­i­cant ad­vance for treat­ing front­line cas­es of ad­vanced squa­mous non-small cell lung can­cer with a com­bi­na­tion of Tecen­triq and chemo. But the ad­van­tage it of­fers may ap­pear rel­a­tive­ly mar­gin­al for pa­tients and was quick­ly eclipsed by more ex­ten­sive pos­i­tive da­ta from a dom­i­nant Mer­ck.
We al­ready learned the top-line re­sults ear­li­er from the phar­ma gi­ant, which con­tin­ues to have high hopes for the PD-L1 check­point in­hibitor, even as it's in dan­ger of los­ing its third-place po­si­tion be­hind Mer­ck and Bris­tol-My­ers Squibb to a surg­ing As­traZeneca.
Re­searchers came to Chica­go with some specifics on the da­ta, no­tably high­light­ing a dou­bling of pro­gres­sion-free sur­vival among large groups of pa­tients on the com­bo com­pared to chemo alone.
Af­ter 12 months of treat­ment, can­cer had not wors­ened in 24.7% pa­tients get­ting the Tecen­triq/chemo com­bo com­pared to 12% for chemo alone. And that's the first Phase III ad­van­tage that's ap­peared for this group of pa­tients in the all-im­por­tant lung can­cer field. Medi­an PFS was 6.3 months for the Roche check­point vs. 5.6 months for the con­trol — not the kind of gap that is like­ly to stir ex­cite­ment.
That like­ly cre­ates big trou­ble for Roche. Mer­ck re­leased its own read­out on pos­i­tive sur­vival da­ta on Sun­day from Keynote-407. Mer­ck is al­ready the PD-1 leader in treat­ing front­line lung can­cer, and Roche hasn't changed those dy­nam­ics at AS­CO.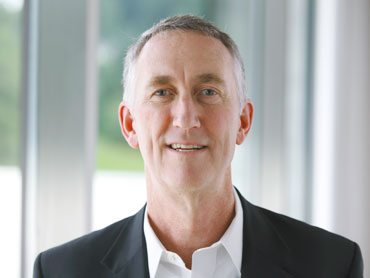 Daniel O'Day
What's at stake?
Jef­feries has been ex­pect­ing to see $1.1 bil­lion of peak sales for Tecen­triq in this front­line squa­mous set­ting and pre­vi­ous­ly high­light­ed that a pos­i­tive re­sult from the tri­al could see 1%-3% up­side to EPS and val­u­a­tion.
There was no over­all sur­vival ben­e­fit vis­i­ble at this in­ter­im point of the Roche study as re­searchers re­port­ed me­di­an OS of 14 months for ate­zolizum­ab plus chemother­a­py vs. 13.9 months for chemother­a­py alone at this point. Re­searchers say they will have a fol­lowup OS read­out lat­er this year.
We'll have to wait and see how that all fits in Roche phar­ma chief Daniel O'Day's ex­pec­ta­tions that Roche "will di­men­sion­al­ize the first-line lung can­cer space in 2018."
"Un­til now, there have been few treat­ment ad­vances for squa­mous non-small-cell lung can­cer. Our find­ings may pro­vide a new po­ten­tial treat­ment op­tion for this type of can­cer," said lead study au­thor Robert Jotte. "We used to think that chemother­a­py just knocked down the pa­tient's im­mune sys­tem and that it would be ir­ra­tional to com­bine it with im­munother­a­py, but grow­ing re­search, in­clud­ing this study, shows that chemother­a­py can help trig­ger the im­mune re­sponse to the tu­mor, help­ing the im­munother­a­py treat­ment work bet­ter."