Roche dumps its late-stage SMA drug af­ter gam­bling up to $545M-plus on the pro­gram
Af­ter run­ning in­to re­peat­ed set­backs with its ex­per­i­men­tal drug for spinal mus­cu­lar at­ro­phy, Roche has opt­ed to scrap the ther­a­py it grabbed three years ago with a $545 mil­lion buy­out deal.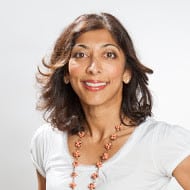 Sangee­ta Jeth­wa
In a note to a pa­tients group — a fa­vorite av­enue for the Swiss phar­ma gi­ant — a Roche rep­re­sen­ta­tive ex­plained that reg­u­la­tors at the FDA and the EMA were de­mand­ing a new Phase III study of ole­soxime. That fol­lowed is­sues with man­u­fac­tur­ing and their analy­sis of the OLEOS study which "ac­tu­al­ly showed a wors­en­ing in mo­tor func­tion" among pa­tients on the drug.
Roche paid $140 mil­lion up­front for the com­pa­ny and the drug, with more than $400 mil­lion on the ta­ble in mile­stones.
The OLEOS study is now be­ing scrapped and Roche's Sangee­ta Jeth­wa, head of their pa­tient part­ner­ship for rare dis­eases, had this to say to TreatS­MA:
Un­for­tu­nate­ly, de­spite all of our ef­forts and a strong de­sire to de­liv­er ole­soxime as a med­i­cine to peo­ple with SMA, we have con­clud­ed that this is not go­ing to be pos­si­ble. Based on all of the avail­able ev­i­dence and the con­tin­ued dif­fi­cul­ties de­scribed above, we have de­cid­ed to stop fur­ther de­vel­op­ment of ole­soxime.
In a state­ment to End­points News, the com­pa­ny added:
Since ac­quir­ing Ole­soxime from Trophos in 2015, we have un­der­tak­en pre­clin­i­cal stud­ies, con­sult­ed with health au­thor­i­ties and ex­perts, re­for­mu­lat­ed the in­ves­ti­ga­tion­al mol­e­cule, per­formed bioavail­abil­i­ty stud­ies to op­ti­mize dose, and at­tempt­ed to op­ti­mize the study de­sign to en­able a phase III tri­al.

It is with re­gret that we now con­clude that we do not have the nec­es­sary body of clin­i­cal and sci­en­tif­ic ev­i­dence to sup­port fur­ther de­vel­op­ment in the new SMA land­scape.

We re­main com­mit­ted to SMA. Our in­ves­ti­ga­tion­al med­i­cine RG7916, an oral SMN2 splic­ing mod­i­fi­er that is sys­tem­i­cal­ly dis­trib­uted through­out the body, is cur­rent­ly be­ing eval­u­at­ed in three mul­ti-cen­tre Phase II /III tri­als, SUN­FISH, FIRE­FISH and JEW­ELFISH.
It couldn't have come as a com­plete sur­prise. The drug — ac­quired in Roche's ac­qui­si­tion of Trophos — had failed an ear­li­er mid-stage study, fo­cus­ing on mo­tor func­tion. And even be­fore the phar­ma gi­ant bought the biotech, the drug had failed a tri­al for ALS.
Roche isn't get­ting to the fin­ish line on SMA, but it's sound­ing a re­treat at a time of progress in the field. Bio­gen and Io­n­is scored an ap­proval for Spin­raza, and prompt­ly made it one of the most ex­pen­sive ther­a­pies in the world, with a start­ing price of $750,000 for the first year. AveX­is, mean­while, has be­gun clin­i­cal work on a gene ther­a­py for SMA, and oth­ers are al­so jump­ing in.