Roche hails an­oth­er PhI­II win on Tecen­triq com­bo, re­ports promis­ing kid­ney can­cer da­ta
Roche is ped­al­ing hard from be­hind in the race for PD-1/L1 mar­ket su­prema­cy, an­nounc­ing news at mar­ket close Mon­day that it's wrapped up yet an­oth­er promis­ing Phase III com­bo study us­ing Tecen­triq.
With heavy­weights like Mer­ck and Bris­tol-My­ers Squibb lead­ing the mar­ket, Roche $RHH­BY and its sub­sidiary Genen­tech are step­ping up their game. The lat­est Phase III study test­ed Tecen­triq with Avastin against ad­vanced or metasta­t­ic re­nal cell car­ci­no­ma or kid­ney can­cer.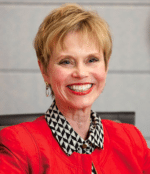 San­dra Horn­ing
The study, called IM­mo­tion 151, met one of its co-pri­ma­ry end­points of pro­gres­sion-free sur­vival (PFS) in peo­ple whose dis­ease ex­pressed the PD-L1 pro­tein. Those on the com­bo had a 26% re­duced risk of dis­ease wors­en­ing or death com­pared to peo­ple treat­ed with chemother­a­py drug suni­tinib (me­di­an PFS: 11.2 months vs 7.7 months; p=0.02).
As for the oth­er end­point, the com­pa­ny said over­all sur­vival ob­ser­va­tions were "en­cour­ag­ing, but still im­ma­ture."
"This is the sec­ond pos­i­tive Phase III study that in­cludes Tecen­triq and Avastin as part of a treat­ment reg­i­men, pro­vid­ing fur­ther ev­i­dence to sup­port the po­ten­tial of this unique com­bi­na­tion," said San­dra Horn­ing, Genen­tech's CMO and head of glob­al prod­uct de­vel­op­ment, in a state­ment. "We are en­cour­aged that ini­tial treat­ment with Tecen­triq and Avastin sig­nif­i­cant­ly re­duced the risk of dis­ease wors­en­ing or death in peo­ple with ad­vanced kid­ney can­cer, while al­so pro­vid­ing more time be­fore dis­ease symp­toms in­ter­fered with day-to-day life com­pared with suni­tinib, a cur­rent stan­dard of care. We look for­ward to dis­cussing these re­sults with reg­u­la­to­ry au­thor­i­ties world­wide."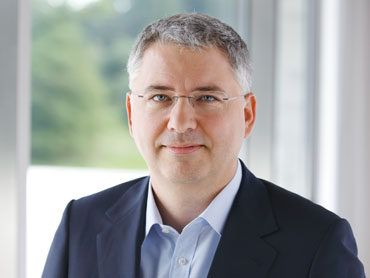 Sev­erin Schwan
This kid­ney can­cer da­ta fol­lows promis­ing Phase III da­ta of a Tecen­triq com­bo in lung can­cer an­nounced just months ago. The com­pa­ny's close­ly watched Phase III IM­pow­er150 study of a triple com­bo of Tecen­triq, Avastin and chemo demon­strat­ed a dou­bling in 12-month pro­gres­sion-free sur­vival rates among a broad group of front-line lung can­cer pa­tients, set­ting the stage for a quick reg­u­la­to­ry OK on both sides of the At­lantic.
"We have a re­al chance to be at the fore­front here," Roche CEO Sev­erin Schwan told Reuters ahead of the da­ta re­lease. "Our am­bi­tion is to be­come a clear leader in the field of can­cer im­munother­a­pies."
The IM­mo­tion151 da­ta will be pre­sent­ed at the 2018 Gen­i­touri­nary Can­cers Sym­po­sium on Sat­ur­day, Feb 10.