Roche, Prothena hus­tle to PhII with their dis­ease-mod­i­fy­ing Parkin­son's drug tar­get­ing al­pha-synu­cle­in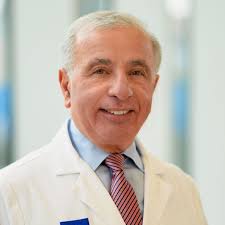 Joseph Jankovic, Bay­lor
Prothena turned up at the big Alzheimer's/Parkin­son's con­fer­ence in Vi­en­na over the week­end to de­tail ear­ly-stage da­ta show­ing how its Roche-part­nered drug PRX002/RG7935 can flush out tox­ic clus­ters of al­pha-synu­cle­in in Parkin­son's pa­tients. And they used the oc­ca­sion to note the launch of their Phase II study.
In­ves­ti­ga­tors in the Phase Ib tri­al used mul­ti­ple as­cend­ing dos­es of PRX002/RG7935 in Parkin­son's pa­tients and found that a sin­gle dose could slash free serum al­pha-synu­cle­in lev­els by up to 97%, with the re­sponse main­tained af­ter two month­ly dos­es.
That's a snap­shot of bio­mark­er ac­tiv­i­ty, which is cer­tain­ly no guar­an­tee of suc­cess in mid-stage tri­als. Com­pa­nies like Roche have been try­ing, with­out suc­cess over the last 14 years, to mod­i­fy Alzheimer's by re­mov­ing amy­loid be­ta in the brain — which is a re­lat­ed strat­e­gy. But it's what these two part­ners were look­ing for be­fore mov­ing in­to Phase II.
The drug is a stand­out in the field, which has been cen­tered heav­i­ly on add-on drugs to the symp­to­matic ther­a­py lev­odopa in re­duc­ing "OFF" times. Newron just ob­tained an ap­proval for Xada­go, which fits in­to the new class of symp­to­matic add-ons.
Roche and Prothena $PR­TA will now launch the Phase II in the sec­ond quar­ter, look­ing for ef­fi­ca­cy da­ta for an an­ti­body that tar­gets al­pha-synu­cle­in, which some be­lieve trig­gers Parkin­son's af­ter it ag­gre­gates in the brain, caus­ing patho­log­i­cal changes in healthy neu­rons.
"We showed a ro­bust tar­get en­gage­ment" with a dose de­pen­dent re­sponse, Bay­lor's Joseph Jankovic, the pri­ma­ry in­ves­ti­ga­tor, told an­a­lysts on Sun­day.
Roche inked a $600 mil­lion deal on this drug in 2013.
Prothena cer­tain­ly isn't alone in fo­cus­ing on al­pha-synu­cle­in, and sev­er­al of its ri­vals are al­so tar­get­ing Alzheimer's. Switzer­land's AC Im­mune, part­nered with Roche on AD, and Swe­den's BioArc­tic are fo­cused on the same tar­get, along with Prana and Proclara.