Roche punts a PhI can­cer drug out of the pipeline and back to Ory­zon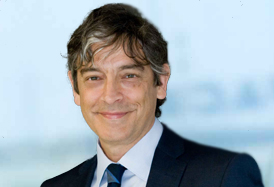 Ory­zon CEO Car­los Bue­sa
Lit­tle Ory­zon Ge­nomics in Spain picked up a con­sid­er­able en­dorse­ment and fi­nan­cial sup­port when Roche stepped in three years ago to part­ner on its ly­sine spe­cif­ic demethy­lase-1 (LSD1) in­hibitor ORY-1001 (RG6016) for acute my­loid leukemia and sol­id tu­mors. But it had to give up the deal and the $500 mil­lion in mile­stones that came with it af­ter Roche de­cid­ed to punt it out of the pipeline.
Ac­cord­ing to Ory­zon, the drug didn't make the cut at the Swiss phar­ma gi­ant as it "repri­or­i­tized" its pipeline. Roche will see through an on­go­ing Phase I study in small cell lung can­cer and then hand it all back to Ory­zon, which plans to car­ry on with the work.
In­vestors hat­ed see­ing Roche go and took a big bite out of the stock $ORY, which ini­tial­ly fell about 30%. It's down about 18% at the mid-day mark in Spain.
"We are ob­vi­ous­ly dis­ap­point­ed by this de­ci­sion" said Ory­zon CEO Car­los Bue­sa. "We have been in­formed that the de­ci­sion was not da­ta dri­ven but a con­se­quence of in­ter­nal repri­or­i­ti­za­tion of Roche's pipeline. Dur­ing the next weeks, Ory­zon will fo­cus its ef­forts to re­gain the con­trol of the as­set as soon as pos­si­ble to en­sure the con­tin­u­a­tion of the clin­i­cal de­vel­op­ment plan with­out in­ter­rup­tions. We are ful­ly com­mit­ted to de­vel­op ORY-1001, a first-in-class, best-in-class LSD1 in­hibitor that we be­lieve has a clear po­ten­tial in a broad range of tu­mors".