Roche steers Gazy­va in­to a new PhI­II pro­gram af­ter com­bo shows promise in lu­pus nephri­tis study
Roche is work­ing on putting to­geth­er a late-stage study for its mon­o­clon­al an­ti­body Gazy­va in pa­tients with se­vere kid­ney dis­ease as­so­ci­at­ed with lu­pus af­ter a com­bi­na­tion ap­proach helped pa­tients in a mid-stage study.
The 125-pa­tient NO­BIL­I­TY tri­al eval­u­at­ed Gazy­va, com­bined with stan­dard-of-care treat­ment my­cophe­no­late mofetil or my­cophe­no­lic acid and cor­ti­cos­teroids, ver­sus stan­dard treat­ment alone. The com­bo met the main goal of in­duc­ing a sta­tis­ti­cal­ly su­pe­ri­or com­plete re­nal re­sponse (CRR) of 40% at week 76, ver­sus 18% in pa­tients giv­en stan­dard treat­ment, Roche said.
The drug, which is be­ing test­ed alone and in com­bi­na­tion with oth­er ther­a­pies across a range of blood can­cers, is en­gi­neered to at­tach to CD20, a pro­tein found on cer­tain B-cells. It is thought to work by at­tack­ing tar­get­ed cells both di­rect­ly and in tan­dem with the body's im­mune sys­tem. Gazy­va, which is al­ready ap­proved for use in cer­tain can­cers, gen­er­at­ed near­ly $342 mil­lion in the first nine months of 2019 and has been grant­ed break­through ther­a­py sta­tus for lu­pus nephri­tis.
On the safe­ty side, wor­ries that pro­found B cell de­ple­tion would ham­per the drug's pro­file were abat­ed af­ter the Gazy­va arm reg­is­tered a se­ri­ous ad­verse event rate of 24%, while pa­tients on the stan­dard care arm saw a rate of 29%. In terms of se­ri­ous in­fec­tions, the rate was 9% on the Gazy­va arm and 18% in the stan­dard group.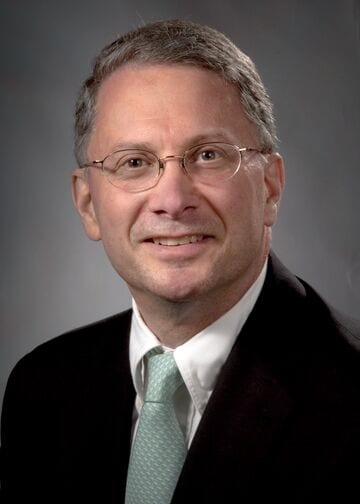 Richard Fu­rie North­well Health
"The strat­e­gy to tar­get B cells (an­ti­body-pro­duc­ing white blood cells re­spon­si­ble for pro­duc­ing lu­pus an­ti­bod­ies) in sys­temic lu­pus and lu­pus nephri­tis was bi­o­log­i­cal­ly sound. How­ev­er, two stud­ies did not achieve their re­spec­tive end­points," said Richard Fu­rie, chief of rheuma­tol­ogy at North­well Health in a state­ment.
"Af­ter a hia­tus of sev­er­al years, a de­ci­sion was made to move for­ward with a third-gen­er­a­tion B cell-de­plet­ing an­ti­body…The hy­poth­e­sis was that a more po­tent an­ti­body might re­sult in greater de­ple­tion of B cells and that this may yield a greater clin­i­cal re­sponse in those pa­tients with ac­tive kid­ney dis­ease."
Lu­pus is a drug de­vel­op­er's night­mare. In the last six decades, there has been one FDA ap­proval. In re­cent years, the field has re­sem­bled a grave­yard. Last Oc­to­ber, UCB and Bio­gen's $BI­IB an­ti-CD40L drug failed in a late-stage study, months af­ter Xen­cor $XN­CR and Sanofi's $SNY Abl­ynx al­so con­ced­ed de­feat in their pro­grams. In Au­gust, how­ev­er, As­traZeneca of­fered a glim­mer of hope af­ter its drug, an­i­frol­um­ab, cleared a Phase III study.
The on­ly bi­o­log­ic so far to win ap­proval for lu­pus is GSK's $GSK Benlysta — which was cleared for adult use in 2011 and for rare cas­es of child­hood lu­pus this year. (GSK is in the midst of test­ing Benlysta in com­bi­na­tion with Roche's rit­ux­imab in the hope the com­bi­na­tion will have a more po­tent ef­fect on the dis­ease ver­sus Benlysta monother­a­py.)
The sys­temic au­toim­mune dis­ease, in which the body's im­mune sys­tem launch­es an at­tack on its own tis­sues and or­gans, af­fects about 1.5 mil­lion Amer­i­cans, ac­cord­ing to The Lu­pus Foun­da­tion of Amer­i­ca. Lu­pus nephri­tis oc­curs when the dis­ease rav­ages the kid­neys, trig­ger­ing in­flam­ma­tion that could lead to blood and/or pro­tein in the urine, high blood pres­sure, poor kid­ney func­tion, or kid­ney fail­ure. Rough­ly 60% of lu­pus pa­tients de­vel­op lu­pus nephri­tis and 1 in 4 progress to end-stage re­nal dis­ease.
So­cial im­age: Roche