Roche's 'suc­cess' with its big Per­je­ta/Her­ceptin PhI­II falls flat at AS­CO, but it's a boost for Puma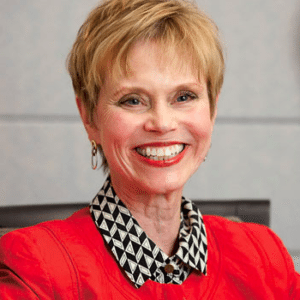 San­dra Horn­ing
CHICA­GO — Roche her­ald­ed a suc­cess for its close­ly-watched com­bi­na­tion breast can­cer study of Per­je­ta and Her­ceptin at AS­CO on Mon­day, but once the da­ta came in­to fo­cus there didn't seem to be much to cheer about at the phar­ma gi­ant.
The two drugs to­geth­er per­formed bet­ter than Her­ceptin alone in im­prov­ing pa­tients' odds of pre­vent­ing a re­cur­rence of the dis­ease — by a mar­gin of 0.9%. Af­ter three years of ther­a­py the score was 94.1% sur­vival in the com­bo arm with a 93.2% score for Her­ceptin.
"The goal of ad­ju­vant treat­ment is to help each per­son with can­cer have the best chance of a cure, and we come clos­er to this goal with each ad­vance," said San­dra Horn­ing, chief med­ical of­fi­cer and head of glob­al prod­uct de­vel­op­ment. "In the APHIN­I­TY study, the Per­je­ta-based reg­i­men im­proved up­on the high bar set by Her­ceptin in peo­ple with HER2-pos­i­tive ear­ly breast can­cer. We look for­ward to work­ing with glob­al health au­thor­i­ties to bring this treat­ment op­tion to pa­tients."
The new cock­tail ap­proach will cost sig­nif­i­cant­ly more than Her­ceptin alone, and that won't sit well with pay­ers. Roche had been hop­ing to shore up its block­buster Her­ceptin fran­chise as that drug faces biosim­i­lar com­pe­ti­tion.
The big win­ner in all this? Puma Biotech, which saw its shares $PBYI shoot up 18% Mon­day morn­ing.
Their new drug ner­a­tinib demon­strat­ed a 34% re­duc­tion in the risk of re­cur­rence or death. It takes a leap to do these kinds of cross-tri­al analy­ses that dri­ve drug de­vel­op­ers a tad crazy now and then, but Wall Street an­a­lysts were quick to give Puma a thumbs up, par­tic­u­lar­ly af­ter it just hand­i­ly won an FDA pan­el vote en­dors­ing an ap­proval.