Roger Tsien, 1952-2016: "I've al­ways been at­tract­ed to col­ors"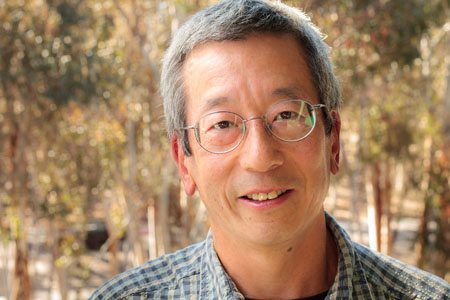 Roger Tsien, 1952-2016. Cred­it: UCSD
The No­bel Prize-win­ning chemist Roger Tsien died at the age of 64 yes­ter­day, trig­ger­ing a stream of glow­ing eu­lo­gies from the peo­ple who knew him or fol­lowed his work.
Best known for his ground­break­ing work on flu­o­res­cent pro­teins, the UC San Diego pro­fes­sor was al­so the in­spi­ra­tion for a string of biotechs set up in the San Diego area. Ave­las Bio­sciences just land­ed a $20 mil­lion round to pur­sue the de­vel­op­ment of a can­cer 'il­lu­mi­na­tor' dubbed AVB-620. That was the third start­up Aval­on Ven­tures had found­ed with Tsien's help.
"I've al­ways been at­tract­ed to col­ors," Dr. Tsien told the Union-Tri­bune at one point. "Col­or helps make the work more in­ter­est­ing and en­durable. It helps when things aren't go­ing well. If I had been born col­or­blind, I prob­a­bly nev­er would have gone in­to this."
There's still no word on just what killed him on a bike trail in Eu­gene, OR. But what­ev­er the cause, his death spurred con­sid­er­able sad­ness at the sud­den and un­ex­pect­ed loss. Here are a few of those eu­lo­gies:
Derek Lowe, who blogs at In The Pipeline, had this to say:
Tsien's dis­cov­er­ies have been cru­cial for vi­su­al­iz­ing mol­e­c­u­lar bi­ol­o­gy tech­niques as ap­plied to liv­ing cells and in vit­ro pro­tein sys­tems, and every­one do­ing bio­phar­ma dis­cov­ery re­search will con­stant­ly en­counter pro­teins, as­says, and cell lines based on them.

It is no ex­ag­ger­a­tion to say that he changed the course of the field; he gave it spec­tac­u­lar­ly use­ful tools it had nev­er had be­fore. Tsien's loss is a sud­den blow, and I'm sure I can speak for many oth­ers when I say that it's news that we all could have done with­out just now.
https://twit­ter.com/robin­l­loyd99/sta­tus/771366177952194560
Eliz­a­beth Black­burn, a No­bel lau­re­ate and pres­i­dent of the Salk In­sti­tute for Bi­o­log­i­cal Stud­ies in La Jol­la, told the San Diego Union-Tri­bune:
"Roger Tsien was tru­ly one of the most re­mark­able and in­spir­ing sci­en­tists of our time. He will be sore­ly missed as a col­league for his rev­o­lu­tion­ary work and keen mind, and al­so as a won­der­ful per­son. I felt priv­i­leged to get to know him over the years."
Pradeep Khosla, chan­cel­lor of UC San Diego:
"Every hon­or was just­ly de­served, and al­ways re­ceived with hu­mil­i­ty. Roger was an ex­tra­or­di­nary man: kind, gen­er­ous, gra­cious, and al­ways the con­sum­mate sci­en­tist push­ing the lim­its of his work to ex­pand the pos­si­bil­i­ties of sci­ence. He was a rare tal­ent we can­not re­place."