Sage CEO's M&A chat­ter sparks a spike, and an awk­ward cor­rec­tion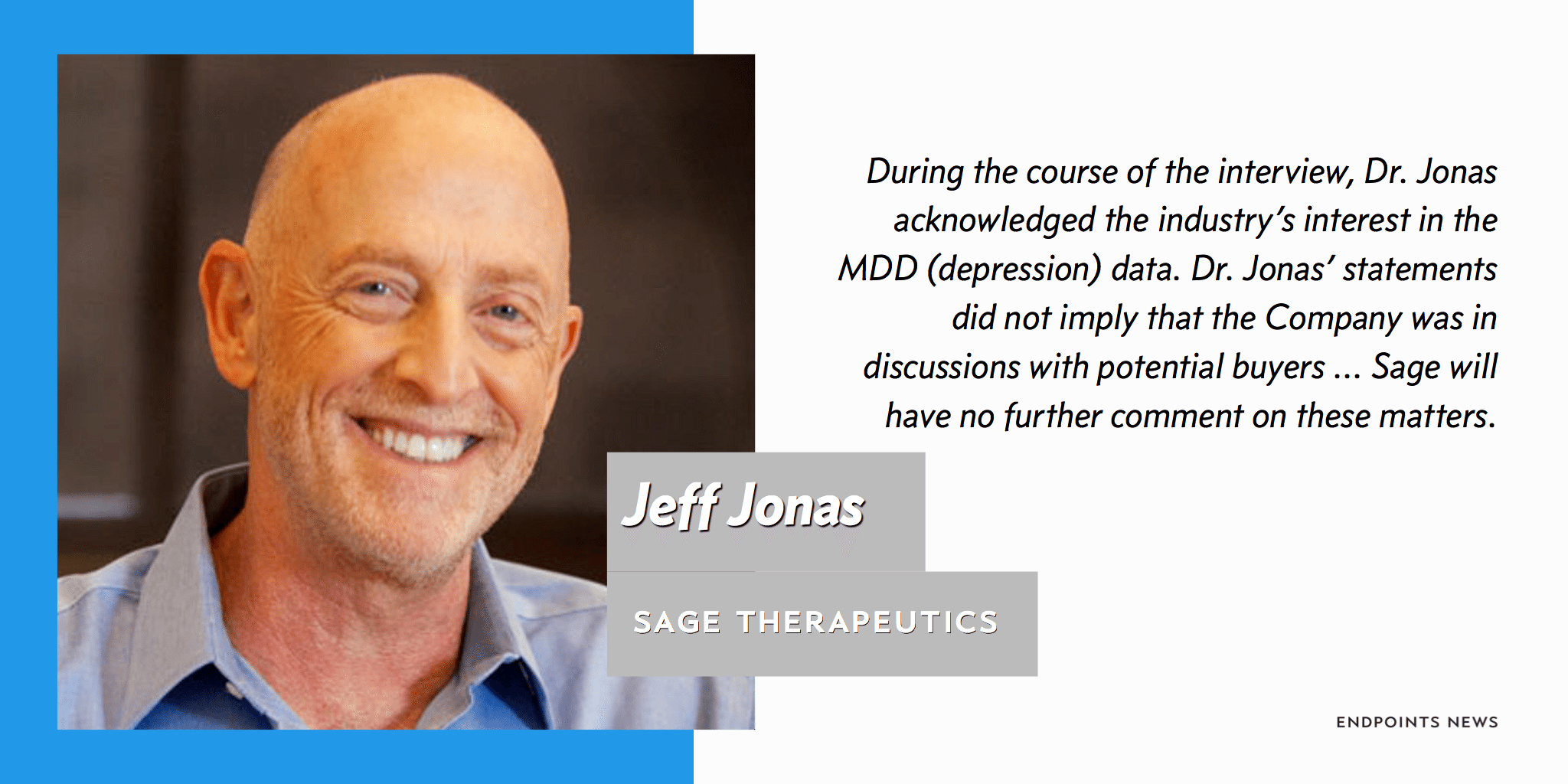 ---
Few biotech CEOs like to hype da­ta from tiny stud­ies quite as much as an en­thu­si­as­tic Jeff Jonas at Sage $SAGE. But on Thurs­day, he pumped it a lit­tle too hard.
Doni Bloom­field from Bloomberg taped him for a seg­ment on the Bay State Biotech Re­port in which he talked about SAGE-217's shot at be­com­ing a "first-line" ther­a­py for de­pres­sion.
Not on­ly did the drug cut scores on de­pres­sion among se­vere­ly de­pressed peo­ple by 20%, he said, "there's a good like­li­hood it will help peo­ple sleep."
This for a drug that just cleared an open la­bel tri­al for de­pres­sion with just 13 pa­tients in a dis­ease that af­flicts mil­lions of peo­ple. In de­pres­sion, de­vel­op­ers typ­i­cal­ly run three big Phase III stud­ies to see if they can come up with two that are pos­i­tive, fig­ur­ing that the place­bo ef­fect by it­self will take down at least one of them. So this drug has quite a ways to go be­fore any­one can start tout­ing ben­e­fits and count­ing rev­enue.
Then, as of­ten hap­pens with Bloomberg re­porters, Bloom­field asked about the po­ten­tial for deal-mak­ing. And that's when Jonas stepped over a very vis­i­ble line for a CEO of a pub­lic com­pa­ny.
The goal at Sage is to stay in­de­pen­dent, he said, but…"we're on top of every­one's M&A list."
And, for good mea­sure, he added:
"We are hear­ing a great deal from a lot of com­pa­nies, es­pe­cial­ly since the de­pres­sion da­ta came out."
Sound like buy­out talks? That's what a lot of in­vestors heard, and they rushed to buy, pump­ing up the stock. But while an­a­lysts can say that a com­pa­ny is a prime takeover tar­get, pub­lic com­pa­ny CEOs have to be very care­ful what they com­mu­ni­cate to the mar­ket in an in­ter­view.
And, it turns out, the biotech had to wave off any talk of an ac­qui­si­tion. Here's the com­pa­ny's state­ment fol­low­ing up the in­ter­view:
Dur­ing the course of the in­ter­view, Dr. Jonas ac­knowl­edged the in­dus­try's in­ter­est in the MDD (de­pres­sion) da­ta. Dr. Jonas' state­ments did not im­ply that the Com­pa­ny was in dis­cus­sions with po­ten­tial buy­ers. Sage re­mains fo­cused on its core mis­sion of de­vel­op­ing nov­el med­i­cines in CNS dis­or­ders. Sage will have no fur­ther com­ment on these mat­ters and as a pol­i­cy does not com­ment on spec­u­la­tion re­gard­ing M&A ac­tiv­i­ties.
Sage is still ahead of the game, though. The com­pa­ny's stock end­ed the day up 9% and is down 5% in pre-mar­ket trad­ing.