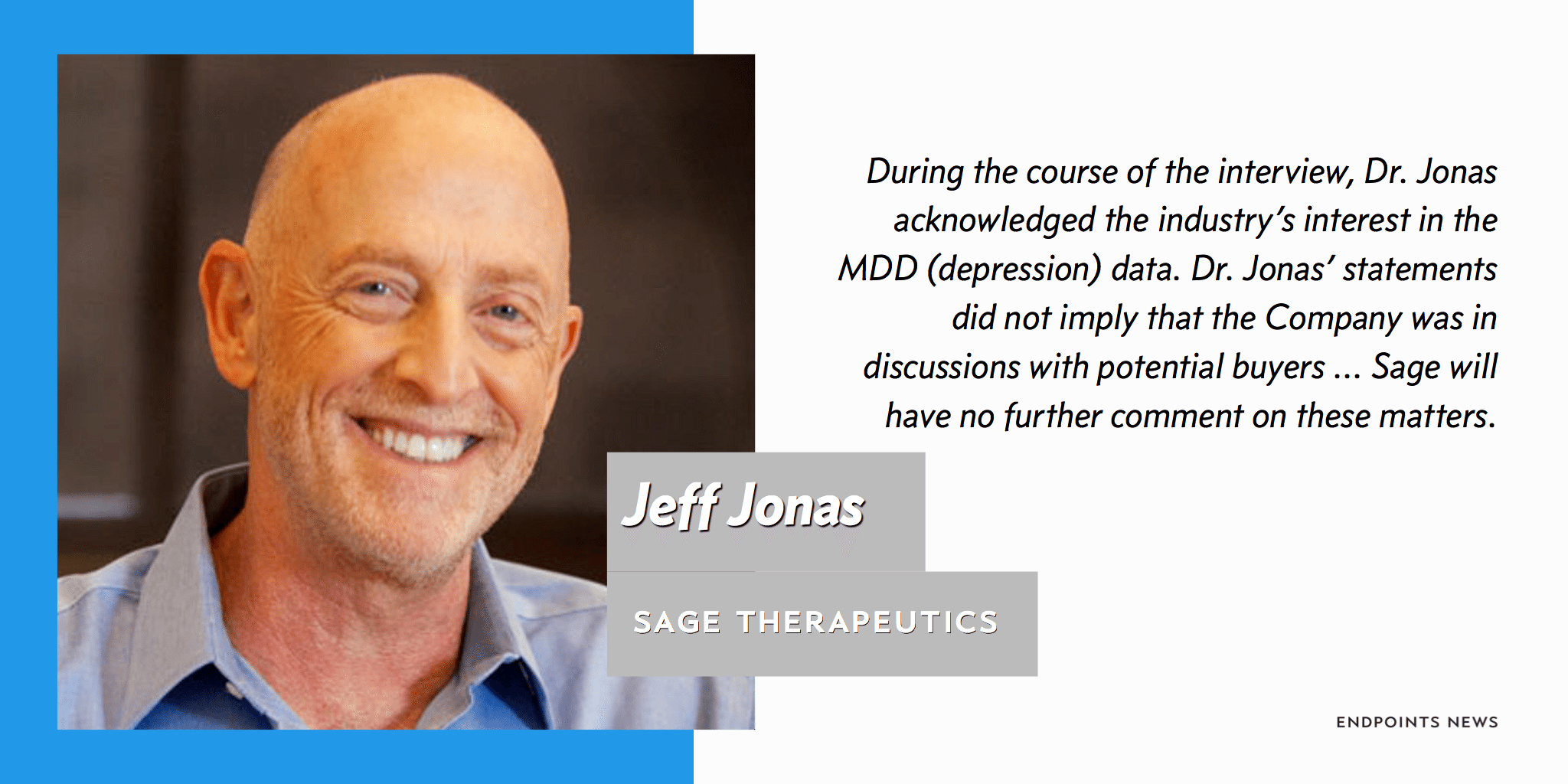 ---
Few biotech CEOs like to hype data from tiny studies quite as much as an enthusiastic Jeff Jonas at Sage $SAGE. But on Thursday, he pumped it a little too hard.
Doni Bloomfield from Bloomberg taped him for a segment on the Bay State Biotech Report in which he talked about SAGE-217's shot at becoming a "first-line" therapy for depression.
Not only did the drug cut scores on depression among severely depressed people by 20%, he said, "there's a good likelihood it will help people sleep."
This for a drug that just cleared an open label trial for depression with just 13 patients in a disease that afflicts millions of people. In depression, developers typically run three big Phase III studies to see if they can come up with two that are positive, figuring that the placebo effect by itself will take down at least one of them. So this drug has quite a ways to go before anyone can start touting benefits and counting revenue.
Then, as often happens with Bloomberg reporters, Bloomfield asked about the potential for deal-making. And that's when Jonas stepped over a very visible line for a CEO of a public company.
The goal at Sage is to stay independent, he said, but…"we're on top of everyone's M&A list."
And, for good measure, he added:
"We are hearing a great deal from a lot of companies, especially since the depression data came out."
Sound like buyout talks? That's what a lot of investors heard, and they rushed to buy, pumping up the stock. But while analysts can say that a company is a prime takeover target, public company CEOs have to be very careful what they communicate to the market in an interview.
And, it turns out, the biotech had to wave off any talk of an acquisition. Here's the company's statement following up the interview:
During the course of the interview, Dr. Jonas acknowledged the industry's interest in the MDD (depression) data. Dr. Jonas' statements did not imply that the Company was in discussions with potential buyers. Sage remains focused on its core mission of developing novel medicines in CNS disorders. Sage will have no further comment on these matters and as a policy does not comment on speculation regarding M&A activities.
Sage is still ahead of the game, though. The company's stock ended the day up 9% and is down 5% in pre-market trading.
---
The best place to read
Endpoints News

? In your inbox.

Comprehensive daily news report for those who discover, develop, and market drugs. Join 47,800+ biopharma pros who read Endpoints News by email every day.

Free Subscription
---
---
---