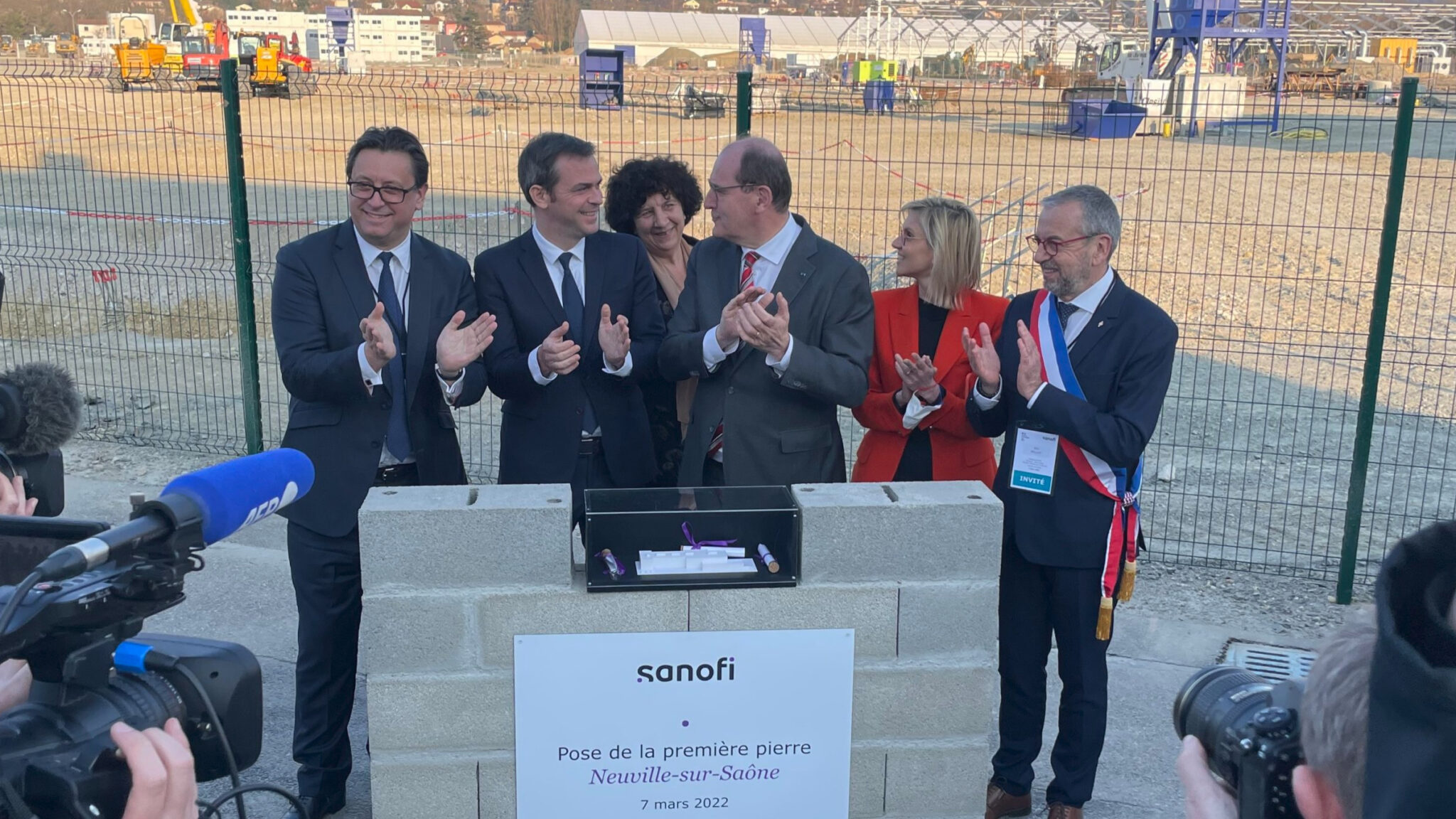 Celebrating the founding of Sanofi's future Evolutive Vaccines Facility (EVF) production unit (L-R): CEO Paul Hudson; Olivier Véran, Minister of Health; Frédérique Vidal, Minister of Higher Education, Research and Innovation; Jean Castex, Prime Minister; Agnès Pannier-Runacher, Minister of Industry; Eric Bellot, Mayor of Neuville-sur-Saône (courtesy Sanofi)
Sanofi CEO Paul Hud­son sketch­es a $1B-plus in­vest­ment on its new mR­NA cen­ter
Over the years, Paris-based Sanofi has had a com­plex re­la­tion­ship with its home coun­try of France. One for­mer CEO (Chris Viehbach­er) seemed to en­joy prod­ding the coun­try's R&D work­force for a lack of pro­duc­tiv­i­ty — un­til the board chose a French­man (Olivi­er Brandi­court) to re­place him. If on­ly tem­porar­i­ly.
But CEO Paul Hud­son, an ur­bane British ex­ec­u­tive with a glob­al ré­sumé, is mak­ing him­self quite at home in the Eu­ro­pean coun­try.
On Mon­day, Hud­son met up with the prime min­is­ter of France to tout a ma­jor in­vest­ment of more than $1 bil­lion in France, rough­ly half of the €2 bil­lion ($2.2 bil­lion) glob­al plan he un­veiled last sum­mer as Sanofi in­vest­ed in a big fu­ture in­volv­ing mR­NA, the tech plat­form that gave birth to 2 megablock­buster vac­cines in record time.
Sanofi is spend­ing €490 mil­lion ($536 mil­lion) over 5 years to build a "ful­ly dig­i­tized bio­pro­duc­tion fa­cil­i­ty de­signed to en­able more ag­ile and flex­i­ble man­u­fac­tur­ing across mul­ti­ple vac­cine and bi­o­log­i­cal plat­forms, in­clud­ing mR­NA," the com­pa­ny said in a state­ment sent to End­points News.
"I am proud to an­nounce that France is at the heart of Sanofi's mR­NA strat­e­gy," Hud­son told the gath­er­ing for the for­mal found­ing of its fu­ture Evo­lu­tive Vac­cines Fa­cil­i­ty (EVF) pro­duc­tion unit in Neuville-sur-Saône.
Sanofi in­tends to lever­age its $3.2 bil­lion buy­out of Trans­late Bio in­to 6 mR­NA vac­cines in 3 years. It al­so plans to be front and cen­ter for the next pan­dem­ic, when­ev­er that might oc­cur, af­ter be­ing left at the start­ing gate when its first stab at a more tra­di­tion­al job for Covid-19 flopped bad­ly.
Sanofi has been flesh­ing out plans out­lined last sum­mer to spend €400 mil­lion ($437 mil­lion) a year on its mR­NA ef­fort, in­te­grat­ing the work of 400 staffers in Cam­bridge, UK and Mar­cy l'Étoile, Ly­on in France around the project. They're com­pet­ing against 2 up­start ri­vals that have seen their stock prices soar — and swoon — over the last 24 months. As the pan­dem­ic has waned, so have their mar­ket caps. But each is still sig­nif­i­cant­ly larg­er in terms of fi­nan­cial fire­pow­er than they were in their pre-rev­enue days. And both have their own plans for stay­ing out front.