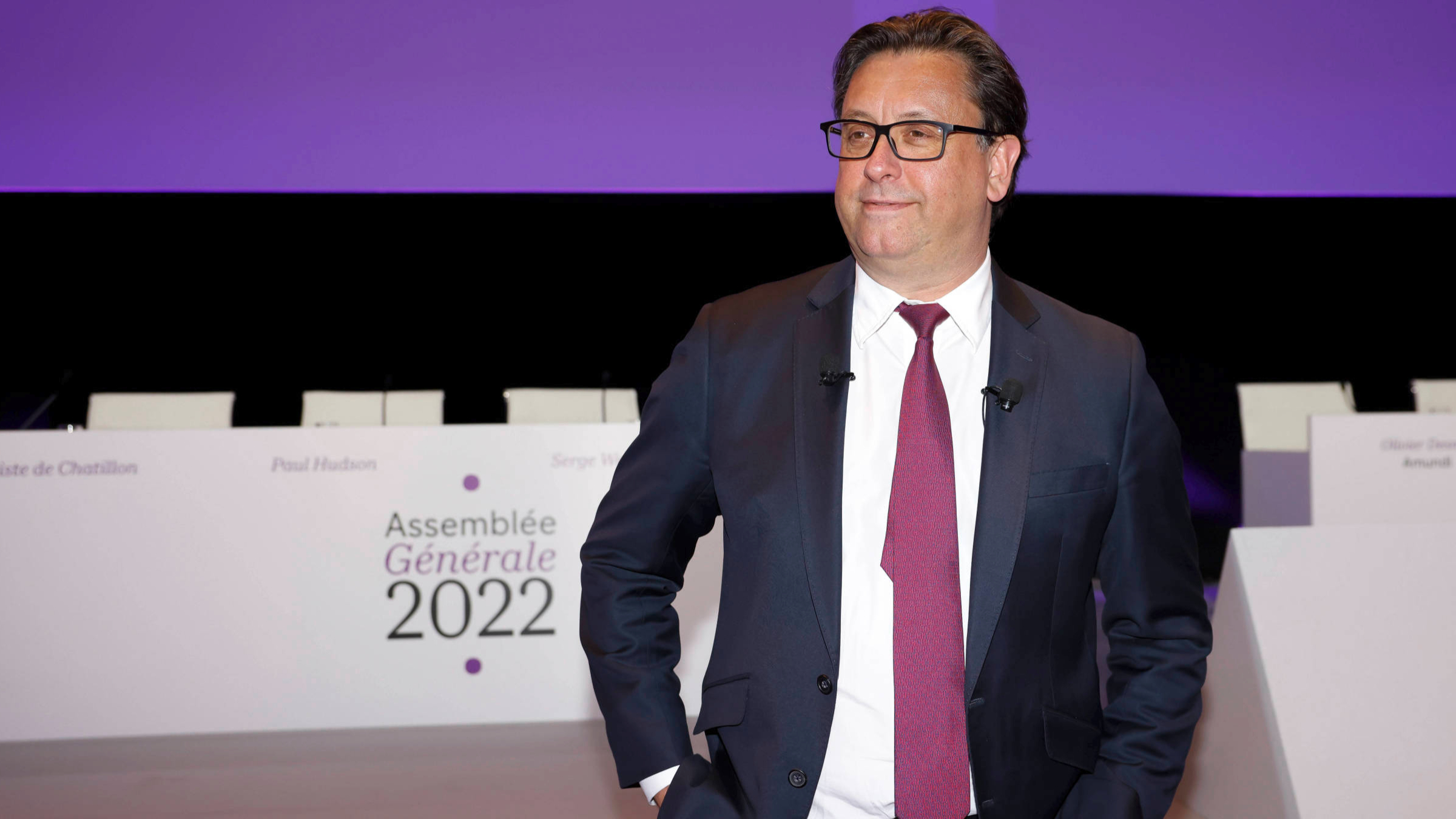 Paul Hudson, Sanofi CEO (Romuald Meigneux/Sipa via AP Images)
Sanofi jump­starts ef­fort to sup­ply 30 'essen­tial' drugs to low­er-in­come coun­tries
A week af­ter Sanofi promised to cut in­sulin prices, the phar­ma gi­ant's non­prof­it unit is of­fer­ing more de­tails on its ef­fort to make the life-sav­ing drug and 29 oth­ers avail­able to 40 low­er-in­come coun­tries.
To­geth­er, the med­i­cines will form what Sanofi calls the Im­pact brand. They cov­er a range of dis­eases, from di­a­betes to car­dio­vas­cu­lar dis­ease to can­cer, and are con­sid­ered es­sen­tial by the World Health Or­ga­ni­za­tion, the com­pa­ny said.
The ef­fort falls un­der Sanofi's non­prof­it unit Sanofi Glob­al Health, which was launched just last year. Sanofi made the pledge to make 30 drugs avail­able in low­er-in­come coun­tries around the same time.
"Sanofi Glob­al Health aims to im­prove the lives of mil­lions of peo­ple who now can­not get the help they need. Sanofi's re­newed pur­pose is to chase the mir­a­cles of sci­ence to im­prove peo­ple's lives. And our quest to make life bet­ter for all peo­ple must in­clude help­ing to pro­vide bet­ter ac­cess to care and qual­i­ty med­i­cines for un­der­served pop­u­la­tions," CEO Paul Hud­son said in a state­ment.
The type 2 di­a­betes treat­ment gliben­clamide and chemother­a­py ox­ali­platin are al­so on the list, ac­cord­ing to Sanofi.
In ad­di­tion to the med­i­cines, Sanofi is es­tab­lish­ing an Im­pact fund to sup­port star­tups look­ing for sus­tain­able health­care so­lu­tions in un­der­served re­gions by of­fer­ing fi­nanc­ing and tech­ni­cal as­sis­tance. The phar­ma gi­ant is get­ting the ball rolling with $25 mil­lion, ac­cord­ing to a Reuters re­port.
"We know that we can­not do this alone, and so we are build­ing part­ner­ships at glob­al, re­gion­al and lo­cal lev­els that will help to im­prove and es­tab­lish health sys­tems to reach our goal of a health­i­er, more re­silient world," Jon Fairest, head of Sanofi Glob­al Health, said in the state­ment.
Last Wednes­day, Sanofi an­nounced that it would cut the month­ly price of its in­sulins for unin­sured Amer­i­cans from $99 down to $35. The move fol­lows the House pas­sage of a month­ly cap back in March, which just 12 Re­pub­li­cans sup­port­ed.
This sto­ry has been up­dat­ed to clar­i­fy that Sanofi made its ini­tial pledge last year.