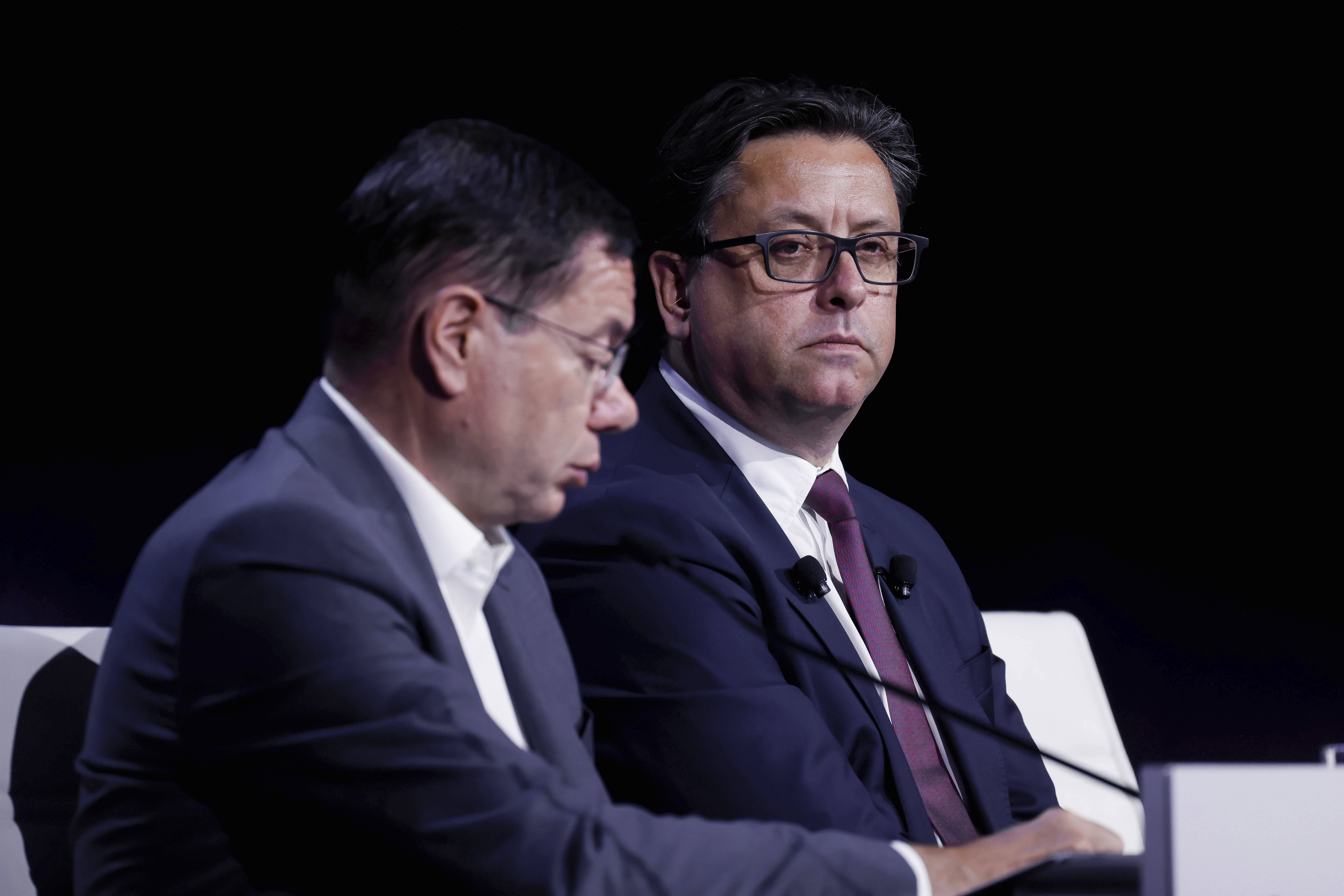 Sanofi CFO Jean-Baptiste de Chatillon (L) and CEO Paul Hudson (Romuald Meigneux/Sipa via AP Images)
Sanofi sees downtick in flu sales as it preps for launch of RSV an­ti­body
Sanofi ex­pects its RSV an­ti­body joint­ly de­vel­oped with As­traZeneca will be avail­able next sea­son, ex­ec­u­tive VP of vac­cines Thomas Tri­om­phe an­nounced on the com­pa­ny's quar­ter­ly call.
Bey­for­tus, al­so known as nir­se­vimab, was ap­proved in the EU back in No­vem­ber and is cur­rent­ly un­der FDA re­view with an ex­pect­ed de­ci­sion com­ing in the third quar­ter of this year. The news comes as the FDA plans to hold ad­vi­so­ry com­mit­tee meet­ings over the next cou­ple months to re­view RSV vac­cines from Pfiz­er and GSK.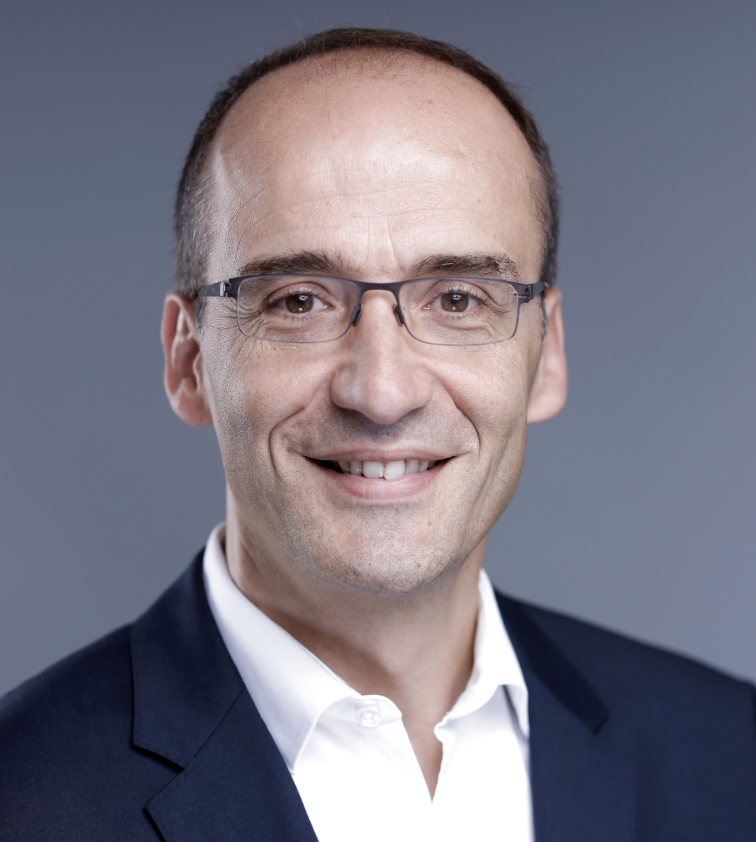 Thomas Tri­om­phe
"We're get­ting ready to launch Bey­for­tus for the next RSV sea­son as soon as we get the li­cense and ACIP rec­om­men­da­tion," Tri­om­phe said on the quar­ter­ly call. "RSV is cre­at­ing hav­oc this sea­son. It has put heavy bur­den on health­care sys­tems and emo­tion­al strain on fam­i­lies, which re­in­forces the val­ue of Bey­for­tus as a so­lu­tion for an im­por­tant un­met med­ical need."
Mean­while, Sanofi re­port­ed a rough­ly 42% boost in sales last quar­ter for its block­buster Dupix­ent, to­tal­ing €2.4 bil­lion ($2.6 bil­lion) with sales in the US reach­ing close to €1.9 bil­lion ($2.1 bil­lion). The uptick was dri­ven by strong de­mand in asth­ma and atopic der­mati­tis (AD) as well as a launch in AD for chil­dren as young as six months, Sanofi said.
Over­all, the com­pa­ny pulled in €10.7 bil­lion ($11.6 bil­lion) in sales for the fi­nal quar­ter and close to €43 bil­lion ($46.5 bil­lion) last year.
"The bi­o­log­ic pro­file of Dupix­ent to this day, we be­lieve re­mains the best in its class with ex­cep­tion­al abil­i­ty to bal­ance high ef­fi­ca­cy with com­pelling safe­ty," CEO Paul Hud­son said on the in­vestor call. "Blaz­ing the trail in mar­kets that are un­der­pen­e­trat­ed in terms of el­i­gi­ble pa­tient pop­u­la­tions, Dupix­ent keeps adding sig­nif­i­cant pa­tient pools through mul­ti­ple ap­provals in dis­eases that are still un­der­served. With­out ques­tion, this method is now a key cor­ner­stone in treat­ing chron­ic type 2 in­flam­ma­to­ry dis­eases."
How­ev­er, the com­pa­ny did dis­close a few speed bumps. While record­ing €7.2 bil­lion ($7.8 bil­lion) in vac­cines sales for the en­tire year, sales slipped 16% last quar­ter to €1.7 bil­lion ($1.8 bil­lion). Tri­om­phe said on the call that this was due to "stronger pro­duc­tion ex­e­cu­tion" and the ship­ment of large amounts of in­fluen­za vac­cine that took place in Q3. In the quar­ter, flu vac­cines saw a 32% sales de­crease, and po­lio/per­tus­sis/Hib (PPH) vac­cines fell more than 16%.
"PPH sales were low­er com­pared to the same quar­ter last year due to the COVID-19 in­sti­tu­tion in Chi­na dis­rupt­ing the rou­tine in­fant vac­ci­na­tion at the cen­ters of care," Tri­om­phe said.
For gen­er­al med­i­cines, Sanofi had a 3.7% de­crease for the quar­ter at €3.4 bil­lion ($3.7 bil­lion).
Look­ing at 2023, Sanofi is ex­pect­ing its earn­ings per share (EPS) to grow in the low sin­gle dig­its, ac­cord­ing to CFO Jean-Bap­tiste de Chatil­lon. As for launch­es in 2023, Sanofi is gear­ing up for a read­out of Dupix­ent in COPD as well as launch­es for Al­tuvi­i­io for he­mo­phil­ia A and Bey­for­tus in RSV.
While Sanofi an­nounced last month that it was back­ing out of deal talks with Hori­zon, Chatil­lon said that its strat­e­gy hasn't changed and that deals done in the past have most­ly been cen­tered on ear­ly sci­ence.
"If we see an op­por­tu­ni­ty where we can cre­ate val­ue for share­hold­ers, we would seize it. It's not al­ways about the size be­cause Hori­zon at the right price was a great op­por­tu­ni­ty to ac­cel­er­ate our jour­ney to in­vest more in in­no­v­a­tive sci­ence. So, no change of strat­e­gy but al­ways on the look­out to seize an op­por­tu­ni­ty and try to cre­ate val­ue for share­hold­ers," Chatil­lon said.