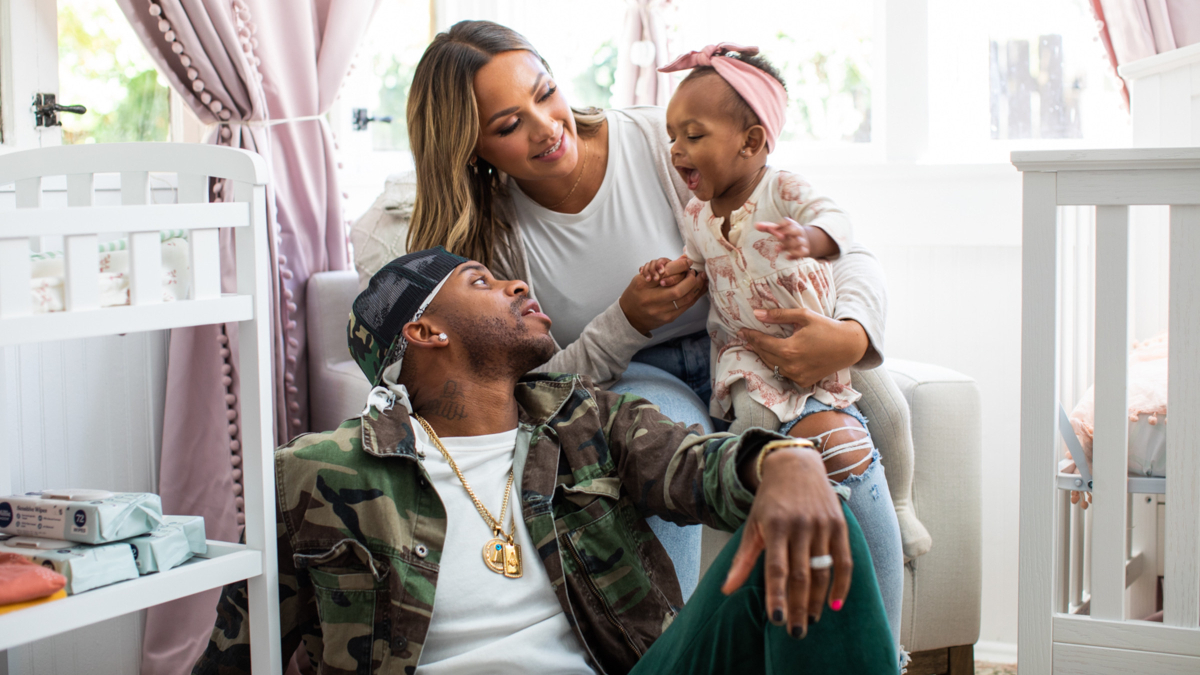 Country music star Jimmie Allen with his wife, Alexis, and daughter Zara. (Photographer: Andrea Behrends)
Sanofi takes to Tik­Tok and In­sta­gram to tar­get mil­len­ni­als and old­er Gen Z par­ents for RSV ed­u­ca­tion
What hap­pens when you com­bine a coun­try mu­sic star with a trend­ing health is­sue and throw in a good mea­sure of Tik­Tok and In­sta­gram?
For Sanofi's "Know­ing RSV" cam­paign, it's meant broad­er aware­ness for a com­mon virus that many par­ents don't know much about. One com­mon mis­con­cep­tion, for ex­am­ple, is that res­pi­ra­to­ry syn­cy­tia virus (RSV) on­ly af­fects in­fants who are born pre­ma­ture­ly or have oth­er health is­sues. How­ev­er, 72% of in­fants hos­pi­tal­ized with RSV are healthy, full-term ba­bies, said Ayan­na San­tos, head of Sanofi's RSV fran­chise in the US.
"The thing about RSV is a physi­cian can't nec­es­sar­i­ly pre­dict for any giv­en in­fant in front of them, which in­fant is go­ing to be the one to get se­ri­ous­ly ill," she said.
The coun­try mu­sic star speak­ing out as part of the cam­paign is Jim­mie Allen, who along with his wife Alex­is Allen, is open­ing up to the me­dia and on­line video about their fam­i­ly's ex­pe­ri­ence when then six-week-old daugh­ter Zara con­tract­ed RSV and was hos­pi­tal­ized — and what they didn't know at the time.
In a video on the "Know­ing RSV" web­site, Allen says, "I had this in­ner di­a­logue on re­peat: 'was there some­thing else we could have done?' But as it turns out, we were not alone. Not even by a long shot."
The Allen fam­i­ly am­bas­sador­ship and sev­er­al oth­er so­cial me­dia in­flu­encer par­ents on Tik­Tok and In­sta­gram are help­ing to raise aware­ness about com­mon mis­con­cep­tions about RSV, along with the ac­tu­al facts and symp­toms to watch out for. One mom in­flu­encer re­layed a sto­ry to San­tos about one of her fol­low­ers who told her it was thanks to the in­flu­encer's RSV videos that the young mom rec­og­nized it in her own son and got him quick med­ical at­ten­tion.
As the cam­paign rolled out, a spike in RSV hos­pi­tal­iza­tions among chil­dren drew even more at­ten­tion to the is­sue. The re­sult? Sanofi notched 42 mil­lion views on Tik­Tok videos tagged #Know­ingRSV, jump­ing to 81.2 mil­lion views through No­vem­ber.
The cam­paign, which will con­tin­ue to run through March, in­cludes three web­sites in Eng­lish, Span­ish and tra­di­tion­al Chi­nese, dig­i­tal ads, so­cial me­dia posts on Tik­Tok, Face­book and Snapchat, San­tos said.
"We want to get to mil­len­ni­al moms — and fu­ture moms — so mil­len­ni­als and old­er Gen Z, and reach them where they spend their time," she said, adding that the cam­paign is "mo­ti­vat­ing peo­ple to learn more, and it's help­ing them to bet­ter un­der­stand and be ready so that if some­thing hap­pens, they know what to do."
An­oth­er aim of the cam­paign is mak­ing sure it reach­es par­ents of col­or. As San­tos point­ed out, 50% of moth­ers in the US are women of col­or. So Sanofi worked to in­clude di­ver­si­ty among the spokes­peo­ple — coun­try singer Allen is Black — and is al­so reach­ing out di­rect­ly to African Amer­i­can, His­pan­ic, Chi­nese, Alaskan and Na­tive Amer­i­can au­di­ences.
"We've tak­en ad­di­tion­al steps to make sure that the di­ver­si­ty of how we speak to peo­ple or show peo­ple in­for­ma­tion around this dis­ease helps pull through the de­sire to learn more," she said.
Sanofi and As­traZeneca are co-de­vel­op­ing RSV an­ti­body can­di­date nir­se­vimab for in­fants and chil­dren up to 24 months. It would be the first sin­gle-dose RSV pre­ven­ta­tive for ba­bies in the US, among a new­ly crowd­ed field of hope­ful RSV play­ers.
Pfiz­er and GSK are both de­vel­op­ing vac­cines with the FDA cur­rent­ly re­view­ing both Pfiz­er and GSK bi­o­log­ic ap­pli­ca­tions for their re­spec­tive vac­cines to treat old­er adults. Both of those re­views have de­ci­sion dead­line dates in May. Pfiz­er is al­so de­vel­op­ing its RSV vac­cine for use in preg­nant women to pro­tect in­fants up to six months af­ter birth. Mod­er­na re­cent­ly re­port­ed pos­i­tive da­ta for its RSV vac­cine in old­er adults and is prepar­ing for FDA sub­mis­sion.
Sanofi and As­traZeneca's nir­se­vimab is not a vac­cine, but an an­ti­body de­signed to help in­fants and chil­dren up to 24 months weath­er their first and sec­ond RSV sea­son­al out­breaks. The FDA ac­cept­ed the phar­ma pair's ap­pli­ca­tion for nir­se­vimab ear­li­er this month, with a pro­ject­ed de­ci­sion date for the third quar­ter. Nir­se­vimab was al­ready grant­ed mar­ket­ing au­tho­riza­tion in the Eu­ro­pean Union and the UK un­der ac­cel­er­at­ed re­view and the brand name Bey­for­tus.
Ed­i­tor's note: The sto­ry was up­dat­ed to clar­i­fy nir­se­vimab's ac­cel­er­at­ed re­view and brand name in the EU and UK.