Sarepta Therapeutics $SRPT has revealed a promising, early snapshot of results for its second gene therapy program in patients with a progressive muscle degenerative disorder — months after reporting encouraging data for its Duchenne gene therapy, as the company fortifies its status as a bonafide gene therapy player. And the results inspired a $165 million buyout.
On Wednesday, Sarepta divulged data from three patients in the first cohort of an open-label Phase I/II study testing the use of an experimental gene therapy — MYO-101 — in limb girdle muscular dystrophy (LGMD), a group of rare progressive genetic disorders characterized by wasting and weakness of the voluntary muscles of the hip and shoulder areas (limb-girdle area) that have no approved treatments.
The therapy — which infuses the corrective gene using a virus as a vehicle — is designed to treat LGMD2E, also known as beta-sarcoglycanopathy, a severe form of LGMD characterized by progressive muscle fiber loss, inflammation and muscle fiber replacement with fat and fibrotic tissue.
MYO-101, along with four other experimental LGMD gene therapies, was in-licensed for $60 million by Sarepta last May from a private biotech called Myonexus (which burst onto the scene with $2.5 million in seed funding in 2017). On Wednesday, Sarepta said it had exercised its option to buy the company for $165 million.
Trial data on the three patients showed the therapy rejuvenated the production, by an average of 51%, of beta-sarcoglycan, the protein required for muscle function that is missing in this patient population. The data were measured following a muscle biopsy 60 days following infusion.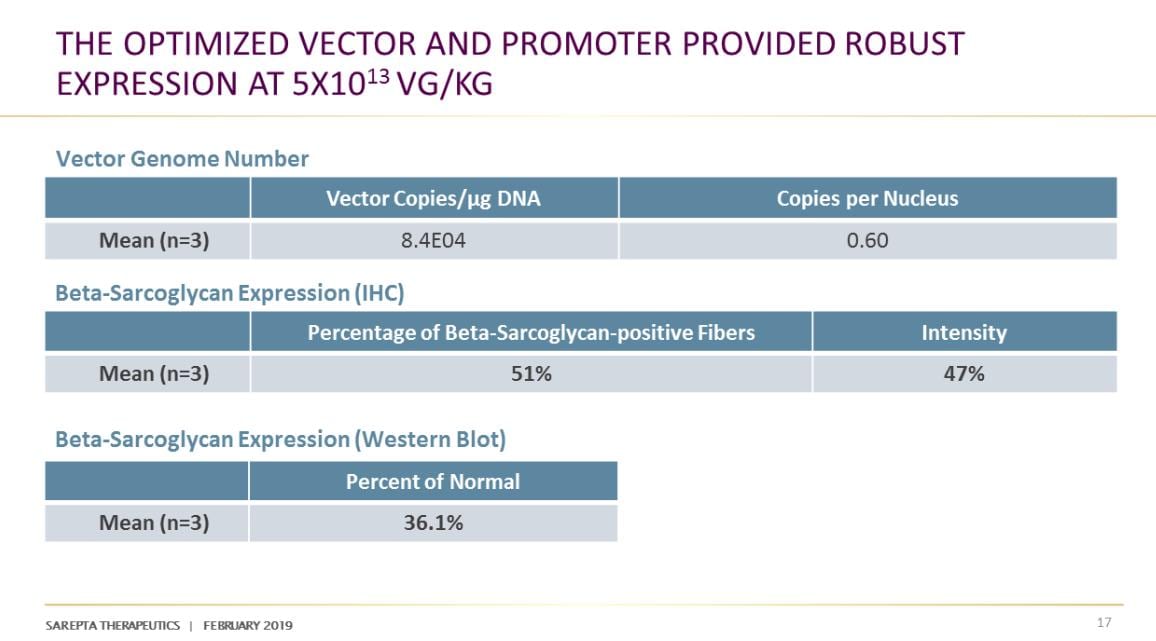 Whether the enhanced production of the beta-sarcoglycan translates to functional improvements remains to be seen, and the company will provide those data as it analyzes them at an upcoming medical meeting.
Credit Suisse's Martin Auster predicted that the evidence of potential functional improvements versus natural history data would be made at the MDA conference scheduled for April 13 to 17.
However, based on preclinical data, Sarepta said that functional improvements are seen with more than a 20% improvement in beta-sarcoglycan production.
In the trial, one of the secondary endpoints was the reduction in creatine kinase (CK), an enzyme found in the blood that is typically elevated as a result of muscle damage. Initial data showed that MYO-101 dramatically reduced CK levels on average by 90%, Sarepta said.
"We think every measure of effect exceeds expectations and likely puts this program on a fast track to approval," Baird's Brian Skorney wrote in a note.
Unlike Duchenne patients, those afflicted with LGMD are typically not treated with steroids as standard, background therapy. In this trial, patients were started on steroids before they were infused with the gene therapy.
Two patients were followed up after 90 days had elevated liver enzymes — an issue that has cropped up in other gene therapy trials such as AveXis' (Novartis) SMA program — with one deemed as a serious adverse event. However, Sarepta said the lofty liver signal occurred when the patients were tapered off oral steroids, and symptoms resolved upon supplemental steroid treatment.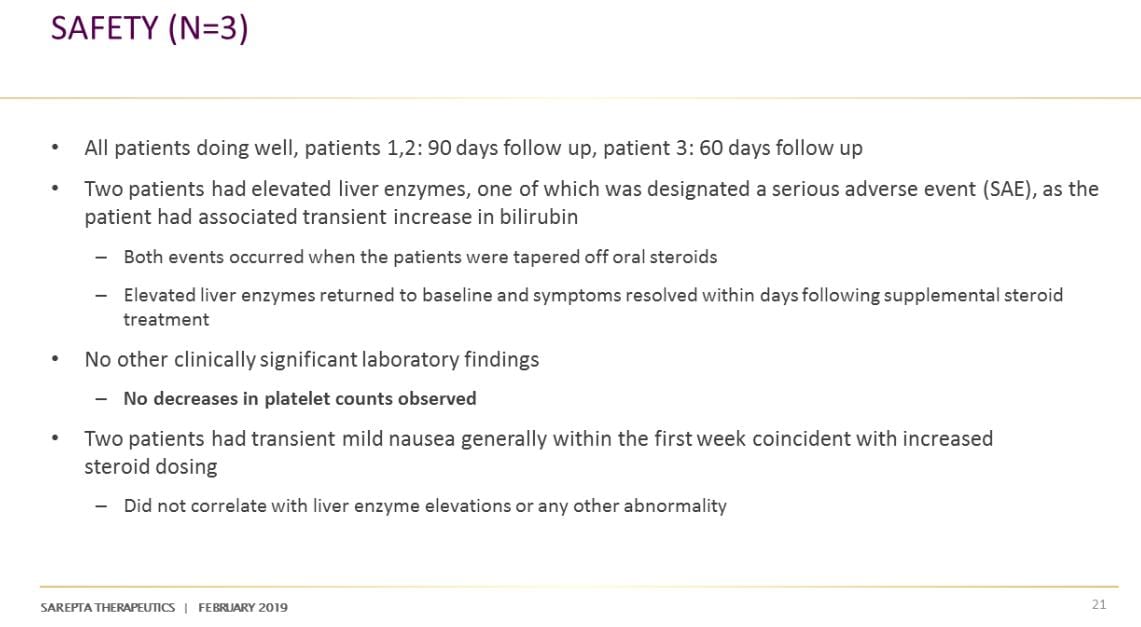 The cohort data, although early, have a potential read-through to all the limb-girdle programs, Sarepta CEO Doug Ingram said on a conference call with analysts on Wednesday. The company's shares $SRPT jumped about 8% in early trading.
The promise of gene therapies is intoxicating as they are potential one-shot cures for previously untouchable diseases. In just a little over a year now, Sanofi, Novartis and Roche have all invested in with multibillion-dollar gene therapy M&A deals, snapping up the pioneers in the field. Earlier this week, Roche magnified the enthusiasm with its $4.3 billion bet on Spark Therapeutics $ONCE, a company that has effectively helped a category of blind patients see again.
"While immediate readthrough (of the Sarepta data) goes to LGMD2B and 2C, the promise goes beyond LGMD. We think this is what ultimately drives long-term value here as it makes the foundation behind Roche's $4.8B Spark acquisition seem enormously speculative and limited in contrast," Skorney said.
---
The best place to read
Endpoints News

? In your inbox.

Comprehensive daily news report for those who discover, develop, and market drugs. Join 47,300+ biopharma pros who read Endpoints News by email every day.

Free Subscription
---
---
---