Sarep­ta posts ear­ly, rosy gene ther­a­py da­ta for limb gir­dle mus­cu­lar dy­s­tro­phy — fu­el­ing $165M buy­out of part­ner
Sarep­ta Ther­a­peu­tics $SRPT has re­vealed a promis­ing, ear­ly snap­shot of re­sults for its sec­ond gene ther­a­py pro­gram in pa­tients with a pro­gres­sive mus­cle de­gen­er­a­tive dis­or­der — months af­ter re­port­ing en­cour­ag­ing da­ta for its Duchenne gene ther­a­py, as the com­pa­ny for­ti­fies its sta­tus as a bonafide gene ther­a­py play­er. And the re­sults in­spired a $165 mil­lion buy­out.

Doug In­gram
On Wednes­day, Sarep­ta di­vulged da­ta from three pa­tients in the first co­hort of an open-la­bel Phase I/II study test­ing the use of an ex­per­i­men­tal gene ther­a­py — MYO-101 — in limb gir­dle mus­cu­lar dy­s­tro­phy (LGMD), a group of rare pro­gres­sive ge­net­ic dis­or­ders char­ac­ter­ized by wast­ing and weak­ness of the vol­un­tary mus­cles of the hip and shoul­der ar­eas (limb-gir­dle area) that have no ap­proved treat­ments.
The ther­a­py — which in­fus­es the cor­rec­tive gene us­ing a virus as a ve­hi­cle — is de­signed to treat LGMD2E, al­so known as be­ta-sarco­gly­canopa­thy, a se­vere form of LGMD char­ac­ter­ized by pro­gres­sive mus­cle fiber loss, in­flam­ma­tion and mus­cle fiber re­place­ment with fat and fi­brot­ic tis­sue.
MYO-101, along with four oth­er ex­per­i­men­tal LGMD gene ther­a­pies, was in-li­censed for $60 mil­lion by Sarep­ta last May from a pri­vate biotech called My­onexus (which burst on­to the scene with $2.5 mil­lion in seed fund­ing in 2017). On Wednes­day, Sarep­ta said it had ex­er­cised its op­tion to buy the com­pa­ny for $165 mil­lion.
Tri­al da­ta on the three pa­tients showed the ther­a­py re­ju­ve­nat­ed the pro­duc­tion, by an av­er­age of 51%, of be­ta-sarco­gly­can, the pro­tein re­quired for mus­cle func­tion that is miss­ing in this pa­tient pop­u­la­tion. The da­ta were mea­sured fol­low­ing a mus­cle biop­sy 60 days fol­low­ing in­fu­sion.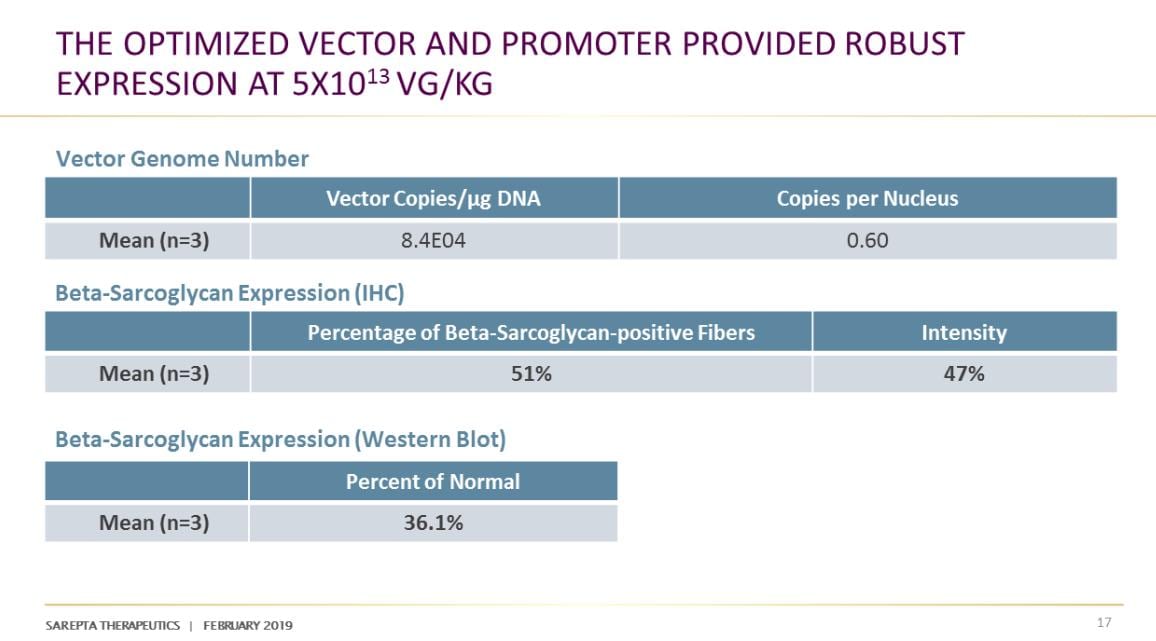 Whether the en­hanced pro­duc­tion of the be­ta-sarco­gly­can trans­lates to func­tion­al im­prove­ments re­mains to be seen, and the com­pa­ny will pro­vide those da­ta as it an­a­lyzes them at an up­com­ing med­ical meet­ing.
Cred­it Su­isse's Mar­tin Auster pre­dict­ed that the ev­i­dence of po­ten­tial func­tion­al im­prove­ments ver­sus nat­ur­al his­to­ry da­ta would be made at the MDA con­fer­ence sched­uled for April 13 to 17.
How­ev­er, based on pre­clin­i­cal da­ta, Sarep­ta said that func­tion­al im­prove­ments are seen with more than a 20% im­prove­ment in be­ta-sarco­gly­can pro­duc­tion.
In the tri­al, one of the sec­ondary end­points was the re­duc­tion in cre­a­tine ki­nase (CK), an en­zyme found in the blood that is typ­i­cal­ly el­e­vat­ed as a re­sult of mus­cle dam­age. Ini­tial da­ta showed that MYO-101 dra­mat­i­cal­ly re­duced CK lev­els on av­er­age by 90%, Sarep­ta said.
"We think every mea­sure of ef­fect ex­ceeds ex­pec­ta­tions and like­ly puts this pro­gram on a fast track to ap­proval," Baird's Bri­an Sko­r­ney wrote in a note.
Un­like Duchenne pa­tients, those af­flict­ed with LGMD are typ­i­cal­ly not treat­ed with steroids as stan­dard, back­ground ther­a­py. In this tri­al, pa­tients were start­ed on steroids be­fore they were in­fused with the gene ther­a­py.
Two pa­tients were fol­lowed up af­ter 90 days had el­e­vat­ed liv­er en­zymes — an is­sue that has cropped up in oth­er gene ther­a­py tri­als such as AveX­is' (No­var­tis) SMA pro­gram — with one deemed as a se­ri­ous ad­verse event. How­ev­er, Sarep­ta said the lofty liv­er sig­nal oc­curred when the pa­tients were ta­pered off oral steroids, and symp­toms re­solved up­on sup­ple­men­tal steroid treat­ment.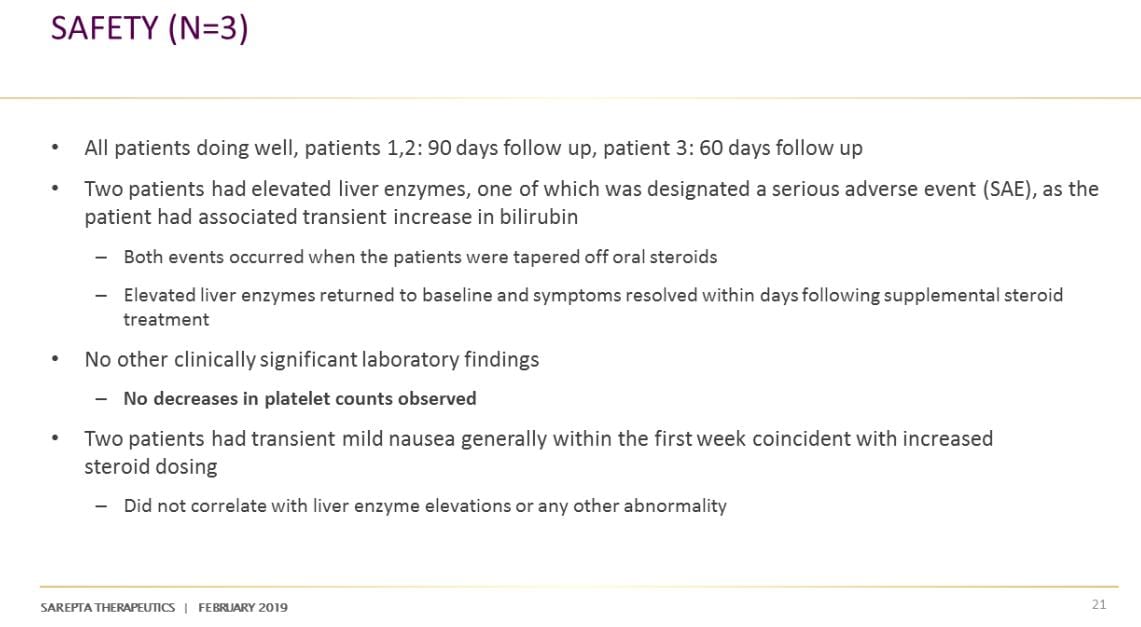 The co­hort da­ta, al­though ear­ly, have a po­ten­tial read-through to all the limb-gir­dle pro­grams, Sarep­ta CEO Doug In­gram said on a con­fer­ence call with an­a­lysts on Wednes­day. The com­pa­ny's shares $SRPT jumped about 8% in ear­ly trad­ing.
The promise of gene ther­a­pies is in­tox­i­cat­ing as they are po­ten­tial one-shot cures for pre­vi­ous­ly un­touch­able dis­eases. In just a lit­tle over a year now, Sanofi, No­var­tis and Roche have all in­vest­ed in with multi­bil­lion-dol­lar gene ther­a­py M&A deals, snap­ping up the pi­o­neers in the field. Ear­li­er this week, Roche mag­ni­fied the en­thu­si­asm with its $4.3 bil­lion bet on Spark Ther­a­peu­tics $ONCE, a com­pa­ny that has ef­fec­tive­ly helped a cat­e­go­ry of blind pa­tients see again.
"While im­me­di­ate readthrough (of the Sarep­ta da­ta) goes to LGMD2B and 2C, the promise goes be­yond LGMD. We think this is what ul­ti­mate­ly dri­ves long-term val­ue here as it makes the foun­da­tion be­hind Roche's $4.8B Spark ac­qui­si­tion seem enor­mous­ly spec­u­la­tive and lim­it­ed in con­trast," Sko­r­ney said.