Scathing short at­tack from an ob­scure source ac­cus­es Nan­jing Leg­end of ma­nip­u­lat­ing CAR-T da­ta — Gen­script shares nose­dive
Gen­script, the Chi­nese com­pa­ny be­hind overnight CAR-T star Nan­jing Leg­end Biotech, has seen its stock nose­dive af­ter a damn­ing short re­port ques­tioned its da­ta in­tegri­ty, R&D ex­per­tise, safe­ty record and man­u­fac­tur­ing ca­pa­bil­i­ty.
The stock dipped as much as 47% on the Hong Kong Stock Ex­change be­fore trad­ing was sus­pend­ed at around a 26% loss — or $1 bil­lion.
While Gen­script has yet to is­sue an of­fi­cial re­sponse, the com­pa­ny told Na­tion­al Busi­ness Dai­ly that the short re­port "con­tains mul­ti­ple flaws that are in­ac­cu­rate, and the com­pa­ny will pub­lish a clar­i­fi­ca­tion state­ment as soon as pos­si­ble."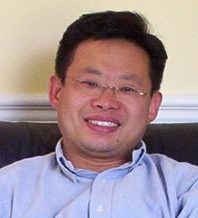 Xi­ao­hu (Frank) Fan
Once a vir­tu­al un­known con­tract re­search or­ga­ni­za­tion, Gen­script came in­to the glob­al spot­light when its sub­sidiary Leg­end pre­sent­ed some jaw-drop­ping re­sults for its BC­MA-tar­get­ing CAR-T at 2017 AS­CO. Then J&J of­fered a high pro­file en­dorse­ment through its Janssen unit by hand­ing $350 mil­lion up­front to part­ner on LCAR-B38M for mul­ti­ple myelo­ma.
But ac­cord­ing to the re­port writ­ten in Chi­nese and at­trib­uted to Flam­ing Re­search — an ob­scure firm whose web­site lists on­ly one re­port on Ti­bet Wa­ter — Leg­end like­ly forged the da­ta, and Janssen missed out on key due dili­gence in haste to catch up with Cel­gene as the two gi­ants fight for dom­i­nance in mul­ti­ple myelo­ma.
Here's how they got to that con­clu­sion: Leg­end's CAR-T da­ta came from three "well rec­og­nized hema­tol­ogy hos­pi­tals" in Shang­hai and Jiang­su, and one mediocre hos­pi­tal in Xi'an. But it was the re­searchers in Xi'an who of­fered the most com­pelling da­ta, where­as the da­ta from the oth­er sites didn't hold up.
"Giv­en that Xi'an da­ta were over­all bet­ter than Shang­hai da­ta, choos­ing to se­lec­tive­ly dis­close Xi'an da­ta is clear­ly fraud­u­lent be­hav­ior," the re­port reads. "Like­wise, doc­tors in Shang­hai have doubts about the Xi'an da­ta: On one hand Leg­end was more con­cerned with treat­ment ef­fects than safe­ty, on the oth­er the Xi'an hos­pi­tal didn't have suf­fi­cient record on safe­ty da­ta."
The in­ci­dent, wide­ly re­port­ed by Chi­nese me­dia, al­so rais­es ques­tions about the volatil­i­ty of the HKEX at a crit­i­cal time as non-rev­enue biotechs start go­ing pub­lic on the ex­change.
Gen­script the CRO was first list­ed in 2015 but got its big break this year in the wake of Leg­end's stel­lar CAR-T re­sults, surg­ing as much as 500%. Now that its stock is close­ly tied to the per­for­mance of its biotech sub­sidiary, what­ev­er hap­pens here could serve as a cau­tion­ary tale for the pre-rev­enue biotechs that have on­ly re­cent­ly been al­lowed on­to the city's ex­change.
The 14-page re­port starts with the the­sis that it's worth less than a quar­ter of its cur­rent price. Aside from is­sues with the da­ta, it high­lights a pa­tient death that oc­curred at a Shang­hai site in 2017, which Gen­script dis­closed but hasn't fol­lowed up on, as an il­lus­tra­tion of the ther­a­py's po­ten­tial risk. It fur­ther at­tacks Frank (Xi­ao­hu) Fan, Leg­end's R&D chief, for his lack of cre­den­tials in drug de­vel­op­ment and the "se­ri­ous chal­lenges" he's faced in ap­ply­ing for patents — in ad­di­tion to the gen­er­al lack of ex­per­tise in his team.