Scoop: Tur­ing CEO and Shkre­li al­ly Ron Tilles is out as CEO, R&D chief Sali­nas takes the helm and board vote looms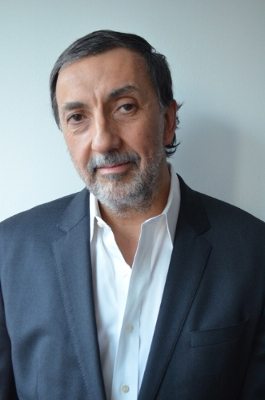 Eliseo Sali­nas
Regime change of some sort is un­der­way at the con­tro­ver­sial Tur­ing Phar­ma­ceu­ti­cals.
Tipped off on Fri­day that CEO and co-founder Ron Tilles — a close as­so­ciate of for­mer Tur­ing CEO Mar­tin Shkre­li — was leav­ing the top post, the biotech con­firmed to End­points News Sun­day evening that Tilles is be­ing re­placed by chief sci­en­tif­ic of­fi­cer Eliseo Sali­nas. Here's the state­ment:
"Tur­ing Phar­ma­ceu­ti­cals has ap­point­ed Dr. Eliseo Sali­nas, MD, MSc as in­ter­im CEO. Dr. Sali­nas will guide Tur­ing as it moves for­ward to max­i­mize Dara­prim's suc­cess as the pri­ma­ry al­ter­na­tive for the treat­ment of tox­o­plas­mo­sis in com­bi­na­tion with a sul­fon­amide, and to ad­vance the promis­ing pipeline of new com­pounds for se­vere par­a­sitic in­fec­tions, while Mr. Tilles will re­main a mem­ber of Tur­ing's board."
A source close to the com­pa­ny tells me that there's a strug­gle un­der­way now for con­trol of the Tur­ing board. An "ex­tra­or­di­nary" board meet­ing – not the an­nu­al – is slat­ed for May 10 when Zsol­ta Lavotha for­mer­ly of Orexo AB and Richard J Berman of Cal­adrius Bio­sciences will be pro­posed as new board mem­bers by the new CEO.
A spokesman for Tur­ing con­firmed the up­com­ing meet­ing and the nom­i­na­tions. He added that Tilles stepped down from the CEO spot ear­li­er this month.
Tur­ing played a big role in fo­cus­ing Con­gress and much of the pub­lic on phar­ma­ceu­ti­cal price goug­ing, af­ter then CEO and co-founder Shkre­li trig­gered a coast-to-coast up­roar in 2015 over his de­ci­sion to boost the price of Dara­prim — an old and once much cheap­er ther­a­py — by more than 5000%. Shkre­li, who had al­so co-found­ed Retrophin (which sued him) with Tilles and ac­quired Kalo­Bios (which grad­u­al­ly shed any con­nec­tion to him) was lat­er ar­rest­ed on fed­er­al se­cu­ri­ties fraud charges re­lat­ed to his for­mer hedge funds and the way he man­aged the com­pa­ny cash at Retrophin.
Tilles, Shkre­li's close con­fed­er­ate, was left run­ning the show on an in­ter­im ba­sis for the last 17 months. De­spite be­ing drug be­fore a Con­gres­sion­al com­mit­tee — where he pled the Fifth — Shkre­li and Tur­ing nev­er did back down from their big price in­crease, which is en­tire­ly le­gal and com­plete­ly con­tro­ver­sial. Shkre­li, who re­neged on ini­tial promis­es to cut the price, lat­er de­light­ed in taunt­ed his crit­ics and claim­ing that the price should have been raised even high­er.
Sali­nas has a le­git­i­mate rep­u­ta­tion in the in­dus­try. He was the for­mer R&D chief at Elan at one point and went on to run re­search at Stem­Cells and Rel­ma­da.
We'll have more on the saga, in­clud­ing news about the up­com­ing Shkre­li tri­al in Man­hat­tan in June, as it comes in.