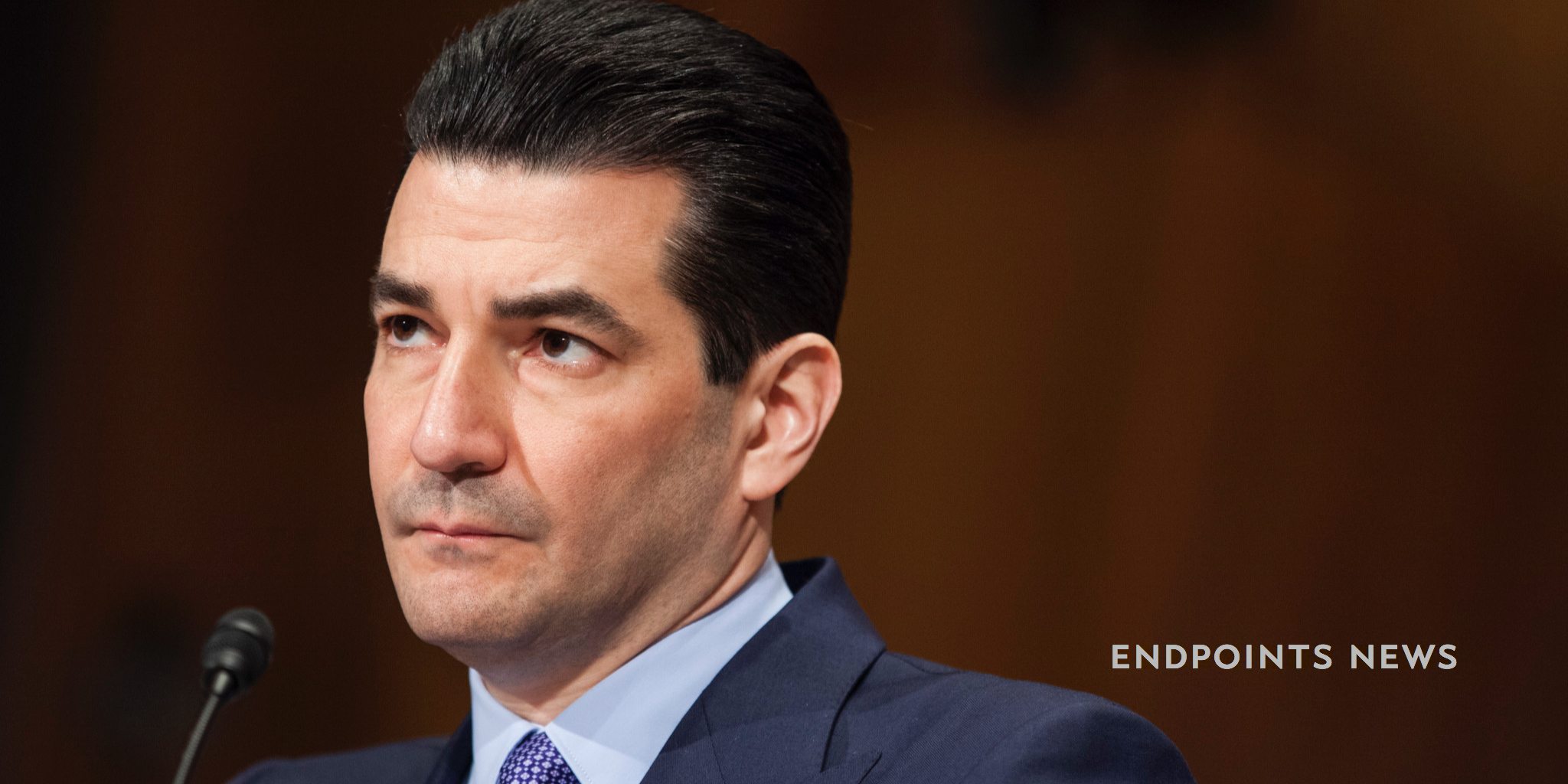 WATCH: Scott Got­tlieb vows to shake up the FDA, back­ing a trend to­ward faster drug de­vel­op­ment
FDA com­mis­sion­er Scott Got­tlieb has sound­ed a crys­tal clear warn­ing over the high — and grow­ing — cost of drug de­vel­op­ment. And in a speech to reg­u­la­to­ry ex­ecs on Mon­day, Got­tlieb com­mit­ted the FDA to back­ing up more ef­fi­cient drug de­vel­op­ment pro­grams with new mea­sures to clear the reg­u­la­to­ry path for de­vel­op­ers bar­rel­ing ahead to rel­a­tive­ly swift piv­otal da­ta in search of an ac­cel­er­at­ed OK.
Got­tlieb start­ed by out­lin­ing a bleak pic­ture in drug R&D, not­ing that the eco­nom­ic mod­el for drug de­vel­op­ment is bro­ken. It costs too much to de­vel­op a drug so it can be ap­proved for mar­ket­ing. And costs are swelling fast at the dis­cov­ery end of the busi­ness, which will help swamp a sys­tem that al­ready doesn't work par­tic­u­lar­ly well.
As he has in the past, Got­tlieb held up some of the rapid-fire clin­i­cal tri­als we've been see­ing in the can­cer field as a mod­el for what can work, paving the way to the ac­cel­er­at­ed ap­proval path­way at the FDA. And he be­lieves — though there is pre­cious lit­tle ev­i­dence to back it up — that mov­ing drug de­vel­op­ment in­to the fast lane can re­duce R&D costs and there­by al­low bio­phar­ma com­pa­nies to pass on sav­ings to pa­tients through low­er costs.
To help de­vel­op­ers, Got­tlieb vowed that the FDA, through CDER chief Janet Wood­cock and the Of­fice of New Drugs, will adapt the reg­u­la­to­ry path­way to en­able drug de­vel­op­ment at a more mod­er­ate cost.
Said Got­tlieb:
Com­pa­ra­ble reg­u­la­to­ry mile­stones need to be built in­to the new seam­less clin­i­cal tri­al process. We need to en­sure we pro­vide com­pa­ra­ble in­ter­ac­tions and over­sight.
He al­so not­ed that as de­vel­op­ers move to­ward faster, seam­less stud­ies — drop­ping the tra­di­tion­al Phase I through Phase III de­vel­op­ment plan — reg­u­la­tors al­so need to up­date pa­tients' aware­ness of the risks in­volved in pro­vid­ing their con­sent for par­tic­i­pat­ing in these stud­ies.
---
Watch Got­tlieb's speech and Q&A
Cred­it: RAPS
---
Here are some ex­cerpts from the speech, start­ing with an out­line of the trend to­ward a sin­gle de­vel­op­ment pro­gram for new drugs.
Ow­ing in part to these lead­er­ship ef­forts, we've seen more spon­sors de­vel­op on­col­o­gy drugs that for­go the con­ven­tion­al three se­quen­tial phas­es of drug de­vel­op­ment. They opt in­stead for seam­less ap­proach­es. Un­der these tri­al de­signs, they'll typ­i­cal­ly add co­horts to a first-in-hu­man tri­al to in­ves­ti­gate dos­es and ac­tiv­i­ty in a va­ri­ety of can­cers.

We've seen ex­am­ples where this ap­proach has al­lowed the rapid de­vel­op­ment of drugs in mul­ti­ple dif­fer­ent tu­mor types. If we had to stop and start for­mal Phase II tri­als in each dif­fer­ent or­gan sys­tem where a can­cer arose, it could have been a pro­tract­ed process. This ap­proach is well suit­ed to the kinds of drugs that are be­ing de­vel­oped now, where drugs in­ter­vene on com­mon el­e­ments found across mul­ti­ple kinds of dis­ease states. At FDA, we've iden­ti­fied more than 40 ac­tive com­mer­cial in­ves­ti­ga­tion­al new drug ap­pli­ca­tions for large first-in-hu­man on­col­o­gy tri­als alone that use these seam­less strate­gies.
Got­tlieb al­so talked about us­ing broad pro­to­cols that al­low de­vel­op­ers to tack­le mul­ti­ple tar­gets at once.
We're al­so ad­vanc­ing the use of 'Mas­ter Pro­to­cols' to en­able more co­or­di­nat­ed ways to use the same tri­al struc­ture to eval­u­ate treat­ments in more than one sub­type of a dis­ease or type of pa­tient.

This ap­proach is par­tic­u­lar­ly rel­e­vant when it comes to tar­get­ed drugs. These are drugs that may in­ter­vene on mark­ers that are rel­e­vant across many dif­fer­ent dis­ease sub­types. We may, for ex­am­ple, want to eval­u­ate these dif­fer­ent tar­gets si­mul­ta­ne­ous­ly, as part of one large study. This could give us a bet­ter way to un­der­stand the com­par­a­tive ben­e­fits of a drug across dif­fer­ent set­tings. To en­able these mas­ter pro­to­cols, it's of­ten im­por­tant to do mol­e­c­u­lar pa­tient screen­ing. This can lead to the de­vel­op­ment of a di­ag­nos­tic that can al­so be used to guide pa­tient care.
Got­tlieb out­lined plans to in­vest more of the FDA's mon­ey in new tech­nol­o­gy that can as­sist this faster/bet­ter/cheap­er ap­proach to drug de­vel­op­ment.
On the sec­ond point that I want­ed to high­light to­day, we're al­so tak­ing new steps to mod­ern­ize how spon­sors can eval­u­ate clin­i­cal in­for­ma­tion, and how FDA re­views this da­ta as part of our reg­u­la­to­ry process.

This starts with bet­ter use of more ad­vanced com­put­ing tools, and more so­phis­ti­cat­ed sta­tis­ti­cal and com­pu­ta­tion­al method­olo­gies, as part of the drug de­vel­op­ment and the drug re­view process. This in­cludes more wide­spread use of mod­el­ing and sim­u­la­tion, and high per­for­mance com­put­ing clus­ters in­side FDA.

FDA al­ready has high per­for­mance com­put­ing clus­ters. These tools help us de­vel­op more so­phis­ti­cat­ed meth­ods for eval­u­at­ing the da­ta that's sub­mit­ted to us from clin­i­cal tri­als. The com­put­ing tools al­so en­able us to prop­er­ly eval­u­ate the more so­phis­ti­cat­ed com­po­nents that are sub­mit­ted to us as part of prod­uct re­view ap­pli­ca­tions.
Got­tlieb al­so talked about shak­ing up the R&D ap­proach to some spe­cif­ic dis­eases that have proved par­tic­u­lar­ly hard to deal with.
Ad­di­tion­al­ly, to bet­ter de­lin­eate how we're go­ing to ap­proach the over­all de­vel­op­ment and eval­u­a­tion of drugs tar­get­ed to cer­tain un­met med­ical needs, we plan to be­gin work on at least ten new dis­ease-spe­cif­ic guid­ance doc­u­ments over the next year. Some of these doc­u­ments are al­ready un­der­way. Among the dis­eases we're tar­get­ing are ar­eas of sig­nif­i­cant un­met need like Amy­otroph­ic Lat­er­al Scle­ro­sis (ALS).
Re­vamp­ing the eco­nom­ics of drug R&D is no sim­ple task.
The on­col­o­gy field has been able to move far­ther and faster than oth­er dis­ease fields due to its abil­i­ty to test new drugs on pa­tients with ad­vanced dis­ease and dwin­dling hope of sur­vival. So it won't be easy to trans­late that same ap­proach to mass mar­ket dis­eases like di­a­betes and car­dio, where mil­lions are treat­ed for years for chron­ic dis­ease.
An­oth­er big ques­tion is whether bio­phar­ma com­pa­nies will ac­tu­al­ly pass along any sav­ings they get from a more ef­fi­cient de­vel­op­ment path­way to pay­ers and con­sumers. The en­tire in­dus­try has been tip­ping more and more of its de­vel­op­ment dol­lars to can­cer in part be­cause of the big re­wards that come from fast ap­provals. And the FDA has no con­trol what­so­ev­er over the fi­nal price drug de­vel­op­ers use for their new drugs.