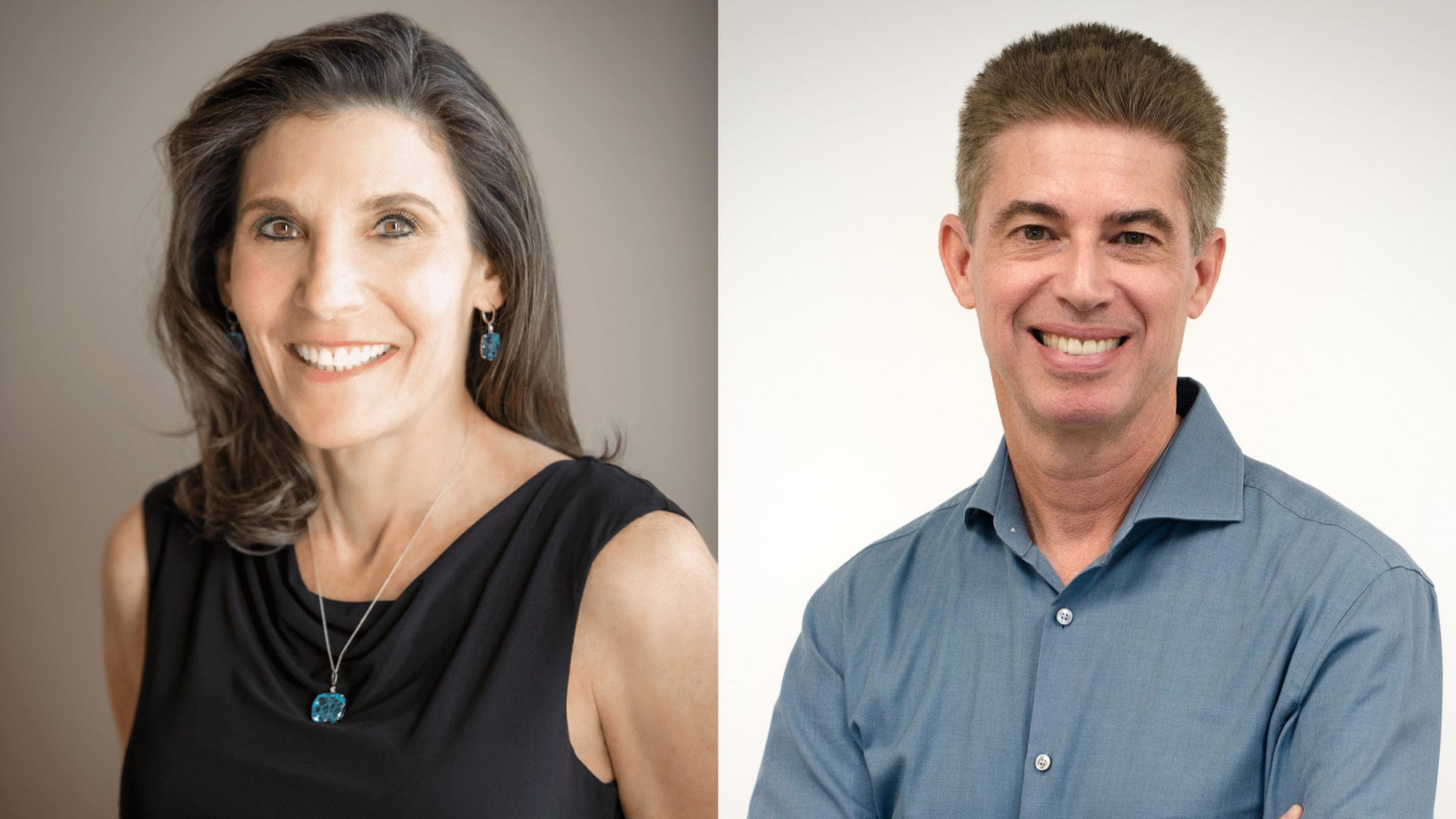 Beth Seidenberg and Sean Harper, Westlake Village
Sean Harp­er and Beth Sei­den­berg add $500M to their new VC, bet­ting on the LA biotech ecosys­tem
When Ar­se­nal Bio launched last year, the head­line name was Nap­ster bil­lion­aire Sean Park­er, who, af­ter fund­ing an im­munother­a­py in­sti­tute, de­cid­ed to back a bold bet on cell ther­a­py 2.0.
The first in­vestor named on the press re­lease for Ar­se­nal's $85 mil­lion launch, though, wasn't Park­er; it was West­lake Vil­lage Biopart­ners, an LA-based VC firm found­ed just the year pri­or by long­time Am­gen R&D chief Sean Harp­er and the long­time life sci­ences chief at the leg­endary Sil­i­con Val­ley firm Klein­er Perkins, Beth Sei­den­berg.
Ar­se­nal marked West­lake's first pub­lic in­vest­ment, and while 8 of the 11 com­pa­nies they've backed re­main un­der wraps, the duo has al­ready raised a new fund — two, ac­tu­al­ly. One fund, worth $430 mil­lion, will con­tin­ue their orig­i­nal goal, al­low­ing them to back about a dozen ear­ly-stage star­tups. An­oth­er, worth $70 mil­lion, will let the firm join Se­ries B and oth­er mid-rounds for the com­pa­nies they helped launch.
The new funds bring West­lake to $820 mil­lion in cap­i­tal in the two-plus years since their launch. They had al­ways in­tend­ed to raise the sec­ond fund. The third, they said, arose out of some strong sug­ges­tions they re­ceived as they were fundrais­ing.
"Our lim­it­ed part­ners were look­ing at my re­turns for my [Klein­er Perkins] biotech com­pa­nies and said, 'Beth, do you know how much mon­ey you left on the ta­ble?'" Sei­den­berg told End­points News.
So far, the com­pa­nies they've an­nounced have fo­cused on high pro­file cell ther­a­py ef­forts. In ad­di­tion to Ar­se­nal, they al­so backed TMu­ni­ty, a Carl June-found­ed ef­fort to use CRISPR to en­gi­neer CAR-Ts. And they in­vest­ed in Kyver­na Ther­a­peu­tics, a Gilead-part­nered biotech, to use cell ther­a­py for au­to-im­mune and neu­rode­gen­er­a­tive con­di­tions.
Harp­er, though, says that amounts to a sam­pling er­ror, as most of the com­pa­nies they've backed re­main in stealth mode.
"We have cell-based ther­a­pies, gene ther­a­pies, small mol­e­cules and an­ti­bod­ies," he told End­points. "We're pret­ty ag­nos­tic in the modal­i­ty and we're pret­ty op­por­tunis­tic and broad in the dis­ease ar­eas we're work­ing in."
The duo said they look for one of three things to build a biotech around, bring­ing to each first­hand tech­ni­cal knowl­edge of ear­ly drug de­vel­op­ment: A proven col­lec­tion of drug dis­cov­ery vet­er­ans, to whom they can pro­vide mon­ey and lab space and let them do their thing; a promis­ing tech­nol­o­gy com­ing out of the uni­ver­si­ty lev­el; or shelved drugs in oth­er com­pa­nies that they can of­fer a fo­cused de­vel­op­ment.
The fund's lat­est com­pa­ny, al­so an­nounced Tues­day, amounts to a heavy bet on the first mod­el.
Known as Ace­lyrin, the com­pa­ny so far con­sists on­ly of Shao-Lee Lin and Bob Carey, the for­mer R&D chief and CBO of Hori­zon Ther­a­peu­tics, re­spec­tive­ly. The plan, they say, is to part­ner and li­cense as­sets in im­munol­o­gy, but they haven't dis­closed what as­sets or in­tel­lec­tu­al prop­er­ty they have — or even if they have li­censed any in­tel­lec­tu­al prop­er­ty. They al­so haven't dis­closed the size of the Se­ries A, if they have lab space, or if they have any oth­er em­ploy­ees.
Harp­er notes, though, that the duo has suc­ceed­ed be­fore, build­ing Hori­zon's pipeline, in­clud­ing a hand­ful of ap­proved im­munol­o­gy drugs. And Lin says they can of­fer fu­ture part­ners unique acu­men and ex­pe­ri­ence.
"There's a lot of fund­ing out there," she told End­points. "The gap we be­lieve we fill, is that in ad­di­tion to the ac­cess to cap­i­tal, we be­lieve we bring ex­per­tise to the ta­ble. We have track records of build­ing mul­ti-bil­lion dol­lar ther­a­peu­tics."