Search­ing for HIV cure, Gilead­'s new 'shock and kil­l' com­bo swats back lethal virus in mon­keys
A promi­nent group of sci­en­tif­ic in­ves­ti­ga­tors has tak­en an­oth­er step to­ward a pos­si­ble even­tu­al cure for HIV — one of the longest and most dif­fi­cult trails in drug R&D — us­ing a com­bo drug from Gilead.
While com­bi­na­tion ther­a­pies have long proven able to keep HIV locked in­to hid­den cel­lu­lar reser­voirs, elim­i­nat­ing those vi­ral pock­ets has proven to be dev­il­ish­ly dif­fi­cult. In a new an­i­mal study in­volv­ing rhe­sus mon­keys, though, re­searchers at Har­vard work­ing at Beth Is­rael Dea­coness Med­ical Cen­ter ad­vanced a lengthy ef­fort in pur­su­ing a "shock and kill" strat­e­gy us­ing a toll-like re­cep­tor com­bined with a killer an­ti­body.
Gilead's ex­per­i­men­tal TLR7 ag­o­nist GS-9620 did the shock­ing, and the an­ti­body PGT121 did the killing. And while they weren't able to erad­i­cate the reser­voirs, the re­searchers were able to do a good enough job to al­low close to half the mon­keys in the com­bo arm of the study to go with­out an­ti­retro­vi­ral for a lengthy stretch, rais­ing the promise that the same might be ac­com­plished in a large sub­set of hu­man pa­tients.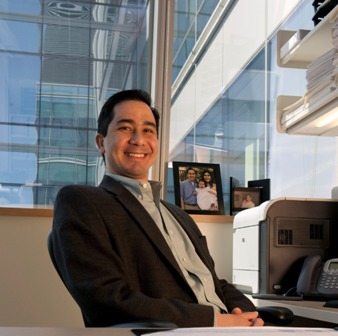 Dan Barouch
To test this ap­proach, in­ves­ti­ga­tors took 44 mon­keys in­fect­ed with a simi­an form of the virus and di­vid­ed them in­to 4 groups. They left one group in the place­bo arm, di­vid­ing the rest in­to two groups which were treat­ed with one of the two treat­ments alone and one group tak­ing a com­bi­na­tion. Then they took them off ther­a­py.
While the virus in most of the mon­keys in the place­bo or two monother­a­py arms quick­ly re­bound­ed, ready to kill as ever, 5 of the 11 pri­mates in the com­bo arm were able to go at least 168 days with­out re­bound­ing, with the oth­er 6 re­bound­ing but then able to sup­press the virus with­out an­ti­retro­vi­ral ther­a­py (ART).
Gilead has now ad­vanced the two treat­ments in Phase I stud­ies as they start to test how hu­mans will re­spond. Non­hu­man pri­mates have long been con­sid­ered an ide­al mod­el for an­tivi­ral ther­a­pies.
Why is this im­por­tant?
While pa­tients re­spond to longterm cock­tail ther­a­pies, they al­so ex­pe­ri­ence greater vul­ner­a­bil­i­ty to a va­ri­ety of mal­adies that can short­en their lives. The prospect of go­ing off ART for lengthy pe­ri­ods would hold the promise of sig­nif­i­cant­ly re­duc­ing those risks.
"New HIV ther­a­pies that aim to wake up and tar­get the vi­ral reser­voir have the po­ten­tial to play an im­por­tant role in long-term vi­ral sup­pres­sion with­out ART," said Har­vard pro­fes­sor Dan Barouch, the di­rec­tor at the Cen­ter for Vi­rol­o­gy and Vac­cine Re­search, Beth Is­rael Dea­coness Med­ical Cen­ter.