Seat­tle Ge­net­ics/Astel­las win pri­or­i­ty US re­view for armed an­ti­body aimed at blad­der can­cer
Seat­tle Ge­net­ics has se­cured a speedy re­view of its sec­ond armed an­ti­body, cour­tesy of the FDA.
The com­pa­ny's 'break­through' Astel­las-part­nered drug — en­for­tum­ab ve­dotin — has pro­cured pri­or­i­ty re­view from the US reg­u­la­tor, af­ter da­ta showed it helped pa­tients with a stub­born type of blad­der can­cer.
The drug-in­duced a 44% ob­jec­tive re­sponse rate (ORR) in 128 pa­tients whose dis­ease had pro­gressed de­spite treat­ment with both plat­inum-con­tain­ing chemother­a­py and a check­point in­hibitor in the one-arm EV-201 study. About 12% of the pa­tients ex­pe­ri­enced a com­plete re­sponse, Seat­tle Ge­net­ics dis­closed at AS­CO this June.
A mar­ket­ing ap­pli­ca­tion for the drug has al­ready been sub­mit­ted — and a late-stage tri­al de­signed to con­firm the drug's safe­ty and ef­fi­ca­cy in this pa­tient pop­u­la­tion is on­go­ing.
The FDA is ex­pect­ed to make its de­ci­sion on the drug by March 15, the com­pa­ny said on Mon­day. In a note pub­lished in Ju­ly, Stifel an­a­lysts es­ti­mat­ed that en­for­tum­ab ve­dotin will gen­er­ate North Amer­i­ca sales of about $367 mil­lion in 2024.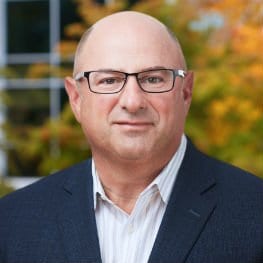 Clay Sie­gall Seat­tle Ge­net­ics
The part­ners are test­ing the drug in com­bi­na­tion with Mer­ck's $MRK Keytru­da and with chemother­a­py, and as part of a triplet com­bo. The idea is to al­so push for ap­proval in the front­line set­ting and gen­er­ate block­buster sales, Seat­tle Ge­net­ics' chief Clay Sie­gall told End­points News at AS­CO.
AD­Cs are a class of ther­a­peu­tics in which a can­cer-killing tox­in is at­tached to a spe­cif­ic an­ti­body us­ing a biodegrad­able link­er. De­signed to min­i­mize the ef­fects of the chemother­a­py on healthy cells while max­i­miz­ing tu­mor cell death, the tech­nol­o­gy is some­times likened to a tro­jan horse as it is en­gi­neered to go un­no­ticed, de­liv­er­ing chemother­a­pies to cells ex­press­ing the anti­gen tar­get. Seat­tle Ge­net­ics $SGEN al­ready has one ADC on the mar­ket, Ad­cetris, and a slate of oth­ers in de­vel­op­ment.
En­for­tum­ab ve­dotin (EV) tar­gets Nectin-4, a cell ad­he­sion mol­e­cule seen in a range of sol­id tu­mors.
Urothe­lial can­cer is the most com­mon type of blad­der can­cer. About 80,470 new cas­es of blad­der can­cer are ex­pect­ed to be di­ag­nosed this year, and it is an­tic­i­pat­ed that 17,670 blad­der can­cer deaths will oc­cur in 2019, ac­cord­ing to Amer­i­can Can­cer So­ci­ety es­ti­mates. Da­ta sug­gest most pa­tients do not re­spond to check­point in­hibitors af­ter a plat­inum-con­tain­ing ther­a­py has failed as an ini­tial treat­ment for ad­vanced dis­ease, and there are no oth­er ap­proved op­tions for pa­tients once these two lines of treat­ment have been ex­haust­ed.
So­cial im­age: Clay Sie­gall, Life Sci­ence Wash­ing­ton via YouTube