Sen­ate Dems cling to a sim­ple ma­jor­i­ty to pass some of the biggest drug pric­ing re­forms ever
The Phar­ma­ceu­ti­cal Re­search and Man­u­fac­tur­ers of Amer­i­ca — and their fleet of drug in­dus­try lob­by­ists on Capi­tol Hill — are known for nev­er los­ing.
When­ev­er a big drug pric­ing bill comes up, an army of the in­dus­try group's lob­by­ists de­scend on­to the Hill and ei­ther smash it out­right or dis­man­tle it piece by piece.
But for per­haps the largest drug pric­ing re­forms ever en­act­ed, af­ter more than a decade of Con­gress try­ing and fail­ing to al­low Medicare to ne­go­ti­ate pre­scrip­tion drug prices, those same lob­by­ists and their bio­phar­ma clients were dealt a stun­ning blow on Sun­day af­ter­noon.
Sen­ate De­moc­rats sal­vaged all 50 of their seats (plus Vice Pres­i­dent Ka­mala Har­ris to break the tie) to hold off Re­pub­li­can amend­ments af­ter more than a dozen hours of overnight vot­ing to pass a wider-rang­ing tax and cli­mate bill.
The win for the Sen­ate Dems, tee­ing up an­oth­er par­ti­san thumbs-up vote in the House this Fri­day and a guar­an­teed Pres­i­dent Joe Biden sig­na­ture, means that for the first time ever, the fed­er­al gov­ern­ment will be able to ne­go­ti­ate and/or set prices on some of the most ex­pen­sive drugs that, via its Cen­ters for Medicare and Med­ic­aid Ser­vices, it pays for.
The bill al­so caps se­niors' out-of-pock­et spend­ing for pre­scrip­tion drugs at $2,000 per year — a his­toric move as some se­niors on cer­tain treat­ments spend up­wards of $2,000 per month on their drugs.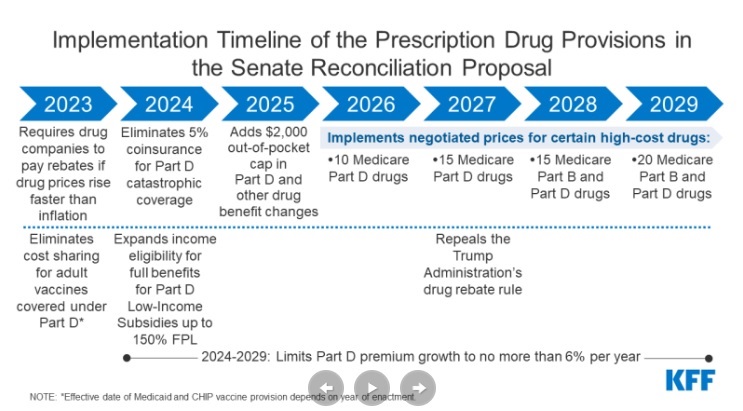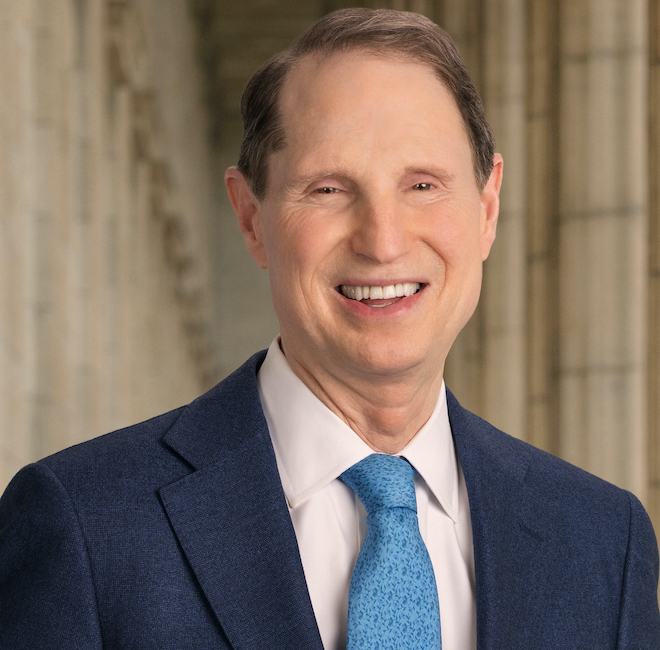 Ron Wyden
"For too long, Medicare has been forced to con­tend with Big Phar­ma with one hand tied be­hind its back – that ends when this bill is signed in­to law," Sen­ate Fi­nance Com­mit­tee Chair Ron Wyden (D-OR) said in a state­ment af­ter the win. "I have been spot­light­ing how the drug pric­ing sys­tem is bro­ken top to bot­tom. At last, the Sen­ate has be­gun to re­de­fine the re­la­tion­ship be­tween Medicare and Big Phar­ma."
Dems in the House are ea­ger to fol­low their Sen­ate col­leagues' foot­steps, with Rep. Frank Pal­lone (D-NJ), chair of the En­er­gy & Com­merce Com­mit­tee, adding in a state­ment,
Near­ly 20 years ago Re­pub­li­cans pre­vent­ed the fed­er­al gov­ern­ment from ne­go­ti­at­ing fair prices for se­niors, and the In­fla­tion Re­duc­tion Act re­vers­es that egre­gious gift to Big Phar­ma, which will save se­niors and Medicare mon­ey. This leg­is­la­tion fi­nal­ly lev­els the play­ing field and will help en­sure se­niors are no longer price gouged at the phar­ma­cy counter. It al­so pe­nal­izes Big Phar­ma com­pa­nies for un­fair­ly hik­ing prices on se­niors.
But the CMS ne­go­ti­a­tions on drug pric­ing have al­so been crit­i­cized as a slip­pery slope to wider, Eu­ro­pean-style price con­trols, clos­ing off the bio­phar­ma in­dus­try's biggest mar­ket, even if the passed ne­go­ti­a­tions will at first be lim­it­ed to about 60 drugs be­tween 2026 and 2029, and on­ly for drugs and bi­o­log­ics that have al­ready been mar­ket­ed for about a decade or more.
PhRMA fumed over the ne­go­ti­a­tions, with CEO Stephen Ubl say­ing in a state­ment yes­ter­day:
This drug pric­ing plan is based on a litany of false promis­es. They say they're fight­ing in­fla­tion, but the Biden ad­min­is­tra­tion's own da­ta show that pre­scrip­tion med­i­cines are not fu­el­ing in­fla­tion. They say this is "ne­go­ti­a­tion," but the bill gives the gov­ern­ment unchecked au­thor­i­ty to set the price of med­i­cines. And they say the bill won't harm in­no­va­tion, but var­i­ous ex­perts, biotech in­vestors and pa­tient ad­vo­cates agree that this bill will lead to few­er new cures and treat­ments for pa­tients bat­tling can­cer, Alzheimer's and oth­er dis­eases.
In lat­est text of drug pro­vi­sions of Sen­ate rec­on­cil­i­a­tion: Man­u­fac­tur­ers now have 3 op­tions: Agree to what­ev­er price HHS sets; pay a 95% tax on US drug sales (not just Medicare sales); or with­draw all a com­pa­ny's prod­ucts from Medicare and Med­ic­aid. And that's "ne­go­ti­a­tion."

— Ian Spatz (@rock­creekpol­i­cy) Au­gust 6, 2022
And while PhRMA and oth­ers have said the bill will dev­as­tate bio­phar­ma in­no­va­tion, track­ing those changes over time will be dif­fi­cult.
The Con­gres­sion­al Bud­get Of­fice ini­tial­ly said 10 drugs would be lost out of a to­tal of 1,300 drug ap­provals over the next three decades, but then quick­ly re­vised that num­ber to 15 drugs, rais­ing ques­tions about its pro­jec­tion sys­tem. But Eli Lil­ly CEO David Ricks re­cent­ly said his com­pa­ny would lose about 15 drugs from its own pipeline due to this bill.
The CBO al­so re­cent­ly said that phar­ma com­pa­nies might just jack up their launch prices for new drugs to make up for the lat­er ex­pect­ed loss­es.
The bill "would in­crease the launch prices for drugs that are not yet on the mar­ket rel­a­tive to what such prices would be oth­er­wise. That ef­fect would pri­mar­i­ly be dri­ven by the in­fla­tion-re­bate pro­vi­sions (sec­tions 129101 and 129102), which would be­gin to ap­ply to prices with­in 12 months of a giv­en drug's en­ter­ing the mar­ket. Un­der those pro­vi­sions, man­u­fac­tur­ers would have an in­cen­tive to launch new drugs at a high­er price to off­set slow­er growth in prices over time. The ne­go­ti­a­tion pro­vi­sion (sec­tion 129001) would have less of an im­pact on launch prices," CBO said in a let­ter to House lead­ers on Thurs­day.
But be­fore the fi­nal vote Sun­day, the leg­is­la­tion was slight­ly tweaked by the Sen­ate par­lia­men­tar­i­an on Sat­ur­day, deal­ing De­moc­rats a blow on the size of those in­fla­tion-re­bate pro­vi­sions.
"I am dis­ap­point­ed that the cal­cu­la­tion for the Medicare in­fla­tion re­bate that in­clud­ed com­mer­cial units sold was ruled out of com­pli­ance, but the leg­is­la­tion nev­er­the­less puts a sub­stan­tial check on Big Phar­ma's abil­i­ty to price gouge," Sen. Wyden said in an emailed state­ment.
Pro­jec­tions on how much that par­lia­men­tar­i­an tweak will im­pact bio­phar­ma's new drug prices, and bot­tom lines, were sim­i­lar­ly com­pli­cat­ed and couched in oth­er pro­jec­tions, par­al­lel­ing the com­plex­i­ties of the en­tire US drug pric­ing sys­tem.
De­moc­rats al­so lost out on in­clud­ing a key piece of House-passed leg­is­la­tion that would cap in­sulin costs for all in­sured di­a­bet­ics at $35 per month, a move fa­vored by in­sulin gi­ants Eli Lil­ly and Sanofi.
Dems failed to muster the 60 votes re­quired to keep that cap in the bill, nab­bing just 57, with the help of Re­pub­li­can Sens. Bill Cas­sidy (LA), Su­san Collins (ME), Josh Haw­ley (MO), Cindy Hyde-Smith (MS), John Kennedy (LA), Lisa Murkows­ki (AK) and Dan Sul­li­van (AK). Now, the bill on­ly caps in­sulin out-of-pock­et spend­ing for Medicare pa­tients, just a small frac­tion of whom pay more than $35 per month.
Over­all, how­ev­er, pro­gres­sive groups and Dems cheered the re­forms kept in the pack­age as his­toric.
David Mitchell, a can­cer pa­tient and founder of Pa­tients For Af­ford­able Drugs Now, said in a state­ment, "The Sen­ate made his­to­ry to­day with pas­sage of the In­fla­tion Re­duc­tion Act, which will low­er pre­scrip­tion drug prices, im­prove health, fight in­fla­tion, and help Amer­i­cans keep mon­ey in their pock­ets. The pro­vi­sions help en­sure pa­tients will get the in­no­v­a­tive new drugs we need at prices we can af­ford."
Lau­ra and John Arnold, bil­lion­aire co-founders of the phil­an­thropy Arnold Ven­tures, sim­i­lar­ly added:
Al­low­ing Medicare to ne­go­ti­ate for the prices of cer­tain drugs and cap­ping out-of-pock­et costs in the pro­gram take steps to­ward mean­ing­ful­ly im­prov­ing af­ford­abil­i­ty while main­tain­ing in­cen­tives for true in­no­va­tion. Pre­scrip­tion drugs don't work if pa­tients can't af­ford them – yet to­day near­ly 1 in 3 Amer­i­cans finds them­selves un­able to pay for the med­ica­tions they need. It is dis­ap­point­ing, how­ev­er, that the in­fla­tion re­bate pro­vi­sions in­tend­ed to keep rapid price es­ca­la­tions in check won't ul­ti­mate­ly be ex­tend­ed to all Amer­i­cans.
As far as which par­tic­u­lar drugs might see the biggest hit on their prof­its as the bill takes ef­fect, SVB Se­cu­ri­ties ex­plained to in­vestors re­cent­ly how more than a dozen drugs from Eli Lil­ly, As­traZeneca, Ab­b­Vie and J&J, would lose out just be­fore their gener­ic/biosim­i­lar com­peti­tors hit the mar­ket.