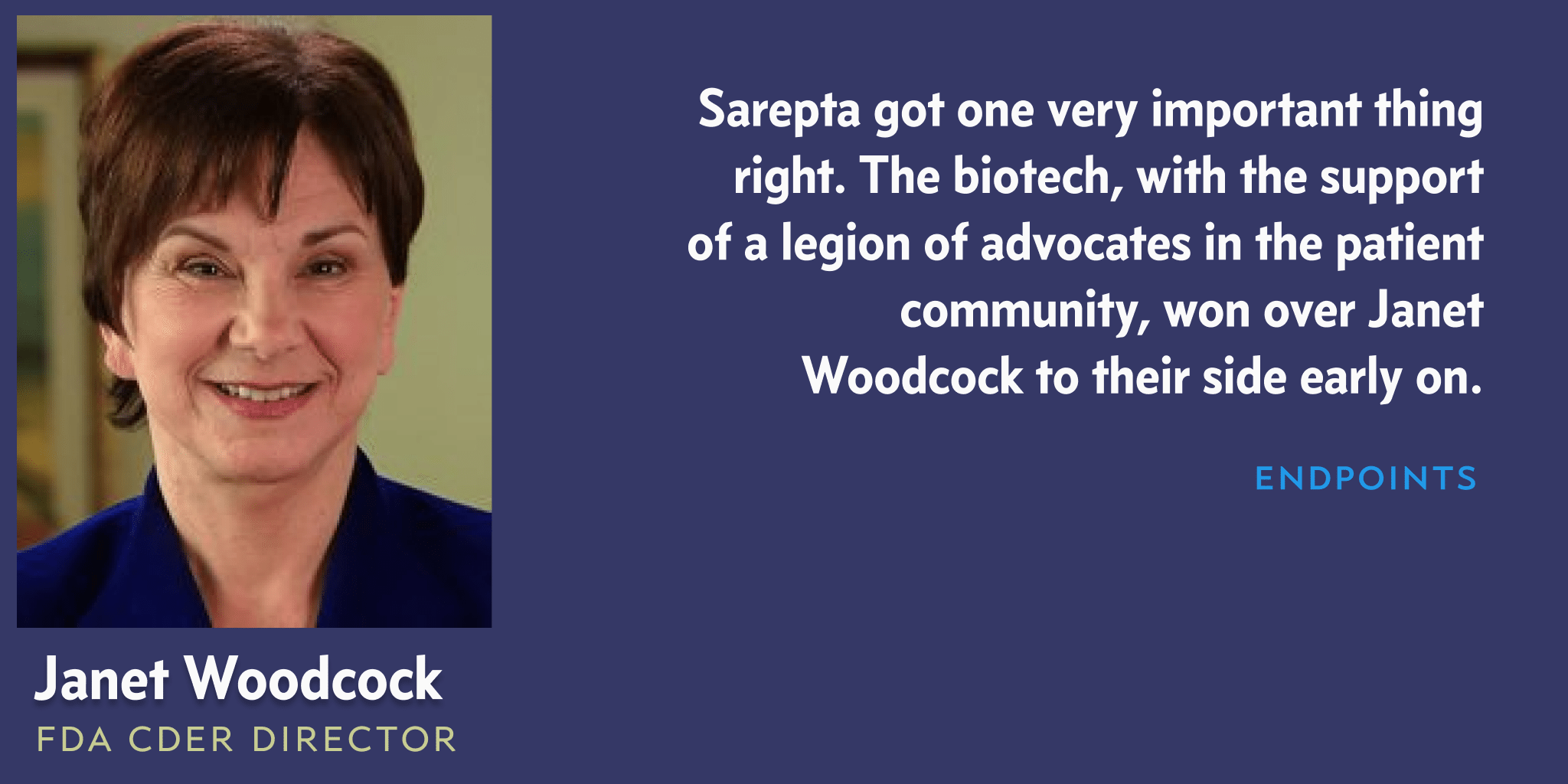 Se­nior FDA of­fi­cials warned that ap­prov­ing $300,000 Duchenne drug will low­er agency stan­dards
In the end, Sarep­ta did many things wrong when it came to de­vel­op­ing a new drug for Duchenne mus­cu­lar dy­s­tro­phy. But it got one very im­por­tant part right. The biotech, with the sup­port of a le­gion of ad­vo­cates in the pa­tient com­mu­ni­ty, won over Janet Wood­cock to their side ear­ly on.
The pow­er­ful CDER di­rec­tor pushed for an ap­proval even in the face of a heat­ed de­bate in­side the FDA, as se­nior of­fi­cials weighed in in op­po­si­tion to her stand. The act­ing chief sci­en­tist at the agency, Lu­ciana Bo­rio, ar­gued that an ap­proval would low­er the agency's stan­dards and en­cour­age oth­er de­vel­op­ers to pur­sue the same kind of lob­by­ing cam­paigns em­ployed at Sarep­ta. And she ac­cused Sarep­ta of act­ing ir­re­spon­si­bly by know­ing­ly push­ing "mis­lead­ing" in­for­ma­tion about the drug. El­lis Unger, di­rec­tor of the of­fice of drug eval­u­a­tion, scoffed at the da­ta Sarep­ta of­fered, call­ing the drug a "sci­en­tif­i­cal­ly el­e­gant place­bo."
This article is for premium subscribers only
Upgrade to a premium subscription plan for unlimited access, and join our community of key biopharma players.