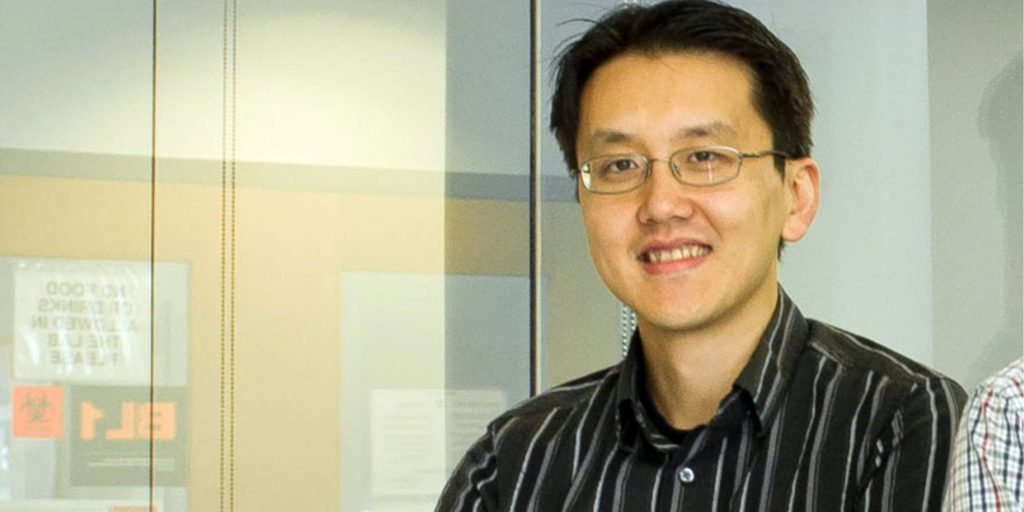 Wilson Wong, one of the scientific co-founders behind Timothy Lu's new synthetic biology startup Senti, has designed a new CAR-T that he believes has the potential to overcome some of the big issues that continues to plague the first generation of drugs now on the market.
And he's tricked it out with some interesting new features.
The Boston University T-cell engineer — working with graduate student Jang Hwan Cho and MIT's Jim Collins, a legend in synthetic bio circles and a mentor to Lu — published a paper in Cell today outlining their work on the redesign, which Senti will now see if it can guide toward the clinic.
Working with mouse models, Wong devised a CAR he's dubbed the SUPRA —  which stands for split, universal and  programmable. The central part of its promise is that the revised CAR-T is built to go after two markers for the disease, vastly improving its chance of extending the use of these drugs into hard-to-hit solid tumors while improving the specificity of the drug to cancer tissue.
It's also a customizable approach, with better built-in control features that can be used to go after specific types of blood cancer and solid tumors.
"What's nice," he tells me, "is that you need two signals to turn on the T cells, not one magic bullet. The cancer marker can be less specific, relying on the intersection of the two."
The other key ingredient is an added adaptive molecule which can be included with the treatment to guide the T cells to cancer cells. Without these adaptive molecules, the T cell won't be activated, he says. And as they're cleared eventually, you can add a fresh supply to engineer a fresh response to a chosen target.
Add it up and you gain a basic on/off switch that can be used to fine tune the activity of the therapy to control toxicity, preventing the kind of overactivity that can launch a dangerous reaction in patients. And you can more easily spur a followup response to prevent relapses.
It's preclinical, which means there's still plenty of work that would need to be done before it could be tested in a human. How long?
Maybe two years, says the scientist, "but you never know."
The first two CAR-Ts on the market, Yescarta and Kymriah, work according to a simple design plan, taking patient cells, engineering them with a chimeric antigen receptor, and then unleashing a swarm to attack cancer cells.
But it's limited, and not just by the toxicity of an uncontrolled reaction. The first generation patients are also exposed to relapses as the activity wears down, and adding a new half-million dollar therapy isn't feasible.
The long-term plan is to create an off-the-shelf therapy with universal features for each cancer type, and the researchers now are zeroing in on the types of cancers which are most likely to respond to the two-target design.
The grand idea here is that Wong wants to build a "prosthetic immune system," a master control technology that could provide a new system that would govern the immune response to any disease, which would have a powerful and obvious role to play on regulatory T cells that suppress an immune response as well as in autoimmune diseases like rheumatoid arthritis. 
That's a substantially bigger vision than the work on CAR-T 2.0. But these steps follow a longer path for Wong that he's keen to explore.
Image: Wilson Wong. BOSTON UNIVERSITY
---
The best place to read
Endpoints News

? In your inbox.

Comprehensive daily news report for those who discover, develop, and market drugs. Join 47,200+ biopharma pros who read Endpoints News by email every day.

Free Subscription
---
---
---