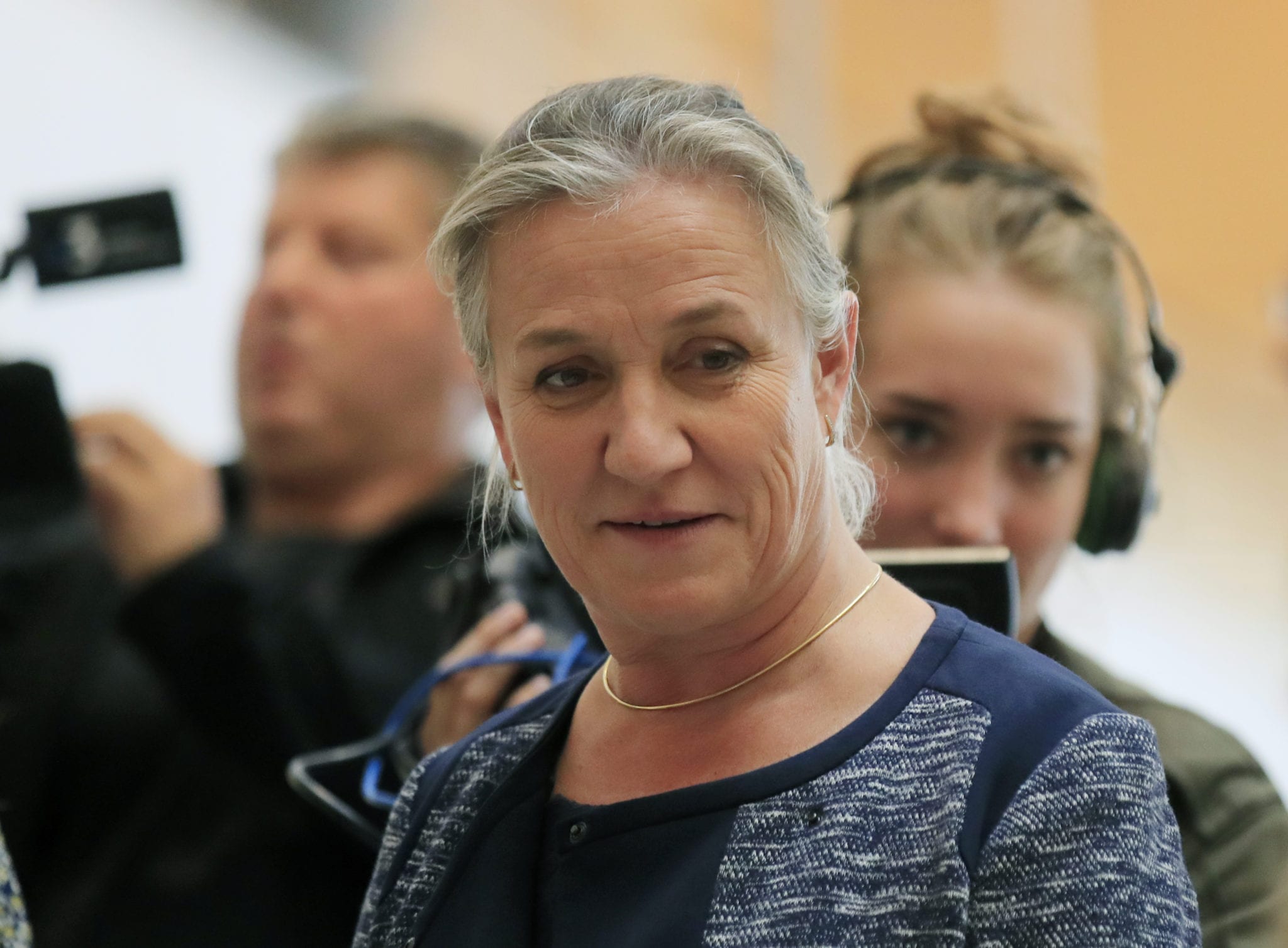 Irene Frachon at the courthouse. (Michel Euler via AP Images)
Servi­er be­gins manslaugh­ter tri­al over weight loss drug
French phar­ma Servi­er be­gins tri­al to­day, as the com­pa­ny stands ac­cused of manslaugh­ter and de­ceit over a di­a­betes weight loss drug linked to as many as 2,000 deaths.
The drug, Me­di­a­tor (ben­flu­o­rex), was pulled out of French phar­ma­cies in 2009 af­ter 33 years on the mar­ket. A year lat­er, the French med­i­cine safe­ty agency an­nounced the drug was sus­pect­ed of caus­ing mul­ti­ple deaths, spark­ing out­rage, a crim­i­nal in­ves­ti­ga­tion and a se­ries of re­forms to the coun­try's sys­tem of reg­u­lat­ing the phar­ma­ceu­ti­cal in­dus­try.
Servi­er ac­knowl­edged the deaths and said it was work­ing on com­pen­sat­ing vic­tims, al­ready hand­ing out €132 mil­lion ($146 mil­lion) in pay­ments. But it de­nied the charges that it mis­led the pub­lic and lied about the drug's side ef­fects. The French drug reg­u­la­tor is al­so on tri­al, ac­cused of le­nien­cy and a fail­ure to act to pre­vent pa­tient deaths. The agency has said it will co­op­er­ate with the tri­al.
All told, the tri­al will in­volve 21 de­fen­dants, in­clud­ing 14 peo­ple, among them a for­mer com­pa­ny vice pres­i­dent, civ­il ser­vants, a for­mer sen­a­tor and a pro­fes­sor of pe­di­atrics re­tained by Servi­er. The case con­trasts sharply with a US sys­tem where in­ves­ti­ga­tions of or­ga­ni­za­tion­al wrong­do­ing rarely re­sult in in­di­vid­ual pros­e­cu­tions. The tri­al is ex­pect­ed to last 7 months — one of the longest in Paris in decades — and in­volves 2,600 plain­tiffs.
Me­di­a­tor is an am­phet­a­mine-based ap­petite sup­pres­sant and though it was mar­ket­ed as a way to ad­dress ex­cess weight in di­a­bet­ics, it was re­port­ed­ly wide­ly pre­scribed as a weight loss drug, in­clud­ing to many healthy women. Au­thor­i­ties es­ti­mat­ed 5 mil­lion peo­ple took the drug be­fore it was pulled.
Some of these women found them­selves un­able to climb stairs and ex­posed to a host of car­dio­vas­cu­lar prob­lems. In ad­di­tion to the deaths, thou­sands are es­ti­mat­ed to be suf­fer­ing de­bil­i­tat­ing side ef­fects from the drug.
The drug, how­ev­er, re­mained on the mar­ket de­spite con­cerns and the re­moval of a sim­i­lar drug from the US mar­ket in 1997. Me­di­a­tor was pulled from sev­er­al coun­tries, in­clud­ing Italy and Spain, in the ear­ly 2000s, but didn't leave the French mar­ket un­til 2009, two years af­ter French lung spe­cial­ist Irene Fra­chon re­viewed pa­tient records and found a link be­tween the drug and se­ri­ous heart and lung dam­age.
"The tri­al comes as huge re­lief," Fra­chon told Reuters. "Fi­nal­ly, we are to see the end of an in­tol­er­a­ble scan­dal."
Two main stud­ies were per­formed on the drugs' neg­a­tive im­pact, one find­ing it caused 500 deaths. An­oth­er: 2,000 deaths. Servi­er dis­putes these fig­ures, say­ing there are on­ly three doc­u­ment­ed deaths clear­ly at­trib­ut­able to Me­di­a­tor and not oth­er ag­gra­vat­ing fac­tors.
The French in­dict­ment al­leges Servi­er "know­ing­ly con­cealed the med­ica­tion's true char­ac­ter­is­tics," ac­cord­ing to Reuters, and hid un­fa­vor­able med­ical stud­ies.
Servi­er is the coun­try's sec­ond-largest phar­ma­ceu­ti­cal com­pa­ny be­hind Sanofi. It makes a broad set of gener­ics and re­search­es new treat­ments on Alzheimer's and on­col­o­gy. Last year, it bought Shire's on­col­o­gy unit for $2.4 bil­lion.