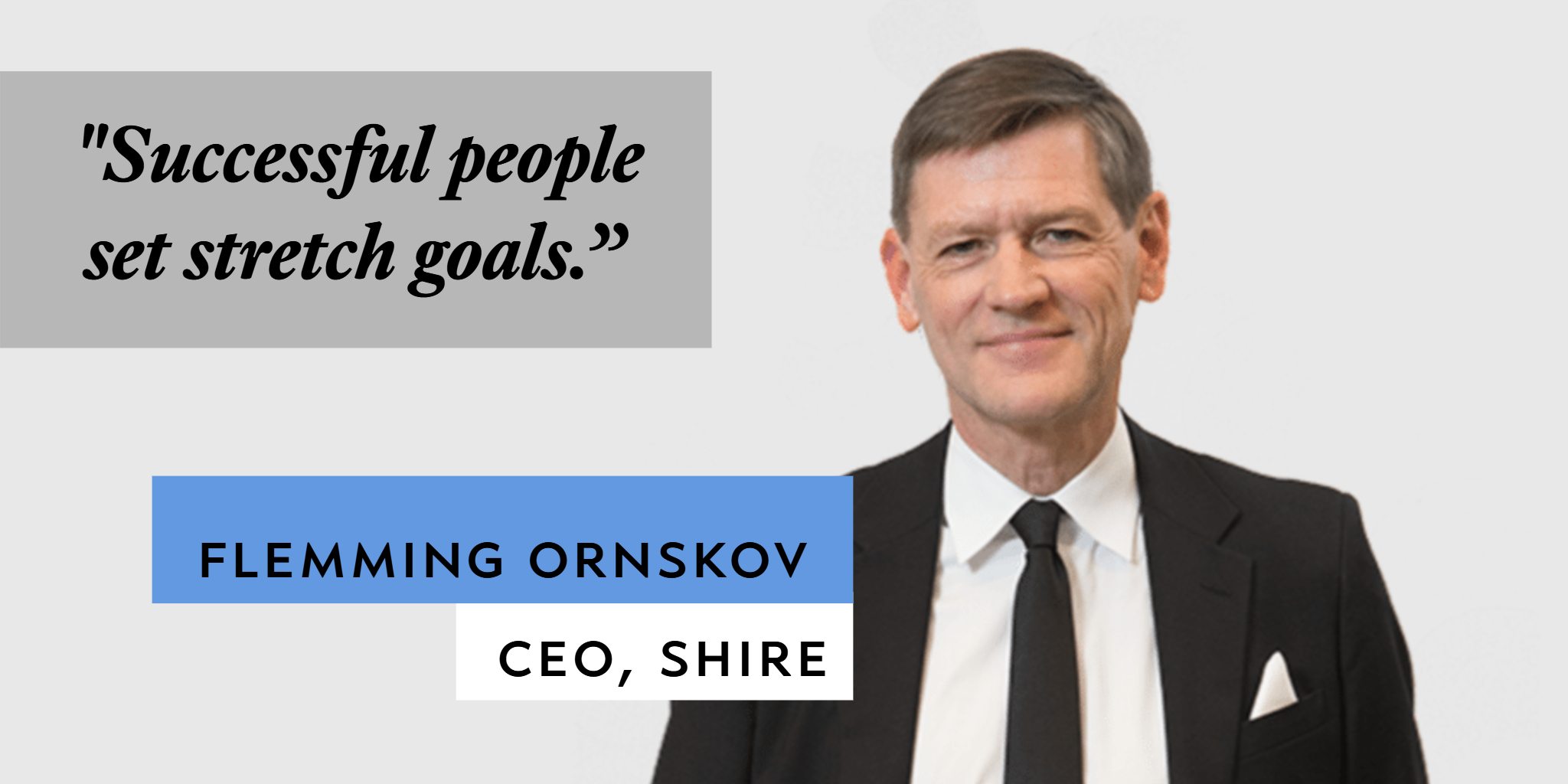 Shire CEO Flem­ming Orn­skov is hatch­ing a few new stretch goals for R&D in 2018 — and be­yond
SAN FRAN­CIS­CO — Shire stock $SH­PG took a hit ear­li­er this week as in­vestors fret­ted over CEO Flem­ming Orn­skov's con­ces­sion that the com­pa­ny isn't go­ing to meet a longterm rev­enue goal he set for him­self, like­ly falling two or three bil­lion dol­lars shy of the $20 bil­lion en­vi­sioned for 2020.
That can hap­pen, Orn­skov tells me, when you set some stretch goals for your­self fol­low­ing a deal like the Bax­al­ta buy­out. You can push your­self and the com­pa­ny, push hard, but still get dinged by things like an un­ex­pect­ed gener­ic at­tack or an up­set win by a ri­val like Roche. Things hap­pen in this busi­ness you can't al­ways pre­dict.
But Orn­skov — an in­tense­ly com­pet­i­tive ex­ec still work­ing on a makeover of Shire in­to the in­dus­try's pre­mier rare dis­ease play­er — wasn't in an apolo­getic frame of mind as he toured the scene in San Fran­cis­co. And he is still think­ing about the near-term and long-term ob­jec­tives — his new stretch goals, if you will — that will have to be met to live up to the mark he's set for him­self and the com­pa­ny.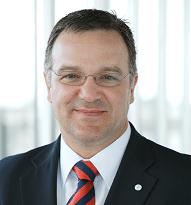 An­dreas Busch
He's still plan­ning to beat con­sen­sus in 2020, he tells an­a­lysts. He's clear­ly pumped that An­dreas Busch, a close col­league from Orn­skov's days at Bay­er, has just stepped in to man­age the pipeline as Shire ex­e­cutes a new step in the on­go­ing re­or­ga­ni­za­tion of R&D with a big move in­to Cam­bridge, MA. And the CEO has a mul­ti-point im­prove­ment plan for the R&D side of the com­pa­ny as he di­vides the op­er­a­tion in­to two di­vi­sions — one for rare dis­eases and the oth­er for neu­ro­sciences.
The way Orn­skov sees it, the rare dis­eases pipeline looks great. "That part of the busi­ness has one of the most at­trac­tive pipelines we have ever had."
It may be a lit­tle light on trans­la­tion­al and ear­ly-stage pro­grams, he re­flects, and that's where the com­pa­ny could be ex­pect­ed to fo­cus with some new deals as they look to field new drugs. He's not ab­solute­ly rul­ing out a Phase III rare dis­ease deal if some­thing comes along he can't over­look, but it clear­ly isn't like­ly.
But where Shire's ex­ec­u­tive team can have the most im­me­di­ate im­pact is on the neu­ro­sciences side of the com­pa­ny, dom­i­nat­ed by some ag­ing AD­HD fran­chise drugs he's sug­gest­ed may be spun out at some point. This week, in­stead of a spin­out, Orn­skov promised to do more deals — li­cens­ing, part­ner­ing and bolt-ons — that would make the group at­trac­tive wher­ev­er it was, in­side or out­side Shire.
Says Orn­skv: "I think for me it's the same ul­ti­mate goal to build a busi­ness that is so strong that peo­ple will be beg­ging me to spin it out be­cause it would be so strong as a stand­alone."
Or maybe they'll be beg­ging him to keep it.
JP­Mor­gan is all about the year ahead. But I asked Orn­skov, who's been work­ing on a makeover at Shire for the past 5 years, where the biggest op­por­tu­ni­ties are go­ing to emerge a few years down the road.
If there's one key R&D are­na that Orn­skov wants to con­cen­trate more on over the long run, it's gene ther­a­py. Af­ter that, he's pay­ing very close at­ten­tion to gene edit­ing and how the com­pa­ny should po­si­tion it­self as new tech­nolo­gies like CRISPR be­gin to play out in hu­man stud­ies.
"We have to think what our busi­ness will be in 10 years," he says. And that has him think­ing about he­mo­phil­ia A and B as well as gene ther­a­pies for the eye — a fa­vorite re­search field of his.
Shire has a gene ther­a­py pro­gram en­ter­ing the clin­ic on he­mo­phil­ia — '654' — which he sees as a com­peti­tor to lead­ing ri­vals from Bio­Marin and Roche. So there is a gene ther­a­py team there they can build around, as the com­pa­ny is play­ing catchup on a crit­i­cal front.
"We need to be in it so we can al­so fig­ure out where the in­no­va­tion is go­ing," he says.
Orn­skov can get a bit testy when he's called on some­thing like falling short of a goal. And don't ever ex­pect him to apol­o­gize about his man­age­ment style.
"Every­body has a dif­fer­ent man­age­r­i­al style," says the CEO. His in­volves set­ting stretch goals — "but I know if I have a stretch I will achieve more. Suc­cess­ful peo­ple set stretch goals."
And they're still com­ing.