Shire CEO Orn­skov woos Bay­er's An­dreas Busch to run Boston-based R&D group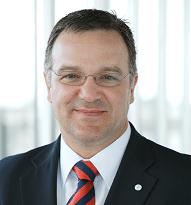 An­dreas Busch
We now know where Bay­er's dis­cov­ery chief, An­dreas Busch, is head­ed.
Shire's Flem­ming Orn­skov has re­cruit­ed Busch as his new R&D chief and chief sci­en­tif­ic of­fi­cer, hand­ing him the reins for the pipeline as the CEO com­pletes a mis­sion to re­make Shire in­to a rare dis­ease spe­cial­ist. And the up­ward­ly mo­bile Busch will now join the world­wide mi­gra­tion of tal­ent and mon­ey in­to the Cam­bridge, MA hub where Shire has been plan­ning a big move.
Bay­er said yes­ter­day that it had de­cid­ed to merge the of­fices for dis­cov­ery and de­vel­op­ment chief in­to one role held by Jo­erg Moeller af­ter learn­ing that Busch was tak­ing an­oth­er job. The boom­ing glob­al bio­phar­ma sec­tor has be­come hun­gry for tal­ent in re­search and de­vel­op­ment.
Orn­skov tem­porar­i­ly added the R&D chief's hat to his cor­po­rate wardrobe af­ter Phil Vick­ers ex­it­ed fol­low­ing a 7-year stint. Vick­ers re­cent­ly land­ed as a biotech CEO, run­ning a Ver­sant-backed start­up in Toron­to called North­ern Bi­o­log­ics.
Busch will ar­rive at Shire af­ter the com­pa­ny com­pletes a ma­jor shake­up in the pipeline, which in­volves a big move in­to the thriv­ing Cam­bridge, MA hub. Last sum­mer the com­pa­ny said it had be­gun the process of look­ing for a buy­er for its AD­HD fran­chise as Orn­skov made it clear that he want­ed Shire to com­plete a trans­for­ma­tion in­to a rare dis­ease com­pa­ny af­ter its big Bax­al­ta buy­out.
"Andy is an out­stand­ing sci­en­tist with ex­ten­sive ex­pe­ri­ence lead­ing re­search and de­vel­op­ment func­tions, and an es­tab­lished track record of build­ing broad port­fo­lios that en­com­pass both bi­o­log­ics and small mol­e­cules," said Orn­skov in a state­ment.