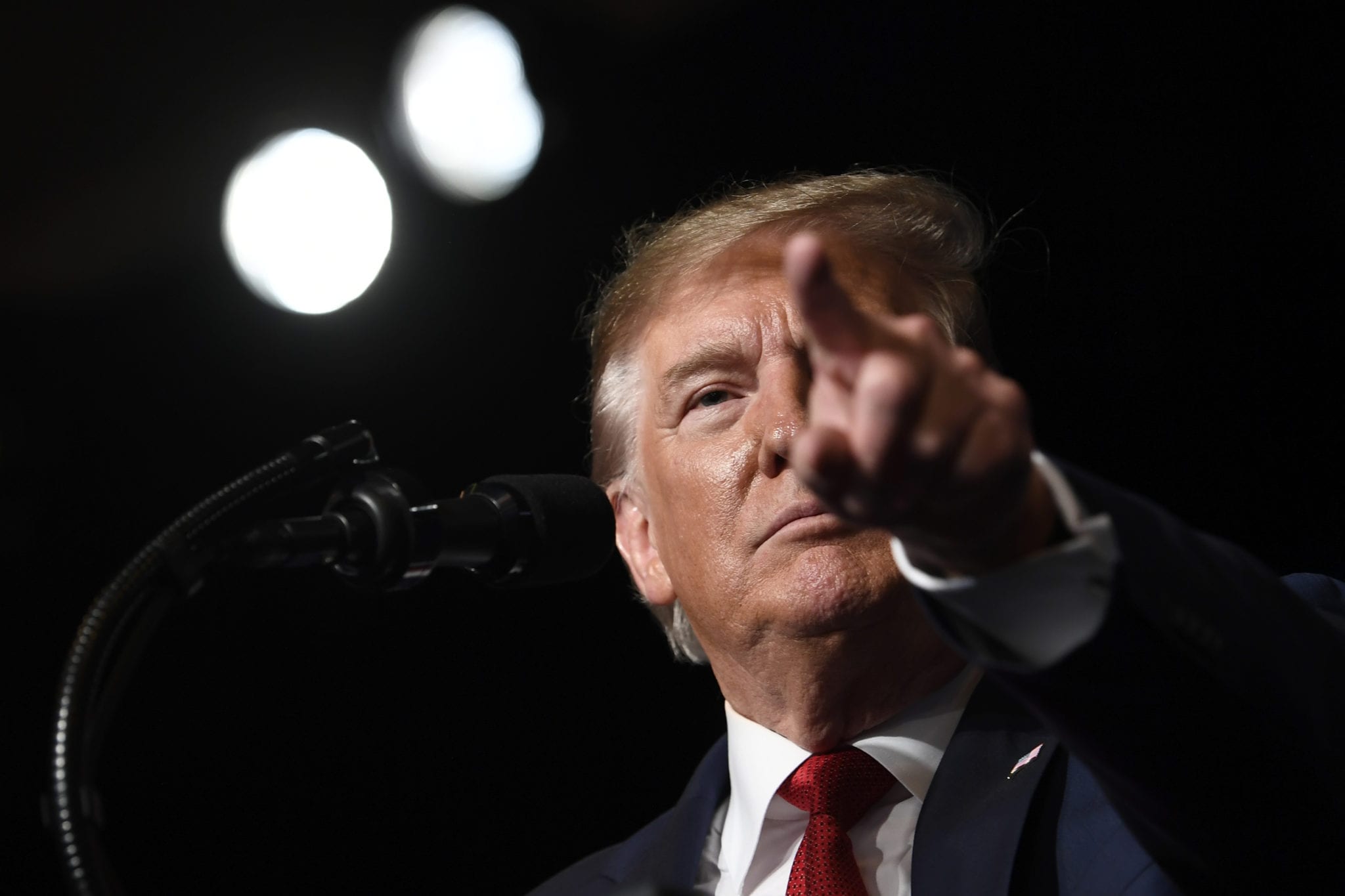 President Donald Trump (via AP Images)
Signs of an 'Oc­to­ber Vac­cine Sur­prise' alarm ca­reer sci­en­tists. HHS con­tin­ues to claim Azar "will de­fer com­plete­ly to the FDA"
Pres­i­dent Don­ald Trump, who seems in­tent on an­nounc­ing a Covid-19 vac­cine be­fore Elec­tion Day, could legal­ly au­tho­rize a vac­cine over the ob­jec­tions of ex­perts, of­fi­cials at the FDA and even vac­cine man­u­fac­tur­ers, who have pledged not to re­lease any vac­cine un­less it's proved safe and ef­fec­tive.
In pod­casts, pub­lic fo­rums, so­cial me­dia and med­ical jour­nals, a grow­ing num­ber of promi­nent health lead­ers say they fear that Trump — who has re­peat­ed­ly sig­naled his de­sire for the swift ap­proval of a vac­cine and his dis­plea­sure with per­ceived de­lays at the FDA — will take mat­ters in­to his own hands, run­ning roughshod over the usu­al reg­u­la­to­ry process.
It would re­flect an­oth­er at­tempt by a norm-break­ing ad­min­is­tra­tion, poised to ram through a Supreme Court nom­i­nee op­posed to ex­ist­ing abor­tion rights and the Af­ford­able Care Act, to in­ject pol­i­tics in­to sen­si­tive pub­lic health de­ci­sions. Trump has re­peat­ed­ly con­tra­dict­ed the ad­vice of se­nior sci­en­tists on Covid-19 while push­ing con­tro­ver­sial treat­ments for the dis­ease.
If the ex­ec­u­tive branch were to over­rule the FDA's sci­en­tif­ic judg­ment, a vac­cine of lim­it­ed ef­fi­ca­cy and, worse, un­known side ef­fects could be rushed to mar­ket.
The wor­ries in­ten­si­fied over the week­end, af­ter Alex Azar, the ad­min­is­tra­tion's sec­re­tary of Health and Hu­man Ser­vices, as­sert­ed his agency's rule-mak­ing au­thor­i­ty over the FDA. HHS spokesper­son Caitlin Oak­ley said Azar's de­ci­sion had no bear­ing on the vac­cine ap­proval process.
Vac­cines are typ­i­cal­ly ap­proved by the FDA. Al­ter­na­tive­ly, Azar — who re­ports di­rect­ly to Trump — can is­sue an emer­gency use au­tho­riza­tion, even be­fore any vac­cines have been shown to be safe and ef­fec­tive in late-stage clin­i­cal tri­als.
"Yes, this sce­nario is cer­tain­ly pos­si­ble legal­ly and po­lit­i­cal­ly," said Jer­ry Avorn, a pro­fes­sor of med­i­cine at Har­vard Med­ical School, who out­lined such an event in the New Eng­land Jour­nal of Med­i­cine. He said it "seems fright­en­ing­ly more plau­si­ble each day."
Vac­cine ex­perts and pub­lic health of­fi­cials are par­tic­u­lar­ly vexed by the pos­si­bil­i­ty be­cause it could ru­in the frag­ile pub­lic con­fi­dence in a Covid-19 vac­cine. It might put sci­en­tif­ic au­thor­i­ties in the po­si­tion of urg­ing peo­ple not to be vac­ci­nat­ed af­ter years of coax­ing hes­i­tant par­ents to ig­nore base­less fears.
Physi­cians might refuse to ad­min­is­ter a vac­cine ap­proved with in­ad­e­quate da­ta, said Preeti Malani, chief health of­fi­cer and pro­fes­sor of med­i­cine at the Uni­ver­si­ty of Michi­gan in Ann Ar­bor, in a re­cent we­bi­nar. "You could have a safe, ef­fec­tive vac­cine that no one wants to take." A re­cent KFF poll found that 54% of Amer­i­cans would not sub­mit to a Covid-19 vac­cine au­tho­rized be­fore Elec­tion Day.
Af­ter this sto­ry was pub­lished, an HHS of­fi­cial said that Azar "will de­fer com­plete­ly to the FDA" as the agency weighs whether to ap­prove a vac­cine pro­duced through the gov­ern­ment's Op­er­a­tion Warp Speed ef­fort.
"The idea the Sec­re­tary would ap­prove or au­tho­rize a vac­cine over the FDA's ob­jec­tions is pre­pos­ter­ous and be­trays ig­no­rance of the trans­par­ent process that we're fol­low­ing for the de­vel­op­ment of the OWS vac­cines," HHS chief of staff Bri­an Har­ri­son wrote in an email.
White House spokesper­son Judd Deere dis­missed the sci­en­tists' con­cerns, say­ing Trump cared on­ly about the pub­lic's safe­ty and health. "This false nar­ra­tive that the me­dia and De­moc­rats have cre­at­ed that pol­i­tics is in­flu­enc­ing ap­provals is not on­ly false but is a dan­ger to the Amer­i­can pub­lic," he said.
Usu­al­ly, the FDA ap­proves vac­cines on­ly af­ter com­pa­nies sub­mit years of da­ta prov­ing that a vac­cine is safe and ef­fec­tive. But a 2004 law al­lows the FDA to is­sue an emer­gency use au­tho­riza­tion with much less ev­i­dence, as long as the vac­cine "may be ef­fec­tive" and its "known and po­ten­tial ben­e­fits" out­weigh its "known and po­ten­tial risks."
Many sci­en­tists doubt a vac­cine could meet those cri­te­ria be­fore the elec­tion. But the terms might be legal­ly vague enough to al­low the ad­min­is­tra­tion to take such steps.
Mon­cef Slaoui, chief sci­en­tif­ic ad­vis­er to Op­er­a­tion Warp Speed, the gov­ern­ment pro­gram aim­ing to more quick­ly de­vel­op Covid-19 vac­cines, said it's "ex­treme­ly un­like­ly" that vac­cine tri­al re­sults will be ready be­fore the end of Oc­to­ber.
Trump, how­ev­er, has in­sist­ed re­peat­ed­ly that a vac­cine to fight the pan­dem­ic that has claimed 200,000 Amer­i­can lives will be dis­trib­uted start­ing next month. He re­it­er­at­ed that claim Sat­ur­day at a cam­paign ral­ly in Fayet­teville, NC.
The vac­cine will be ready "in a mat­ter of weeks," he said. "We will end the pan­dem­ic from Chi­na."
Al­though phar­ma­ceu­ti­cal com­pa­nies have launched three clin­i­cal tri­als in the Unit­ed States, no one can say with cer­tain­ty when those tri­als will have enough da­ta to de­ter­mine whether the vac­cines are safe and ef­fec­tive.
Of­fi­cials at Mod­er­na, whose vac­cine is be­ing test­ed in 30,000 vol­un­teers, have said their stud­ies could pro­duce a re­sult by the end of the year, al­though the fi­nal analy­sis could take place next spring.
Pfiz­er ex­ec­u­tives, who have ex­pand­ed their clin­i­cal tri­al to 44,000 par­tic­i­pants, boast that they could know their vac­cine works by the end of Oc­to­ber.
As­traZeneca's US vac­cine tri­al, which was sched­uled to en­roll 30,000 vol­un­teers, is on hold pend­ing an in­ves­ti­ga­tion of a pos­si­ble vac­cine-re­lat­ed ill­ness.
Sci­en­tists have warned for months that the Trump ad­min­is­tra­tion could try to win the elec­tion with an "Oc­to­ber sur­prise," au­tho­riz­ing a vac­cine that hasn't been ful­ly test­ed. "I don't think peo­ple are crazy to be think­ing about all of this," said William Schultz, a part­ner in a Wash­ing­ton, DC, law firm who served as a for­mer FDA com­mis­sion­er for pol­i­cy and as gen­er­al coun­sel for HHS.
"You've got a pres­i­dent say­ing you'll have an ap­proval in Oc­to­ber. Every­body's won­der­ing how that could hap­pen."
In an opin­ion piece pub­lished in The Wall Street Jour­nal, con­ser­v­a­tive for­mer FDA com­mis­sion­ers Scott Got­tlieb and Mark Mc­Clel­lan ar­gued that pres­i­den­tial in­tru­sion was un­like­ly be­cause the FDA's "thor­ough and trans­par­ent process doesn't lend it­self to med­dling. Any de­vi­a­tion would quick­ly be ap­par­ent."
But the ad­min­is­tra­tion has demon­strat­ed a will­ing­ness to bend the agency to its will. The FDA has been crit­i­cized for is­su­ing emer­gency au­tho­riza­tions for two Covid-19 treat­ments that were boost­ed by the pres­i­dent but lacked strong ev­i­dence to sup­port them: hy­drox­y­chloro­quine and con­va­les­cent plas­ma.
Azar has side­lined the FDA in oth­er ways, such as by block­ing the agency from reg­u­lat­ing lab-de­vel­oped tests, in­clud­ing tests for the nov­el coro­n­avirus.
Al­though FDA Com­mis­sion­er Stephen Hahn told the Fi­nan­cial Times he would be will­ing to ap­prove emer­gency use of a vac­cine be­fore large-scale stud­ies con­clude, agency of­fi­cials al­so have pledged to en­sure the safe­ty of any Covid-19 vac­cines.
A se­nior FDA of­fi­cial who over­sees vac­cine ap­provals, Pe­ter Marks, has said he will quit if his agency rub­ber-stamps an un­proven COVID-19 vac­cine.
"I think there would be an out­cry from the pub­lic health com­mu­ni­ty sec­ond to none, which is my worst night­mare — my worst night­mare — be­cause we will so con­fuse the pub­lic," said Michael Os­ter­holm, di­rec­tor of the Cen­ter for In­fec­tious Dis­ease Re­search and Pol­i­cy at the Uni­ver­si­ty of Min­neso­ta, in his week­ly pod­cast.
Still, "even if a com­pa­ny did not want it to be done, even if the FDA did not want it to be done, he could still do that," said Os­ter­holm, in his pod­cast. "I hope that we'd nev­er see that hap­pen, but we have to en­ter­tain that's a pos­si­bil­i­ty."
In the New Eng­land Jour­nal ed­i­to­r­i­al, Avorn and co-au­thor Dr. Aaron Kessel­heim won­dered whether Trump might in­voke the 1950 De­fense Pro­duc­tion Act to force re­luc­tant drug com­pa­nies to man­u­fac­ture their vac­cines.
But Trump would have to sue a com­pa­ny to en­force the De­fense Pro­duc­tion Act, and the com­pa­ny would have a strong case in re­fus­ing, said Lawrence Gostin, di­rec­tor of George­town's O'Neill In­sti­tute for Na­tion­al and Glob­al Health Law.
Al­so, he not­ed that Trump could not in­voke the De­fense Pro­duc­tion Act un­less a vac­cine were "sci­en­tif­i­cal­ly jus­ti­fied and ap­proved by the FDA."
---
By Liz Sz­abo and JoNel Alec­cia
First pub­lished at KHN (Kaiser Health News) — a non­prof­it news ser­vice cov­er­ing health is­sues. It is an ed­i­to­ri­al­ly in­de­pen­dent pro­gram of KFF (Kaiser Fam­i­ly Foun­da­tion), which is not af­fil­i­at­ed with Kaiser Per­ma­nente.