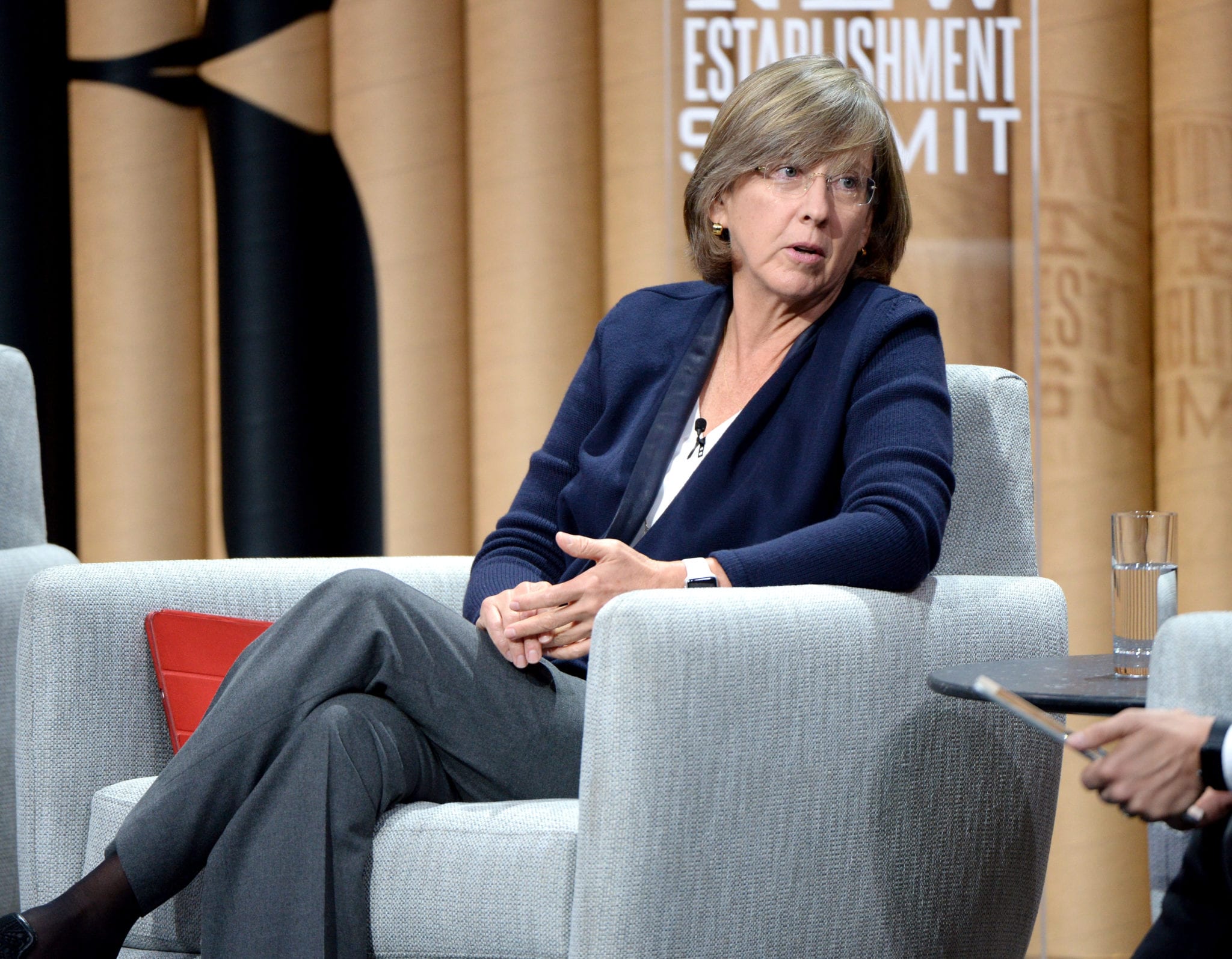 Sil­i­con Val­ley's most an­tic­i­pat­ed slide deck just dropped. What does it mean for bio­phar­ma's dig­i­tal teams?
These aren't the typ­i­cal slides you'd see at End­points — no mol­e­cules, clin­i­cal pro­grams, or p-val­ues. In­stead, we'll talk dig­i­tal and in­ter­net trends, fac­tors that elite glob­al brands — re­gard­less of in­dus­try — must first mea­sure and un­der­stand be­fore de­ploy­ing prod­ucts in­to the world. That's a con­cept that most of our Big Phar­ma au­di­ence is in tune with. Dig­i­tal aware­ness is key to suc­cess in the dis­cov­ery, de­vel­op­ment, and mar­ket­ing of new bio­phar­ma­ceu­ti­cals, and most of the ma­jors now have a chief dig­i­tal of­fi­cer: No­var­tis, Sanofi, and Pfiz­er, just to name a few.
Yet when it comes to in­ter­net trends and an­a­lyt­ics, there's too much fire­hose and not enough sig­nal. And if your day job is some­thing a bit more bio­phar­ma, like mol­e­cules and p-val­ues, stay­ing abreast of the most ac­cu­rate num­bers on in­ter­net trends is a tall task in­deed.
For­tu­nate­ly we have Mary Meek­er. And she's go­ing af­ter the big ques­tions, be­gin­ning her deck with this bit of con­text: "At 3.8B, the num­ber of In­ter­net users com­pris­es more than half the world's pop­u­la­tion."
Meek­er is a Sil­i­con Val­ley leg­end who has been pro­duc­ing this re­port every year since 2000, and it's be­come re­quired read­ing with in­flu­en­tials in the tech and me­dia biz. You can read much more about her and the his­to­ry of the re­port at TechCrunch. A Klein­er Perkins vet­er­an, Meek­er split with the firm last Sep­tem­ber to start Bond Cap­i­tal.
Her deck is laid out in 11 parts, with #10 fo­cus­ing on con­sumer health­care and #11 on Chi­na, which Meek­er cred­its to Hill­house Cap­i­tal. If that name sounds fa­mil­iar, it's be­cause they are the pow­er­house Chi­nese VC firm be­hind some of the buzzi­est names in biotech. You can't un­der­stand scale with­out plac­ing Chi­na's in­ter­net users in­to the pic­ture. This sec­tion paints the kind of por­trait that you'll just have to see for your­self.
At 333-pages, we can't pos­si­bly run them all. But I've high­light­ed some of the most im­por­tant ones. And you can down­load the en­tire pre­sen­ta­tion here via Meek­er's firm Bond Cap­i­tal.
The Unit­ed States is just 8% of the world's In­ter­net pop­u­la­tion. Chi­na is 21%.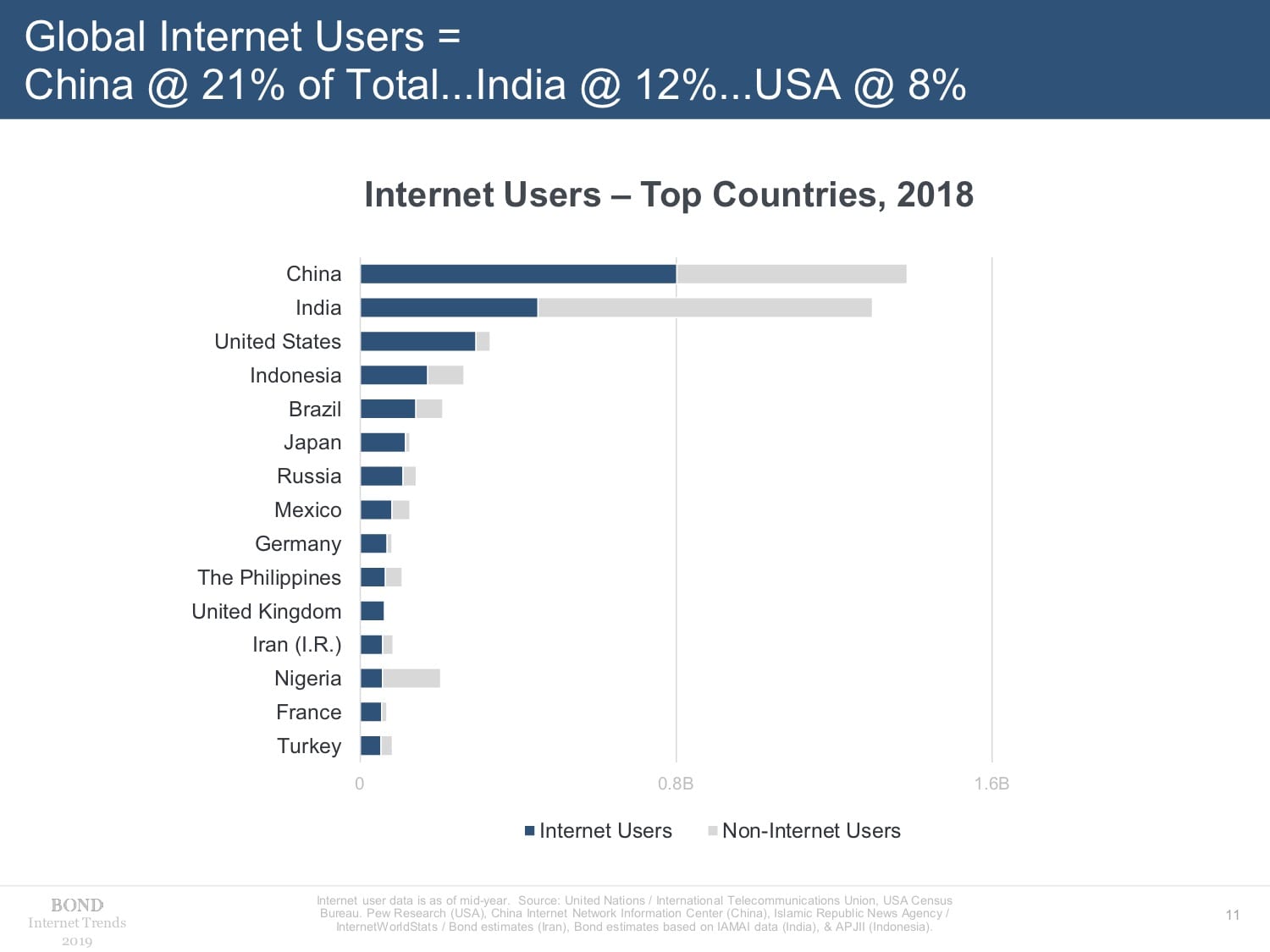 Three big phar­mas are in the top 30 glob­al com­pa­nies over­all by mar­ket cap.
J&J, at #10, is big­ger than Wal­mart. Pfiz­er is at #23 and Roche #27.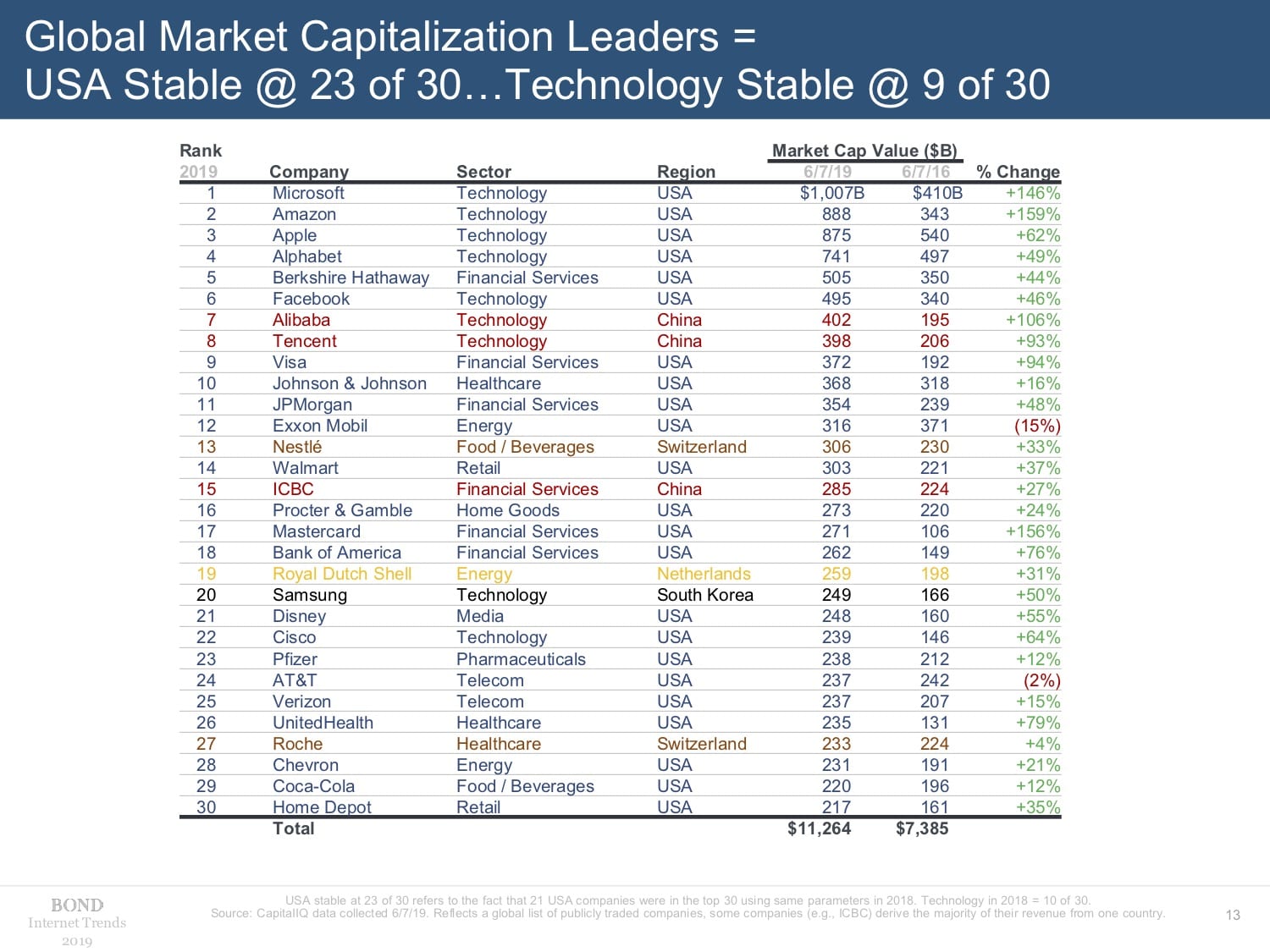 Adults in Amer­i­ca spend 6.3 hours per day with dig­i­tal me­dia.
… and it is ac­cel­er­at­ing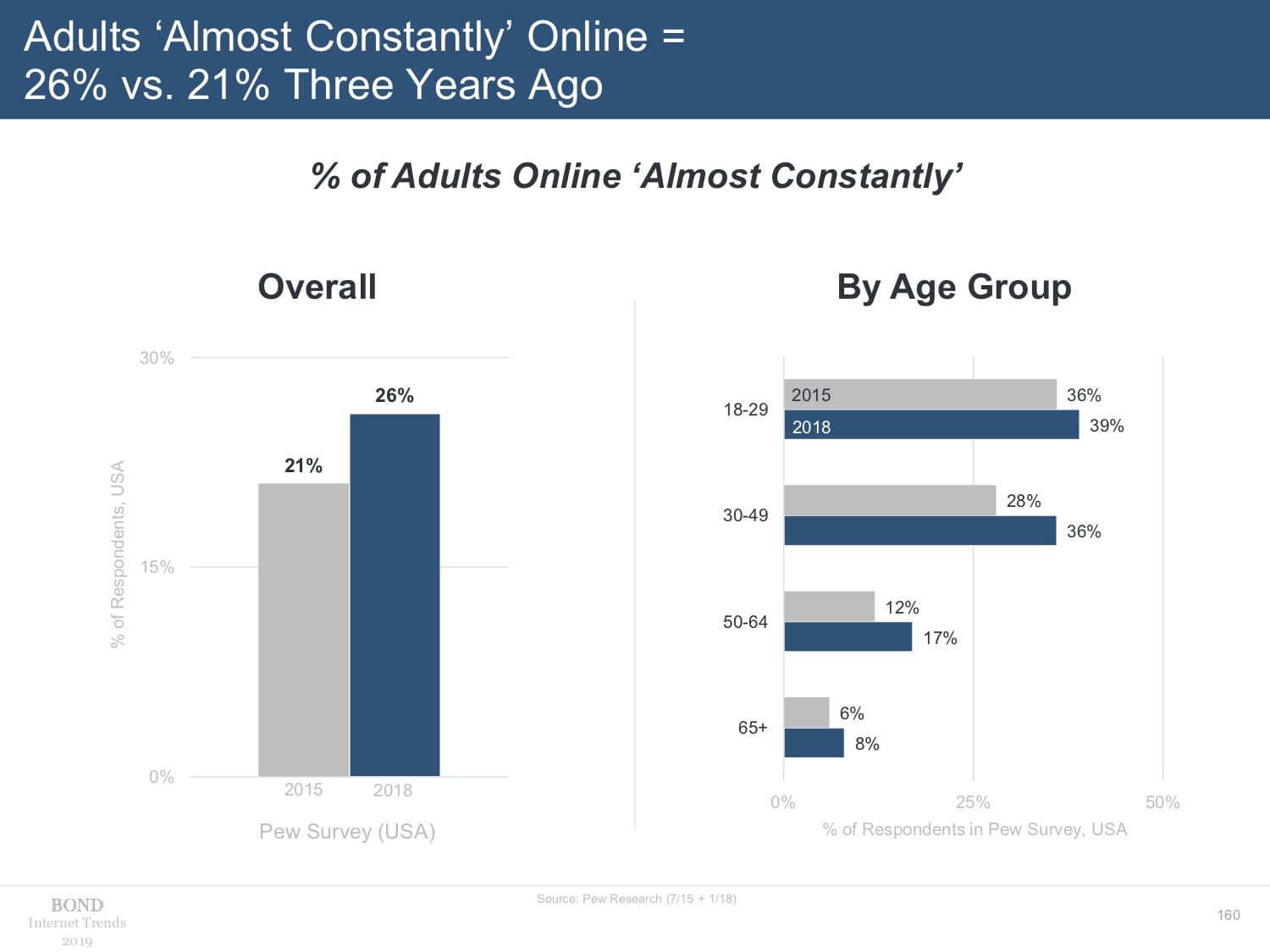 1 out of 3 in­ter­net users are on Face­book mul­ti­ple times per day.
Youtube and In­sta­gram just be­hind and are gain­ing the most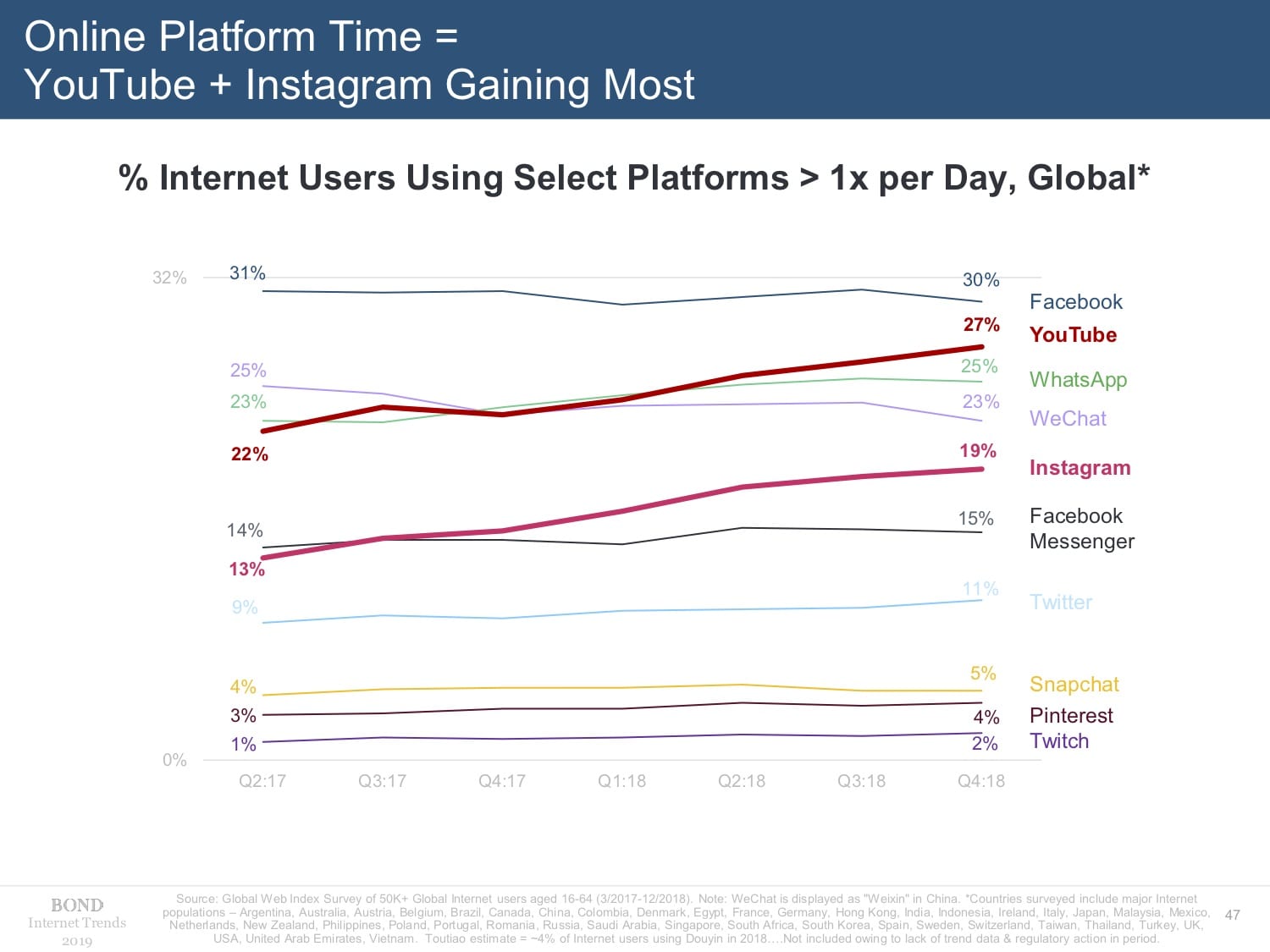 There are 52 mil­lion users with wear­ables in the US, twice as many from just four years ago.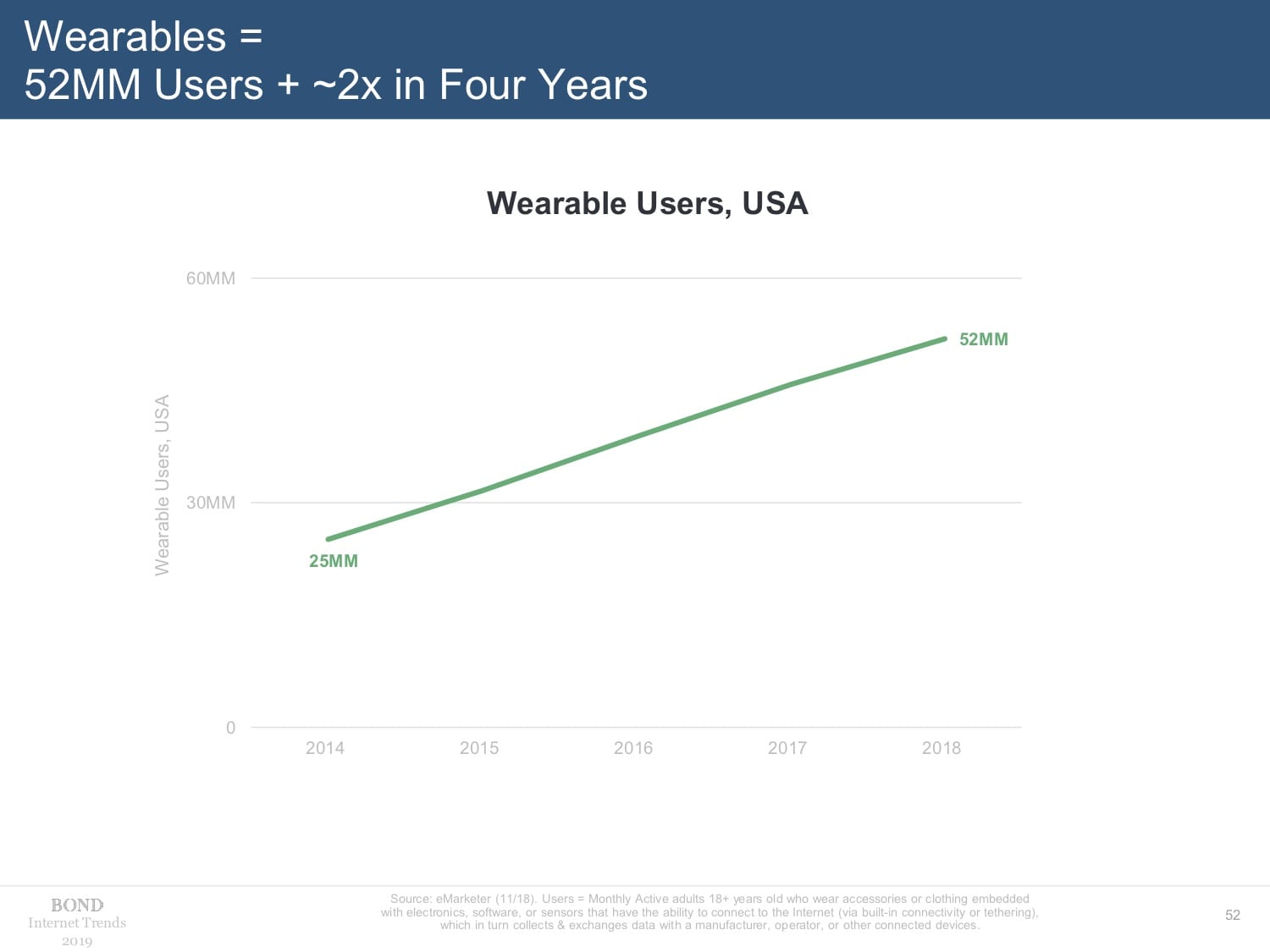 5% of Amer­i­cans are re­mote work­ers.
Down­load the en­tire pre­sen­ta­tion here.
Fea­tured Im­age: Mary Meek­er at a Van­i­ty Fair event, 2016 — Cred­it: Get­ty/Van­i­ty Fair