This year has been a relative gusher of VC dollars flowing into biotech companies, with giant "mega-deals" propelling the industry's record-setting year. Top VCs in the field say they're cautiously optimistic that the trend will continue next year.
The industry has cruised past its previous VC funding record of $7.3 billion, which was set back in 2015. This year saw biotechs raise $9.3 billion in 471 deals, according to PitchBook, making it the best year out of the last seven when it comes to volume.
Deal count is running a bit lower than 2016 and 2015, which saw closer to 500 deals. But 2017 was a year of mega-deals, with the third quarter alone bringing in several $100 million+ rounds. Most recently there was ADC Therapeutics' $200 million round backed by AstraZeneca to push forward its next-gen antibody-drug conjugate. And earlier in the quarter, Jeff Bezos, Arch and other investors sunk $151 million into Unity Biotechnology, which is looking to make new drugs that can selectively sweep away senescent cells that clutter our bodies as we age.
All this activity comes shortly after a somewhat turbulent 2016 — a year when political and social rhetoric and industry uncertainty weighed on the sector; when drug approvals fell sharply; and when biotech companies faced a dwindling supply of public market capital to fund R&D.
Considering the piping hot IPO market so far this year and the record-setting VC figures, it's fair to say the industry took the uncertainty rather well.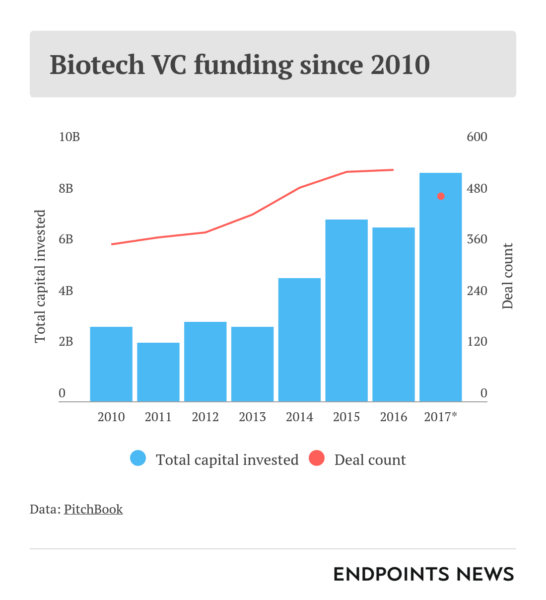 We asked 6 top venture capitalists in biotech what they thought might happen in 2018. Will venture dollars go up, down, or stay flat next year? Why? Read their predictions below:
Predictions
Jerel Davis, managing director at Versant Ventures:
We expect that 2018 will continue to be a very strong venture funding environment with a continuation of funding across stages, with large rounds, and increased commitments from new funds and capital sources that are not the usual biotech suspects. This likely means venture dollars will trend upwards. Watching public market versus private valuations throughout the year will be especially important to ensure the private space does not get ahead of itself.
Wende Hutton, general partner at Canaan Partners:
Venture-backed funding for biopharma deals in 2018 will be vigorous and likely up from the high levels in 2017. An irresistible supply of top-tier science and repeat management teams are bubbling up everywhere in the startup ecosystem, which create attractive new opportunities for investment. Additionally, an unparalleled level of recently-raised biopharma-focused funds will need to be deployed in a robust fashion during the next year. Canaan looks out and sees a great funding environment for 2018.
Jay Lichter, managing director at Avalon Ventures:
I think that investing will remain robust. There is a lot of capital in the system with some big wins/acquisitions and several IPOs that provided liquidity for VCs and their investors. I expect the markets to remain "open" and hot while at times choppy.
Abbie Celniker, partner at Third Rock Ventures:
At Third Rock, we see the trend of healthy investing continuing in 2018.  Conditions in the macro environment place biotech in a strong position for continued value creation. In addition, we see a tremendous amount of novel and exciting science driving both company creation and the advancement of new therapies moving toward the clinic. Pharma and large biotech continue to turn to smaller biotechs to enhance their pipelines, and this supports a very healthy ecosystem.
Bruce Booth, partner at Atlas Ventures:
Biopharma venture funding in 2018 will likely moderate from the record-setting pace of 2017, but be in the robust range of the last few years; in short, access to capital won't likely be a constraint. Plenty of venture and crossover firms have reloaded with fresh funds, and large unconventional generalist asset managers remain keen on investing more into the promise of biotech, both private and public.
Noubar Afeyan, founder and CEO of Flagship Pioneering:
I expect investments into private biotech companies to increase significantly year over year due to the strong pipeline of product-platform companies emerging from innovation efforts in academia, venture firms and other sources. Also expect pharma dependence on external innovation as a source of their product supply to continue increasing as they find new ways of partnering with firms like Flagship to create long-term supply agreements for breakthrough products. Sources of capital focusing on life science investing are also increasing considerably for late stage and public investment.
Word cloud created from thoughts of top biotech VCs: "expect" "robust" "biotech" "value creation" for "new ventures" in "2018". https://t.co/8Uqjgzmn5K pic.twitter.com/eplalvl2dd

— Robert Plenge (@rplenge) November 22, 2017
---
The best place to read
Endpoints News

? In your inbox.

Comprehensive daily news report for those who discover, develop, and market drugs. Join 51,200+ biopharma pros who read Endpoints News by email every day.

Free Subscription
---
---
---