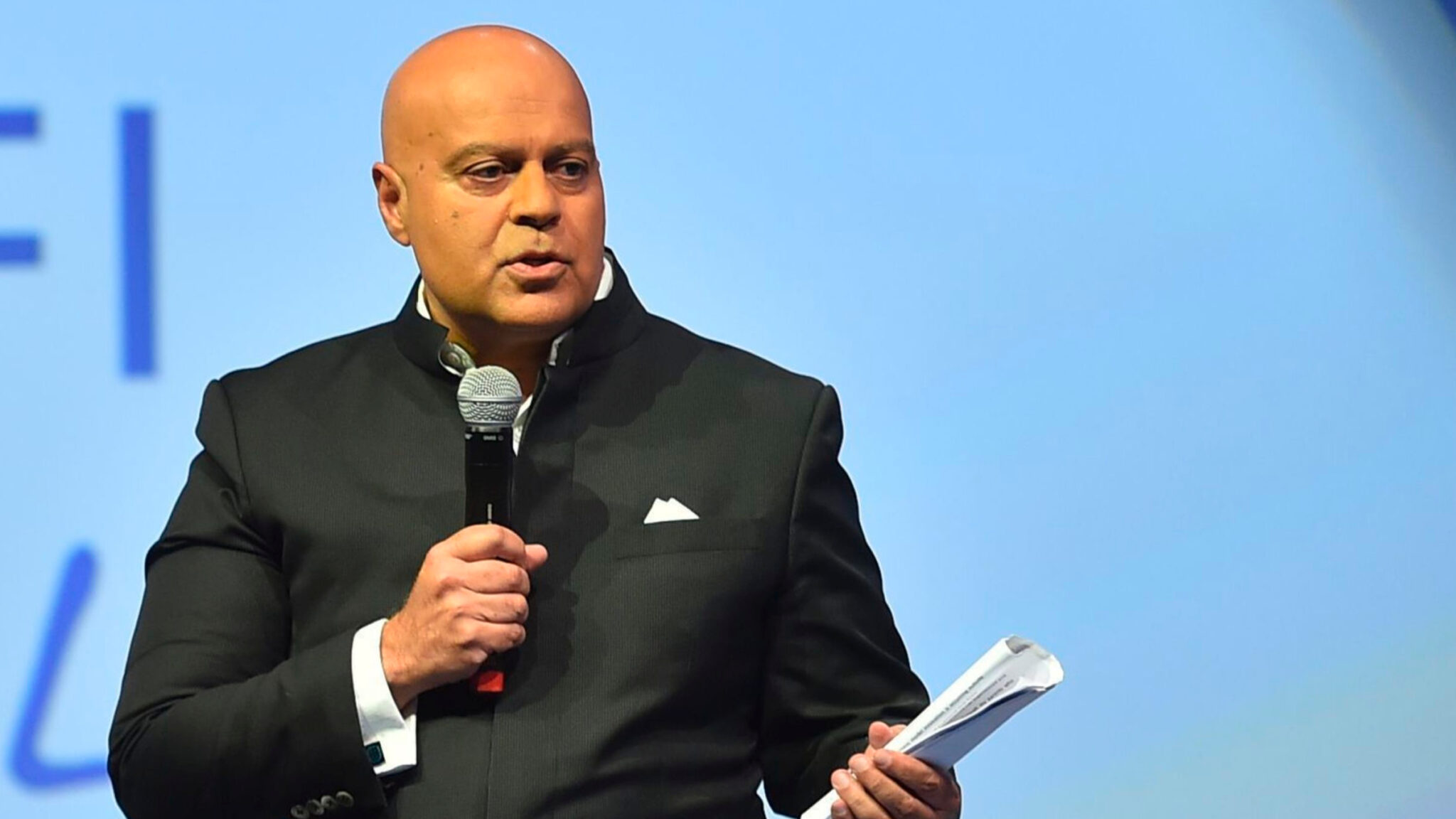 Ameet Nathwani, Dewpoint CEO (Viva Technology/Sipa/L.Chamussy, Sipa via AP Images)
Soft­Bank leads $150M round in­to Dew­point as con­den­sate biotech nears clin­ic
In an­oth­er mar­ket, Dew­point Ther­a­peu­tics may have gone pub­lic about now and raised a prince­ly sum.
Al­though they're still around two years from hu­man tri­als, the biotech al­ready has blue-chip VC back­ers, three Big Phar­ma part­ner­ships, and a com­pelling sto­ry about be­ing the first and biggest en­trant to a new field of bi­ol­o­gy. But Wall Street isn't buy­ing much of any­thing these days.
So Dew­point will have to set­tle for the next best thing: a ven­ture cap­i­tal firm that of­ten acts as if it has as much mon­ey as Wall Street — Soft­Bank.
The tech-fo­cused mega-VC led a $150 mil­lion Se­ries C for Dew­point, the com­pa­ny an­nounced Thurs­day. Those funds will be enough to car­ry Dew­point in­to the clin­ic at the end of 2023, while ad­vanc­ing of suite of 19 oth­er pro­grams as the com­pa­ny tries to fash­ion it­self in­to one of the next ma­jor biotechs, in the vein of Al­ny­lam.
"The play­book is look, we've got new bi­ol­o­gy," CEO Ameet Nath­wani said. "Let's go as broad as we can and let's go as fast as we can."
Dew­point, of course, is still far from achiev­ing that. Their cen­tral fo­cus — what's known as bio­mol­e­c­u­lar con­den­sates — were dis­cov­ered bare­ly a decade ago, al­though they're al­ready im­pli­cat­ed in a host of cell process­es, from cell sig­nal­ing to gene ex­pres­sion, and a host of dis­eases, from ALS to in­fec­tions like RSV.
Con­den­sates are es­sen­tial­ly com­part­ments a cell can form to per­form a giv­en func­tion. In the nu­cle­us, for ex­am­ple, cells can use them to both bring tran­scrip­tion ma­chin­ery to­geth­er to make new pro­teins faster, and block off genes from be­ing tran­scribed al­to­geth­er.
They're formed by liq­uid-liq­uid phase sep­a­ra­tion, the same physics that keeps oil droplets sus­pend­ed in wa­ter. (Ex­act­ly how the cell forms these droplets is still a mat­ter of de­bate. Quan­ta does a good job ex­plain­ing the com­pet­ing the­o­ries.)
Nath­wani's com­pe­ti­tion al­so now faces com­pe­ti­tion. Dew­point, co-found­ed by An­tho­ny Hy­man, the prin­ci­pal in­ves­ti­ga­tor who first wrote about con­den­sates, was the first ma­jor com­pa­ny to ex­plore their po­ten­tial in ther­a­peu­tics. But they are no longer alone. Hy­man's post­doc stu­dent, Clif­ford Brang­wynne, now a pro­fes­sor at Prince­ton, found­ed his own con­den­sate-fo­cused com­pa­ny in No­vem­ber 2020 called Nereid. Third Rock fol­lowed up a month lat­er with Faze Med­i­cines.
Nath­wani said the com­pa­ny dif­fer­en­ti­ates it­self with its breadth: It has in­ter­nal pro­grams in neu­ro­science and on­col­o­gy, and is team­ing with Mer­ck in HIV and with Bay­er in women's health and car­dio­vas­cu­lar dis­ease. They're try­ing, in oth­er words, to tack­le near­ly every ap­pli­ca­tion of con­den­sate bi­ol­o­gy.
Dew­point al­so boasts that it's built ma­chine learn­ing tech­nol­o­gy to match ge­net­ic mu­ta­tions to changes to con­den­sates in the cell, along with a screen­ing plat­form for new mol­e­cules that can in­ter­fere with them.
"It's go­ing to be a nov­el ge­net­ics ap­proach, it's go­ing to be a nov­el com­put­er vi­sion ap­proach," he said. "The bi­ol­o­gy plat­form is ex­treme­ly broad."
It's the kind of tech-first talk that can at­tract in­vestors like Soft­Bank. The firm has not al­ways been as the most dis­cern­ing VC, fa­mous­ly giv­ing We­Work $4.4 bil­lion af­ter a 12-minute tour and hand­ing a dog-walk­ing app $300 mil­lion. (A for­mer Soft­Bank ex­ec­u­tive once re­marked of Masayoshi Son, the founder: "Masa is not a par­tic­u­lar­ly deep thinker, but he has one strength: he's de­vot­ed to buy­ing more lot­tery tick­ets than any­one else.")
But in the last cou­ple years, Soft­Bank's lat­est fund, led by Vikas Parekh, has wad­ed in­to biotech, most­ly in places tech VCs of­ten do: a com­pa­ny us­ing AI to screen mol­e­cules, an­oth­er promis­ing to use ma­chine learn­ing to en­gi­neer bet­ter gene ther­a­pies, Bren­dan Frey's RNA-fo­cused AI start­up.
The same thing drew them to Dew­point, Nath­wani said.
"It's the dig­i­tal as­pect com­bined with the bi­ol­o­gy," he said.
And yet Faze and Nereid have promised to bring sim­i­lar lev­els of dig­i­tal so­phis­ti­ca­tion to in­ter­ro­gate con­den­sates and de­sign new med­i­cines, the lat­ter re­ly­ing in part on ap­proach­es Brang­wynne has de­vel­oped over the years in his lab.
None have yet de­liv­ered da­ta. They'll like­ly be com­pet­ing for years, each hop­ing that new bi­ol­o­gy doesn't bring too much of what it al­ways brings: new sur­pris­es.