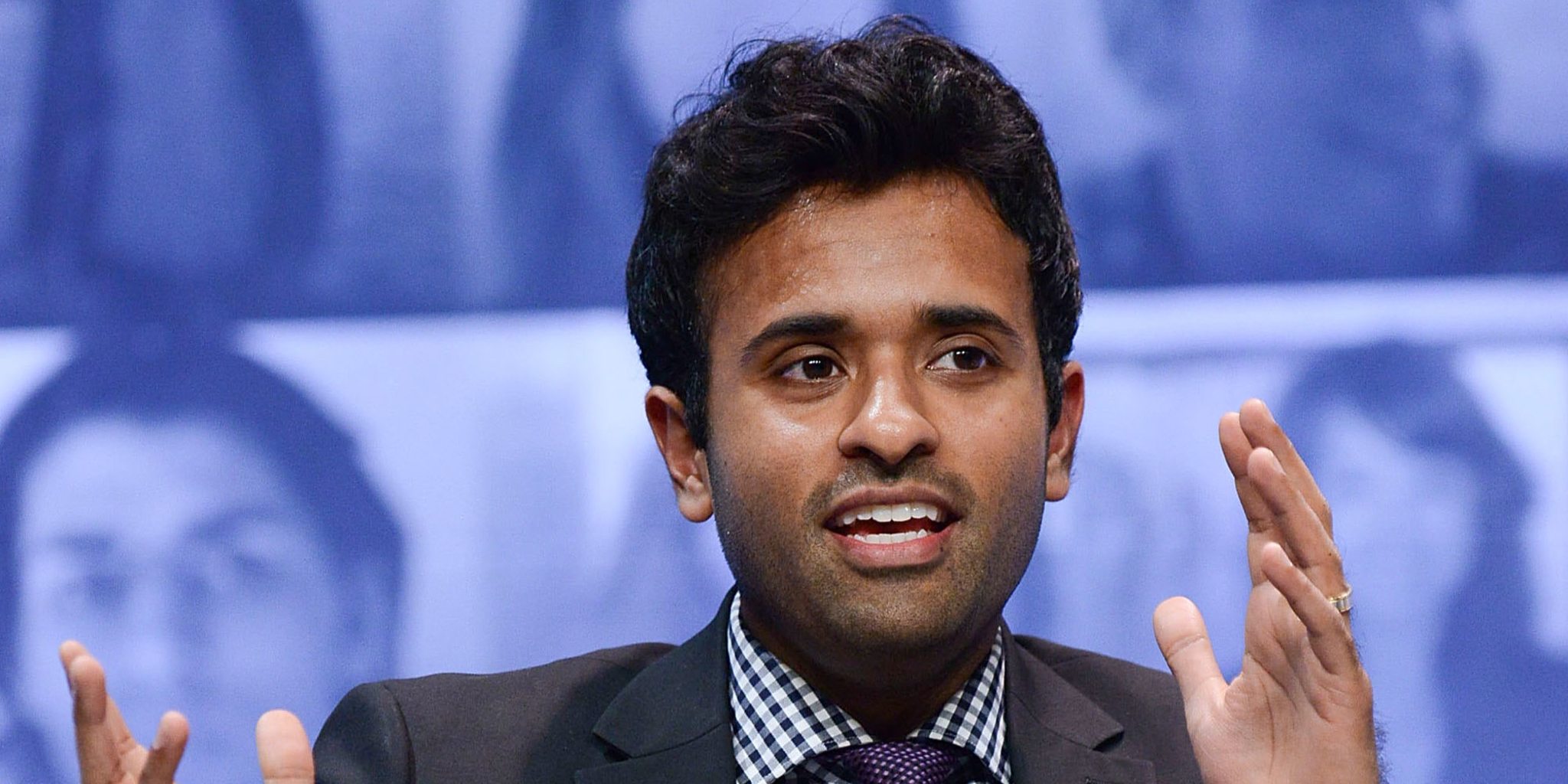 Soft­Bank bets $1.1B on Roivant CEO Vivek Ra­maswamy's brash new biotech strat­e­gy
With piv­otal da­ta loom­ing on his first big biotech play, Vivek Ra­maswamy just land­ed a whop­ping $1.1 bil­lion in­vest­ment to back the ex­plo­sive growth of Roivant Sci­ences. And he has a new fledg­ling 'vant' to add to the port­fo­lio to­day — his 6th — as Roivant mus­cles up on da­ta analy­sis tech.
Soft­Bank Vi­sion Fund — a mas­sive $100 bil­lion pri­vate eq­ui­ty fund from Japan's Soft­Bank with huge con­tri­bu­tions from the Saud­is and a slate of tech com­pa­nies like Ap­ple and Sharp — is con­tribut­ing the cash, which in­cludes funds from some of Roivant's ex­ist­ing in­vestors.
This is the first big biotech in­vest­ment high­light­ed by the Soft­Bank Vi­sion Fund, run by Japan­ese bil­lion­aire Masayoshi Son. The fund has been mak­ing a se­ries of $1 bil­lion plays like this, in­clud­ing a re­port­ed $1 bil­lion wa­ger on the sports e-com­merce com­pa­ny Fa­nat­ics Inc.
"I like bring­ing in a di­verse group of in­vestors in­to Roivant," Ra­maswamy tells me, not at all averse to the fact that Soft­Bank's in­vest­ments have been head­ing in­to brash com­pa­nies look­ing to re­shape the in­dus­tries they are in.
This new $1.1 bil­lion in­vest­ment brings Ra­maswamy's to­tal raise to $2.5 bil­lion-plus in three years, which in­cludes the funds raised from two big IPOs for Ax­o­vant $AX­ON and My­ovant $MY­OV. By any mea­sure, that's an ex­tra­or­di­nary sum for a group that has yet to see piv­otal da­ta on any of its drugs.
Ra­maswamy tells me that he plans to use the cash to ramp up a whole new group of com­pa­nies, not all of which will be pure biotech plays, like his first five star­tups. He al­so wants to go deep­er in­to new tech­nolo­gies that can im­prove a biotech's ef­fi­cien­cy.
It's no co­in­ci­dence that this big new in­vest­ment is com­ing at a time when a full slate of bio­phar­ma com­pa­nies are re­or­ga­niz­ing their R&D groups. What has been a con­stant over the past decade, as Big Phar­ma tried to cre­ate ef­fi­cient R&D groups, has be­come a tidal wave of re­struc­tur­ings. New CEOs at Eli Lil­ly, GSK, Alex­ion, Bio­gen and oth­ers are all in the process of kick­ing loose ear­ly- and late-stage as­sets as they try to cre­ate some ex­cite­ment around their pipelines. That in turn will cre­ate new op­por­tu­ni­ties for Ram­swamy and the biotech en­tre­pre­neurs backed by VCs who like to grab the most promis­ing as­sets and build com­pa­nies around them.
It's a new busi­ness mod­el, and its day has ful­ly ar­rived. Ra­maswamy will not be hunt­ing for mon­ey to play a glob­al role on this stage.
Num­ber six on Ra­maswamy's start­up list, Data­vant, will set out to col­lect da­ta from clin­i­cal tri­als, to help his de­cen­tral­ized group of biotechs iden­ti­fy new drugs and de­vel­op them more ef­fi­cient­ly. In many ways, it is a di­rect ex­ten­sion of the work Roivant has been do­ing to find new clin­i­cal as­sets for his star­tups.
The 32-year-old ex­ec has cre­at­ed a com­pa­ny mod­el in which a grow­ing line­up of biotech com­pa­nies op­er­ate un­der one um­brel­la, tap­ping the moth­er ship for core ser­vices like IT. And while most phar­mas like to fo­cus on 2 or 3 or 4 dis­eases, Ra­maswamy wants to go in mul­ti­ple di­rec­tions, mov­ing faster and more ef­fi­cient­ly than the in­dus­try has ever man­aged to achieve.
"We're open to any dis­ease area we can grow in­to," says Ra­maswamy, who turns 32 to­day.
The en­gag­ing Ra­maswamy has been pur­su­ing an in­creas­ing­ly pop­u­lar strat­e­gy in biotech, find­ing loose, late-stage as­sets in phar­ma pipelines that have of­ten ei­ther been aban­doned or side­lined or in need of a part­ner to share the risk on. He did that with a late-stage Alzheimer's drug from Glax­o­SmithK­line, bagged it for on­ly $5 mil­lion up front and built Ax­o­vant around it. Piv­otal da­ta on the drug is now due in the fall.
The for­mer hedge fund man­ag­er al­so has been re­cruit­ing top tal­ent for his com­pa­nies, un­der­scored by the re­cent ar­rival of David Hung, post the $14 bil­lion Medi­va­tion buy­out, and ex-Cel­gene ex­ec Jack­ie Fouse, who was re­port­ed­ly of­fered the Te­va job and turned it down, pre­fer­ring to run the start­up Der­ma­vant.
---
Im­age: Get­ty