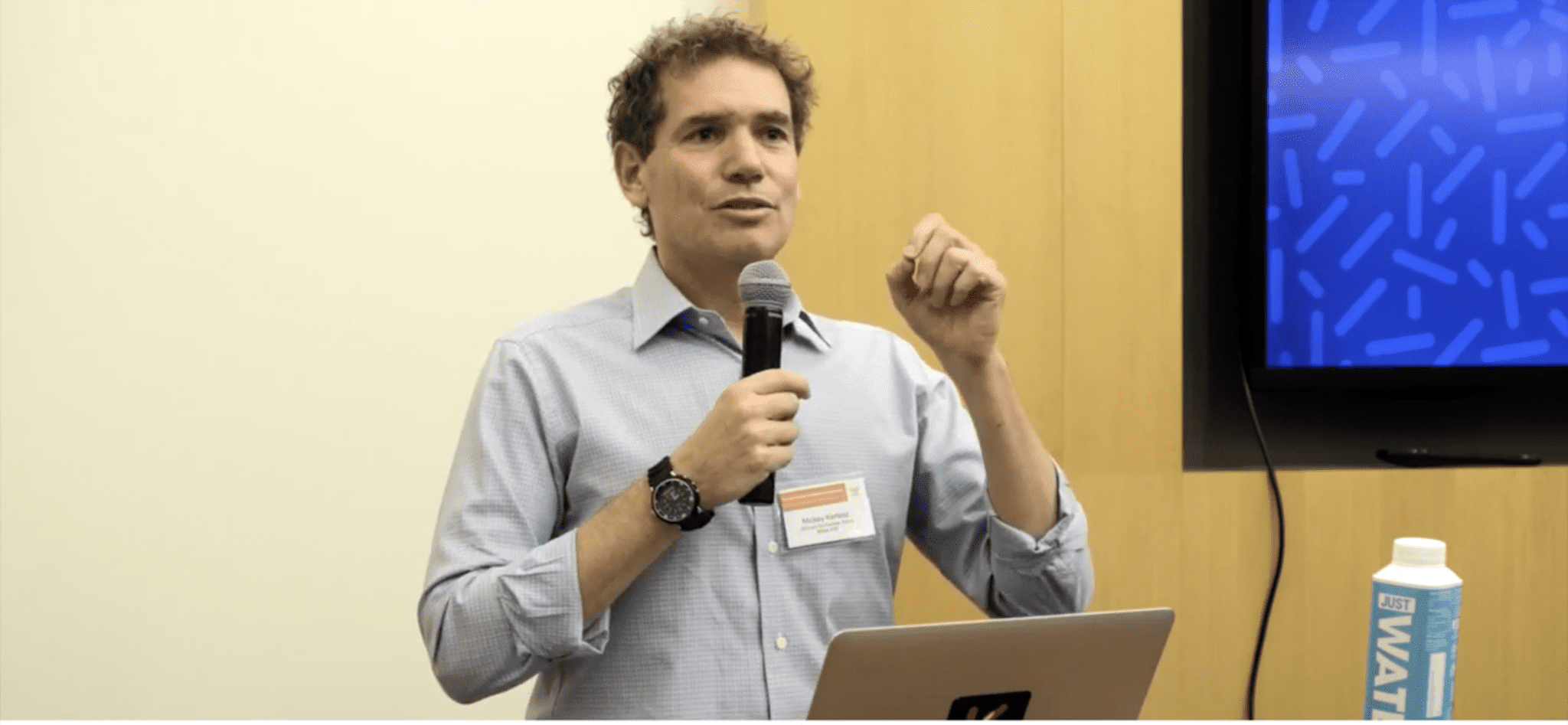 Mickey Kertesz, KidsandArtOrg via YouTube
Soft­Bank's newest, $165M biotech in­vest­ment looks for in­fec­tious traces in the blood
Soft­Bank has found its newest biotech in­vest­ment.
The Japan­ese bank has in­vest­ed $165 mil­lion in­to Kar­ius, a com­pa­ny that us­es blood tests to di­ag­nose in­fec­tious dis­eases, as part of its new Vi­sion Fund 2. The full scope of the new fund has yet to be an­nounced, but the first and new­ly-be­lea­guered Vi­sion Fund poured $100 bil­lion in­to tech­nol­o­gy com­pa­nies, in­clud­ing the biotechs Vir Biotech­nol­o­gy and Roivant and the se­quenc­ing com­pa­ny 10x Ge­nomics.
Based in San Fran­cis­co, Kar­ius de­vel­ops tests that can be used to rapid­ly di­ag­nose pa­tients with any one of over 1,000 in­fec­tious dis­eases. The idea is to by­pass the rel­a­tive­ly slow guess-and-check sys­tem where­by doc­tors hy­poth­e­size if a pa­tient's symp­toms match a dis­ease and then test for it, and in­stead di­rect­ly test the blood for mark­ers that will in­di­cate if a cer­tain dis­ease is present.
It launched out of stealth mode in 2017 with $50 mil­lion in fund­ing and some me­dia-friend­ly anec­dotes. That in­clud­ed a 3-year-old boy whose rash stumped doc­tors as test af­ter test came back neg­a­tive un­til sam­ples were shipped to Kar­ius' labs. Overnight, they showed he had rat-bite fever, and had like­ly been scratched by his pet rat.
Kar­ius us­es a tech­nol­o­gy called cell-free DNA tests. They an­a­lyze the strands of DNA that float freely in your blood, giv­en off by dy­ing cells. If you have an in­fec­tion, that stream of free-float­ing DNA may con­tain frag­ments of DNA from the bac­te­ria or virus­es that caused the in­fec­tion. Iden­ti­fy the source of the DNA — as re­cent ad­vances in re­duc­tion tech­nol­o­gy and ar­ti­fi­cial in­tel­li­gence have al­lowed re­searchers to do — iden­ti­fy the in­fec­tion.
Physi­cians have called cell-free DNA tests a "mol­e­c­u­lar stetho­scope," com­par­ing the changes it might bring to di­ag­no­sis to the changes her­ald­ed by the acoustic stetho­scope in the 1800s. The first us­es of such analy­ses came in 2011, when it was first used to test the blood of preg­nant women for fe­tal DNA that in­di­cat­ed a fe­tus with Down syn­drome. Mick­ey Kertesz, now CEO of Kar­ius, and a Stan­ford team no­ticed DNA from in­fec­tious dis­eases in the blood­stream and start­ed plot­ting ways to test it sys­tem­at­i­cal­ly.
A big val­i­da­tion for Kar­ius's tech­nol­o­gy came in a small JA­MA study pub­lished in De­cem­ber. Re­searchers took 47 pa­tients at St. Jude Chil­dren's Re­search Hos­pi­tal and test­ed them for blood­stream in­fec­tion, a po­ten­tial­ly life-threat­en­ing com­pli­ca­tion of cer­tain can­cer treat­ment. Of the 16 pa­tients who even­tu­al­ly showed signs of in­fec­tion, Kar­ius di­ag­noses them at least 3 days be­fore symp­toms ap­peared.
A Na­ture Mi­cro­bi­ol­o­gy study pub­lished last year al­so showed that the Kar­ius test reached the same con­clu­sion as a blood cul­ture analy­sis in 93.7% of sep­sis cas­es across 350 stu­dents. Ad­di­tion­al­ly, there is ev­i­dence that it can be used as a less in­va­sive way to screen for or­gan trans­plant match­es.
Kar­ius said that its test is now used in over 100 hos­pi­tals and health sys­tems na­tion­wide, but it doesn't come cheap: $2,000 per test.