Spar­ingVi­sion rais­es $52M to kick off long jour­ney for a next-gen gene ther­a­py that goes much, much broad­er than Lux­tur­na
Un­til Spark Ther­a­peu­tics' pi­o­neer­ing gene ther­a­py, Lux­tur­na, came along, pa­tients with re­tini­tis pig­men­tosa had few treat­ment op­tions. Even af­ter it was ap­proved, though, the ma­jor­i­ty were left with the ex­act same op­tions.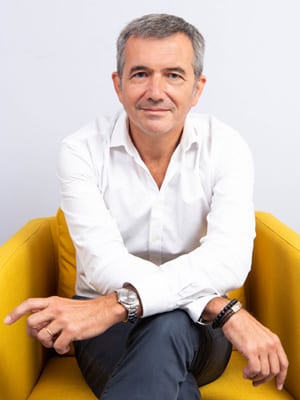 Stephane Bois­sel
Be­cause it's tar­get­ing mu­ta­tions in a spe­cif­ic gene known as RPE65, Lux­tur­na can on­ly ad­dress 2 to 3% of the en­tire RP pop­u­la­tion, Stephane Bois­sel told End­points News.
Bois­sel is the new­ly-mint­ed CEO of Spar­ingVi­sion, a French biotech co-found­ed by José-Alain Sa­hel and Thier­ry Léveil­lard at the In­sti­tut de la Vi­sion. They have their sight set on a new kind of AAV con­struct — a next-gen­er­a­tion gene ther­a­py if you will — that can treat all pa­tients of RP in­de­pen­dent of ge­net­ic mu­ta­tions.
And they have $52 mil­lion-plus (€44.5 mil­lion) to re­al­ize that vi­sion steadi­ly over the next four or five years, with plans to com­plete both first- and sec­ond-in-hu­man tri­als.
What the found­ing sci­en­tists pin­point­ed, in­stead of a gene, was a neu­rotroph­ic fac­tor se­cret­ed by rod pho­tore­cep­tors that ap­pears to pro­tect the cones, which ex­plains why RP pa­tients see their cones die even in the ab­sence of ge­net­ic ab­nor­mal­i­ties. By wrap­ping Rd­CVF, or rod-de­rived cone vi­a­bil­i­ty fac­tor, and an ox­ida­tive stress re­duc­ing en­zyme in­to a vi­ral vec­tor, they came up with SPVN06 in hopes of re­plac­ing one key func­tion that RP pa­tients lose along­side their rods.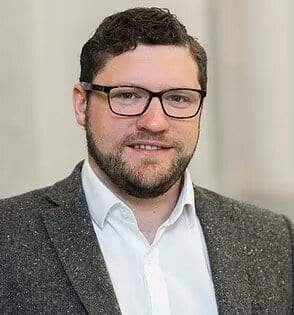 Owen Smith
It won't re­verse the dis­ease, but Spar­ingVi­sion is hop­ing it can slow or stop its pro­gres­sion.
The ap­proach paves a path that reach­es all 2 mil­lion RP pa­tients — a kind of "medi­um rare" in­di­ca­tion and broad­er ap­pli­ca­tion of gene ther­a­py fa­vored by 4BIO Cap­i­tal, said di­rec­tor of in­vest­ment Owen Smith. 4BIO co-led the round with UPMC En­ter­pris­es, the ven­ture arm of Pitts­burgh-based health sys­tem UPMC, where Sa­hel chairs the De­part­ment of Oph­thal­mol­o­gy.
"One of the al­ter­na­tives is de­vel­op­ing a Lux­tur­na in every sin­gle geno­type, and we haven't even ful­ly char­ac­ter­ized the dis­ease on a ge­net­ic lev­el," he said.
Cur­rent­ly fo­cused on a sin­gle as­set, Spar­ingVi­sion now op­er­ates vir­tu­al­ly with­out labs or man­u­fac­tur­ing — every­thing is out­sourced and will be for a while — with all 12 of its staffers cur­rent­ly in France. Hav­ing re­cent­ly moved to Paris from the Bay Area, where he was work­ing on cor­po­rate strat­e­gy for Sang­amo fol­low­ing the sale of Tx­Cell two years ago, Bois­sel al­so plans to build a US-based team to start prepar­ing for that sec­ond-in-hu­man ef­fi­ca­cy tri­al.
"It's eas­i­er to find tal­ents who have done it in the US than in Eu­rope, and I want­ed peo­ple who have done it," he said. "So our CMO, our CTO, our head of trans­la­tion­al sci­ence will be based in the US."
He en­vi­sions re­cruit­ing a lean team of very se­nior peo­ple, build­ing out to 20 or 25 as­sum­ing Spar­ingVi­sion sticks on­ly to SPVN06. With that pro­gram alone there's po­ten­tial to go in­to dry AMD, where the neu­ro­pro­tec­tive mech­a­nism could be rel­e­vant. There is al­so a pos­si­bil­i­ty of bring­ing in new prod­ucts or tech­nolo­gies that would fit un­der ge­nom­ic med­i­cines for the eye, from gene re­place­ment to edit­ing to reg­u­la­tion. But it's ear­ly days, and Bois­sel said the syn­di­cate — which al­so fea­tures Jeito Cap­i­tal, Ys­ios Cap­i­tal, Bpifrance and Foun­da­tion Fight­ing Blind­ness — isn't ex­pect­ing a quick flip to the mar­ket.
It's tak­en the com­pa­ny four years to get to where they are. The first clin­i­cal tri­al should be­gin next year in Eu­rope, while the ef­fi­ca­cy tri­al is planned for 2023.
"That is a very unique set­ting in a world where things are very of­ten go­ing too fast," he said.