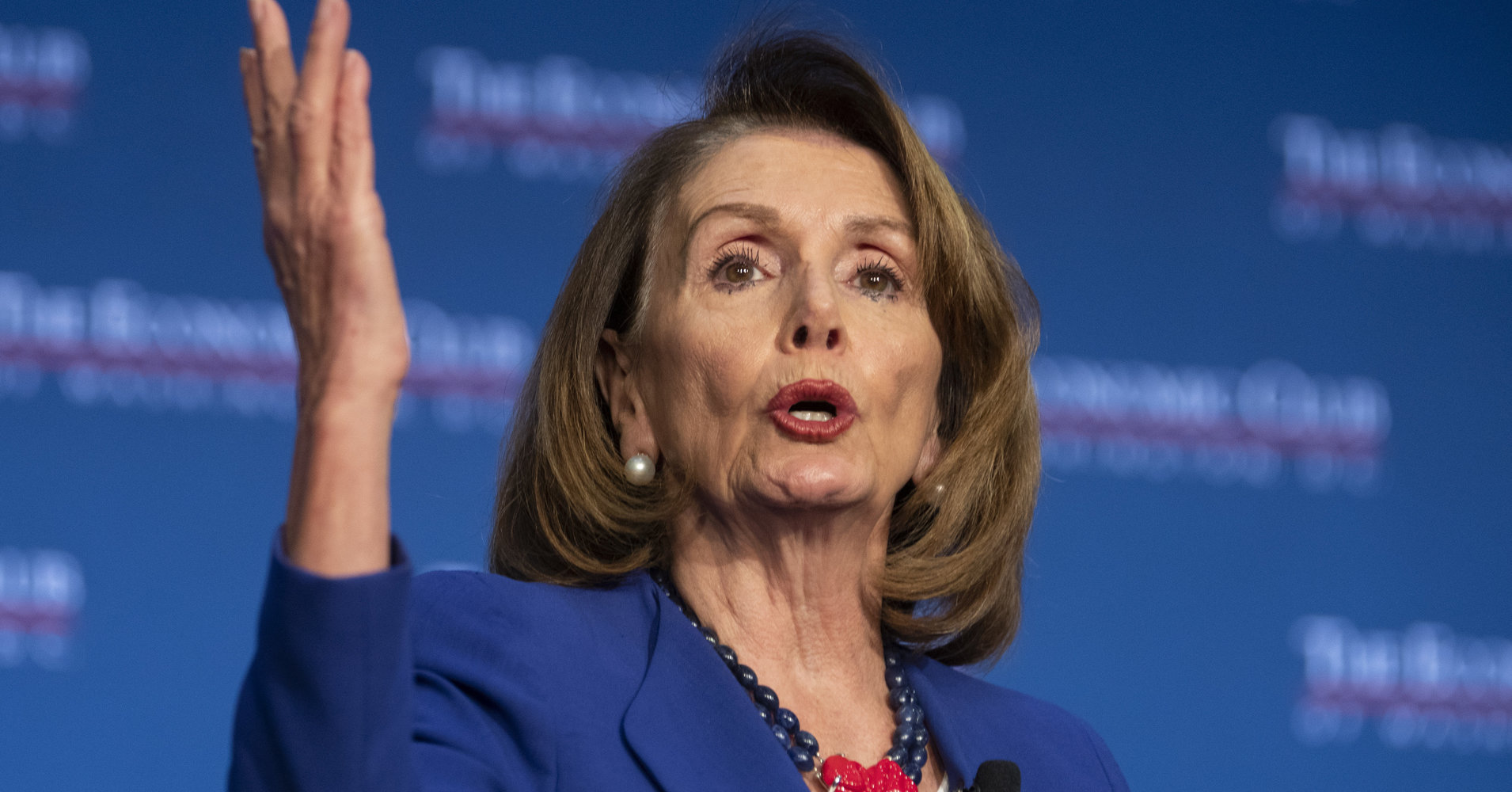 Speak­er Nan­cy Pelosi to un­veil bill for fed­er­al­ly ne­go­ti­at­ed drug prices
Af­ter months of buzz from both sides of the aisle, Speak­er Nan­cy Pelosi will to­day in­tro­duce her plan to al­low the fed­er­al gov­ern­ment to ne­go­ti­ate prices for 250 pre­scrip­tion drugs, set­ting up a show­down with a phar­ma­ceu­ti­cal in­dus­try work­ing over­time to pre­vent it.
The need to lim­it drug prices is a rare point of agree­ment be­tween Pres­i­dent Trump and De­moc­rats, al­though the pres­i­dent has yet to com­ment on the pro­pos­al and will like­ly face pres­sure to back a more con­ser­v­a­tive op­tion or no bill at all. Re­pub­li­can Sen­a­tor Chuck Grass­ley is re­port­ed­ly lob­by­ing his fel­low par­ty mem­bers on a more mod­est pro­pos­al he ne­go­ti­at­ed with De­mo­c­ra­t­ic Sen­a­tor Ron Wyden in Ju­ly.
The Pelosi bill would em­pow­er the De­part­ment of Health and Hu­man Ser­vices to ne­go­ti­ate with com­pa­nies on ef­fec­tive­ly na­tion­al prices for the 250 most ex­pen­sive pre­scrip­tion drugs with­out at least two com­peti­tors. The fed­er­al gov­ern­ment is barred by law to ne­go­ti­ate drug prices for Medicare, as na­tion­al ser­vices in oth­er coun­tries, such as the UK's NHS do.
Ne­go­ti­a­tions would be pegged to the cost of drugs in those oth­er coun­tries un­der a pro­posed "in­ter­na­tion­al price in­dex." This is in line with the pres­i­dent's stat­ed po­si­tion. In Ju­ly, Trump an­nounced he would sign an ex­ec­u­tive or­der lim­it­ing US prices to those paid in oth­er coun­tries — a legal­ly du­bi­ous move — al­though there's been lit­tle move­ment on that front since.
The White House has yet to com­ment on the plan, but the ap­par­ent in­ter­est align­ment has scared in­vestors and sent Pfiz­er and Mer­ck stock on a gen­tle, Thurs­day morn­ing slide.
There is "a pal­pa­ble fear among some in­vestors that Speak­er Pelosi and Pres­i­dent Trump may have a mind meld on drug pric­ing," wrote Ve­da Part­ners an­a­lyst Spencer Perl­man, ac­cord­ing to Bloomberg.
For­mal­ly, the bill would like­ly re­peal or work-around a pro­vi­sion in the 2003 Medicare Pre­scrip­tion Drug, Im­prove­ment, and Mod­ern­iza­tion Act. That bill gave medicare ben­e­fi­cia­ries en­ti­tle­ment ben­e­fits for pre­scrip­tion drugs for the first time in a com­pro­mise deal that al­so pre­vent­ed the US gov­ern­ment from di­rect­ly ne­go­ti­at­ing Medicare drug prices. In 2007, the De­mo­c­ra­t­i­cal­ly con­trolled House passed a bill re­peal­ing the ban, but that law was as­sured a ve­to from Pres­i­dent Bush and didn't ad­vance in the Sen­ate.
The Pelosi plan would al­low the gov­ern­ment to ne­go­ti­ate on be­half of Medicare re­cip­i­ents and ex­tend those ben­e­fits to the pri­vate mar­ket by steeply pe­nal­iz­ing health in­sur­ances who re­fused to do so. Com­pa­nies who refuse to ne­go­ti­ate would be pe­nal­ized 65% of the gross price of the drug. Those who over­charge medicare or don't ex­tend the ne­go­ti­at­ed price to the pri­vate mar­ket would be fined 10 times the dif­fer­ence be­tween the ne­go­ti­at­ed price and the sale price.
The plan would have retroac­tive el­e­ments de­signed to deal with re­cent price spikes that sparked na­tion­al con­ver­sa­tion. It would man­date phar­ma­ceu­ti­cal com­pa­nies that have raised prices above the in­fla­tion rate since 2016 to low­er the cost or pay re­bates equal to the to­tal price above in­fla­tion.
Grass­ley's plan, far more lim­it­ed in scope, would cap Medicare Part D re­cip­i­ents' out-of-pock­et pay at $3,100 start­ing in 2022. Those re­cip­i­ents are not cov­ered un­der the 2003 law. Pelosi's plan would cap their an­nu­al spend­ing at $2,000.
Ac­cord­ing to NPR, Grass­ley has been telling Re­pub­li­can col­leagues that if they do not co­a­lesce around a mod­er­ate plan to bring to Trump, the pres­i­dent will side Pelosi on an is­sue pop­u­lar among vot­ers.
A Ju­ly Kaiser Fam­i­ly Foun­da­tion poll found 79% of Amer­i­cans thought the cost of drugs was "un­rea­son­able," al­though 74% of those who take them, said they were "easy" to pay for. The sur­vey found 86% of re­spon­dents fa­vored gov­ern­ment ne­go­ti­a­tion of prices for peo­ple with Medicare, the third most pop­u­lar pol­i­cy op­tion, be­hind mak­ing it eas­i­er for gener­ics to hit the mar­ket and in­clud­ing prices in drug ads (a pro­pos­al the pres­i­dent has un­suc­cess­ful­ly tried to en­act).
Amer­i­cans rate the phar­ma­ceu­ti­cal in­dus­try dead last among 25 dif­fer­ent in­dus­tries, be­hind oil and gas and even the fed­er­al gov­ern­ment it­self.
The phar­ma­ceu­ti­cal lob­by has amped up spend­ing to un­prece­dent­ed lev­els as pub­lic pres­sure on drug pric­ing swelled and the specter of gov­ern­ment reg­u­la­tion loomed clos­er and clos­er.
Phar­ma­ceu­ti­cal com­pa­nies have long ar­gued such ne­go­ti­a­tions would sti­fle drug de­vel­op­ment and ul­ti­mate­ly hurt con­sumers, both by long-term re­duc­ing the in­cen­tive for com­pa­nies to in­vest in R&D and in in­stances where the gov­ern­ment re­jects the price and the treat­ment doesn't be­come avail­able, a dilem­ma show­cased in Ver­tex's re­cent fraught ne­go­ti­a­tions over CF drugs in the UK.
The same KFF poll found on­ly 23% of peo­ple sup­port­ed "al­low­ing Medicare drug plans to ex­clude more drugs."