We've known for a few months now that 2016 was going to be a disappointing year for new drug approvals. So it was no great surprise that the final tally at the FDA rang up at a meager 22.
Last year at this time, though, we were heralding a generation-high score of 45 OKs, and it doesn't take a math genius to see how bad the drop was.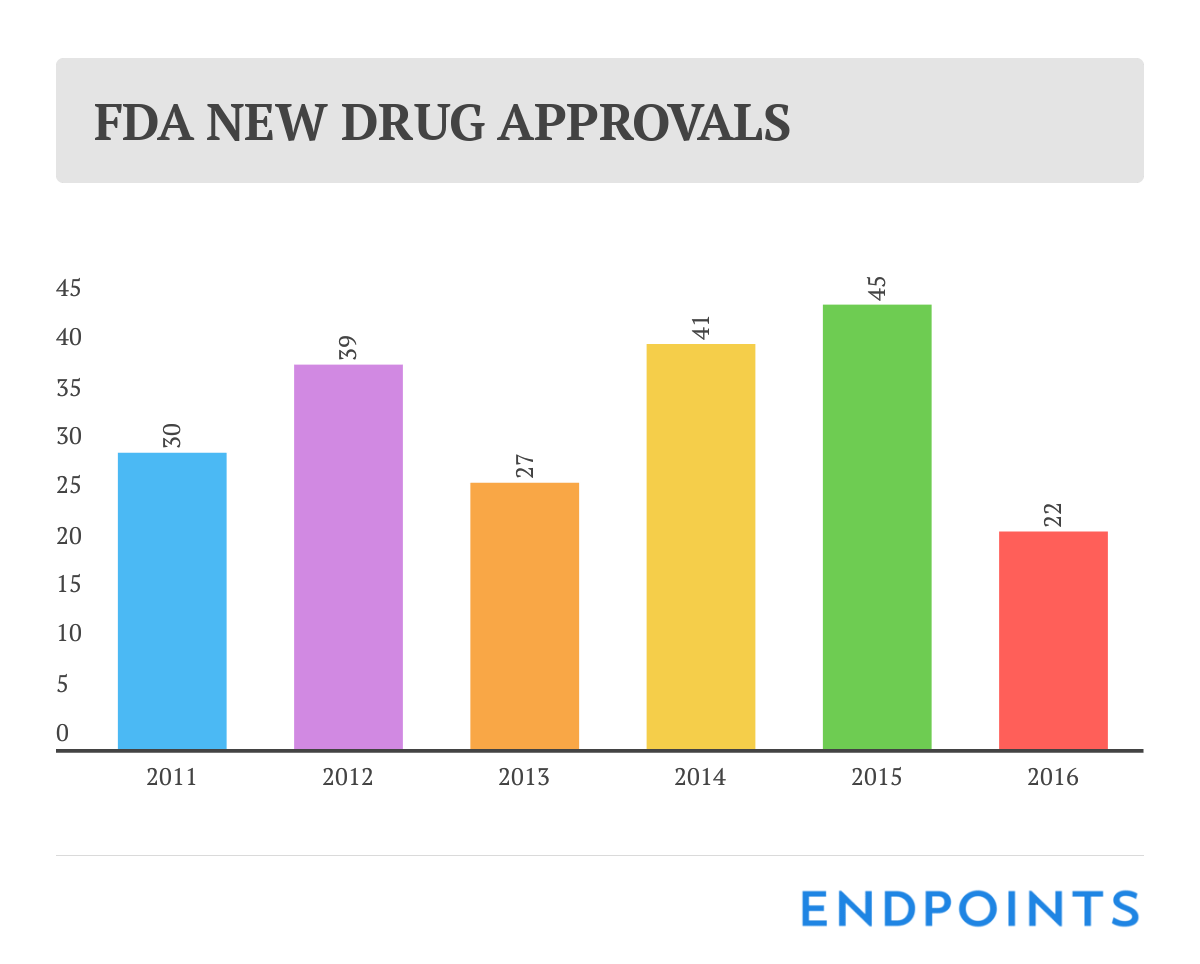 Does this signal the end of biopharma as we know it?
Of course not. Science is pointing the way to some of the greatest innovations known in drug R&D. Much of this is being advanced by smaller biotech companies backed by the billions of dollars invested in new companies — through the public market and VCs — over the past three years. So the overall pipeline remains large.
Is it just a temporary stumble that we can quickly jump past in 2017?
Not so fast. And maybe you should think twice before accepting some of the soothing suggestions that 2016 was just a temporary aberration we can all overlook now that we've begun a new year.
New drug approvals are likely to surge back up in the this year, if for no other reason than some of the delays we saw on manufacturing are likely to get cleared up, allowing for a green light to some big drugs, while pipelines get a chance to eclipse a notably awful year. It won't take much to clear this hurdle.
But a year this bad underscores a glaring weakness in the industry. The top 10 pharma giants, which account for about $70 billion in annual R&D costs and maintain a dominant position in late-stage development, scored only eight OKs. Eli Lilly, Merck and Roche accounted for six of those. Sanofi and Pfizer each got one.
Continue reading for the entire list of 2016 new FDA drug approvals with peak sales estimates and additional commentary.
---
In order to read this article, you must be an Endpoints News subscriber. (It's free to subscribe.)
← Go back
Sign in to Endpoints News
I forgot my password
Request a magic link
Access is subject to the terms in our
Privacy Policy
.
← Go back
Request a magic link
Enter your email below to get a Magic link which lets you sign in quickly without using a password.
Please note the Magic link is one-time use only and valid for only 24 hours. Access is subject to the terms in our
Privacy Policy
.
← Go back
Set a new password
We will send you a link, with which you will be able to set a new password.
Please note this link is for one-time use only and valid for only 24 hours. Access is subject to the terms in our
Privacy Policy
.
← Go back
We produce two daily email newsletters designed to give you a complete picture of what's important in biopharma. It's free to subscribe and never any spam. Join 50,700+ biopharma executives who read Endpoints News every day.
---