Steep­est de­cline in US can­cer mor­tal­i­ty ever record­ed, study finds
De­clin­ing smok­ing rates, rapid di­ag­no­sis, and new­er treat­ments are thaw­ing mor­tal­i­ty rates for can­cer, which on­ly lags be­hind heart dis­ease as the biggest killer in the Unit­ed States — re­searchers sug­gest­ed in a new study on Wednes­day.
The largest-ever one-year de­cline in the US can­cer death rate — dri­ven pri­mar­i­ly by di­min­ish­ing lung can­cer mor­tal­i­ty — was a 2.2% drop from 2016 to 2017, ac­cord­ing to the Amer­i­can Can­cer So­ci­ety (ACS) re­port, which cal­cu­lat­ed an over­all drop of 29% in US can­cer rates from 1991 to 2017.
The de­cline in mor­tal­i­ty over the 26-year pe­ri­od has been large­ly steady due to long-term drops in death rates in the four most com­mon can­cer types: lung, col­orec­tal, breast, and prostate, al­though progress in re­duc­ing col­orec­tal, breast, and prostate can­cers has slowed, the re­searchers found, not­ing that this works out to more than 2.9 mil­lion deaths avoid­ed since 1991 when the mor­tal­i­ty rate was at its peak.
"(T)reat­ment break­throughs have al­so con­tributed, such as those for hematopoi­et­ic and lym­phoid ma­lig­nan­cies in both chil­dren and adults, and more re­cent­ly check­point block­ade im­munother­a­pies and tar­get­ed ther­a­pies for metasta­t­ic melanoma," they wrote.
Pe­ter Bach, di­rec­tor of Memo­r­i­al Sloan Ket­ter­ing's cen­ter for health pol­i­cy and out­comes, took is­sue with at­tribut­ing the de­cline in can­cer mor­tal­i­ty to new med­i­cines in the study led by ACS' Re­bec­ca Siegel.
The study does not test this hy­poth­e­sis, the renowned re­searcher and epi­demi­ol­o­gist wrote on Twit­ter. "Epi­demi­ol­o­gy may be opaque but it is not opin­ion."
On av­er­age, the death rate has fall­en by 1.5% per year be­tween 2008 and 2017, Siegel et al cal­cu­lat­ed.
"Nev­er­the­less, progress is slow­ing for can­cers that are amenable to ear­ly de­tec­tion through screen­ing (ie, breast can­cer, prostate can­cer, and CRC), and sub­stan­tial racial and ge­o­graph­ic dis­par­i­ties per­sist for high­ly pre­ventable can­cers, such as those of the cervix and lung," the au­thors wrote.
"In­creased in­vest­ment in both the eq­ui­table ap­pli­ca­tion of ex­ist­ing can­cer con­trol in­ter­ven­tions and ba­sic and clin­i­cal re­search to fur­ther ad­vance treat­ment op­tions would un­doubt­ed­ly ac­cel­er­ate progress against can­cer."
In 2016, the Unit­ed States spent near­ly twice as much as 10 high-in­come coun­tries on med­ical care and per­formed less well on many pop­u­la­tion health out­comes, da­ta shows.
And al­though the US has low­er-than-av­er­age mor­tal­i­ty rates for can­cer, it does have high­er than av­er­age rates in the oth­er caus­es of mor­tal­i­ty ver­sus coun­tries that are sim­i­lar in size and wealth (based on GDP and GDP per capi­ta), ac­cord­ing to an analy­sis con­duct­ed by The Pe­ter­son Cen­ter on Health­care and the Kaiser Fam­i­ly Foun­da­tion.
Source: The Pe­ter­son Cen­ter on Health­care & KFF, 2020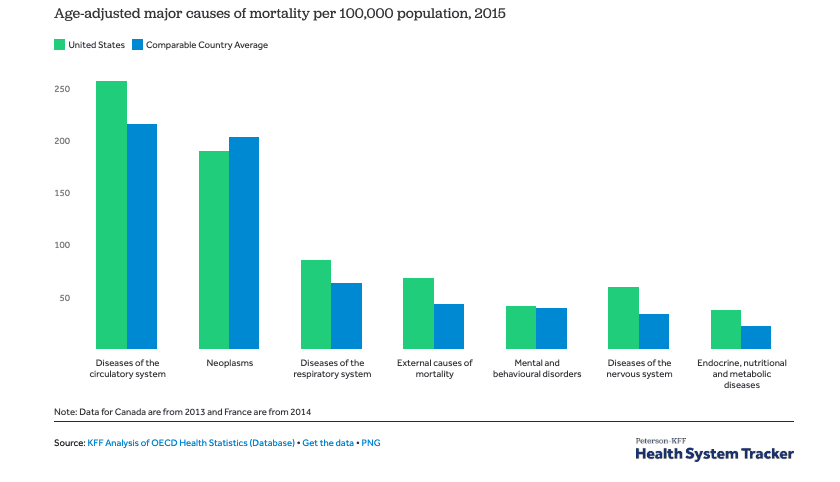 Click on the im­age to see the full-sized ver­sion
These cat­e­gories ac­count­ed for near­ly 74% of all deaths in the Unit­ed States in 2015, ac­cord­ing to the da­ta com­piled.
"My biggest con­cern, how­ev­er, is that the na­tion is so hy­per-fo­cused on can­cer (as re­flect­ed in (the) dis­pro­por­tion­ate amount of R&D in on­col­o­gy space) that it's ig­nor­ing the alarm­ing fact that over­all life (US) ex­pectan­cy is in de­cline," health econ­o­mist Joshua Co­hen wrote in re­sponse to Bach's com­ments on Twit­ter.