---
During the debate over the new Right to Try legislation, a number of critics raised the argument that some companies would try to cash in by selling experimental drugs with an undefined risk profile to desperate, dying patients.
Brainstorm Cell Therapeutics $BCLI appears to be on track to be one of the first to test the letter of the law on that score.
The Israeli biotech has been slowly working on a stem cell therapy for ALS, or Lou Gehrig's disease. For months now, company execs have been hinting at the move, noting the number of ALS patients who have been clamoring for a therapy they dubbed NurOwn. And in an interview with Bloomberg, CEO Chaim Lebovits said that they're thinking of a price in the region of the pioneering personalized cell therapies that have been approved.
Say $300,000. That might be the right "incentive."
I went hunting for the data they have so far, and it's not much. The company points out that 75 people have been treated with the therapy, delivering a "clinically meaningful benefit." But that's arguable.
If you look at the 24-week chart the company offered on the 48 patients in the small, exploratory study, the drug outperformed the placebo arm but any relative treatment effect they were tracking quickly evaporated for most of the patients suffering from this slow, lethal ailment. The p-values were a mess. The investigators involved said that if you excluded the slow progressors, the numbers looked better — but the same transient effect is evident, with negative p-values.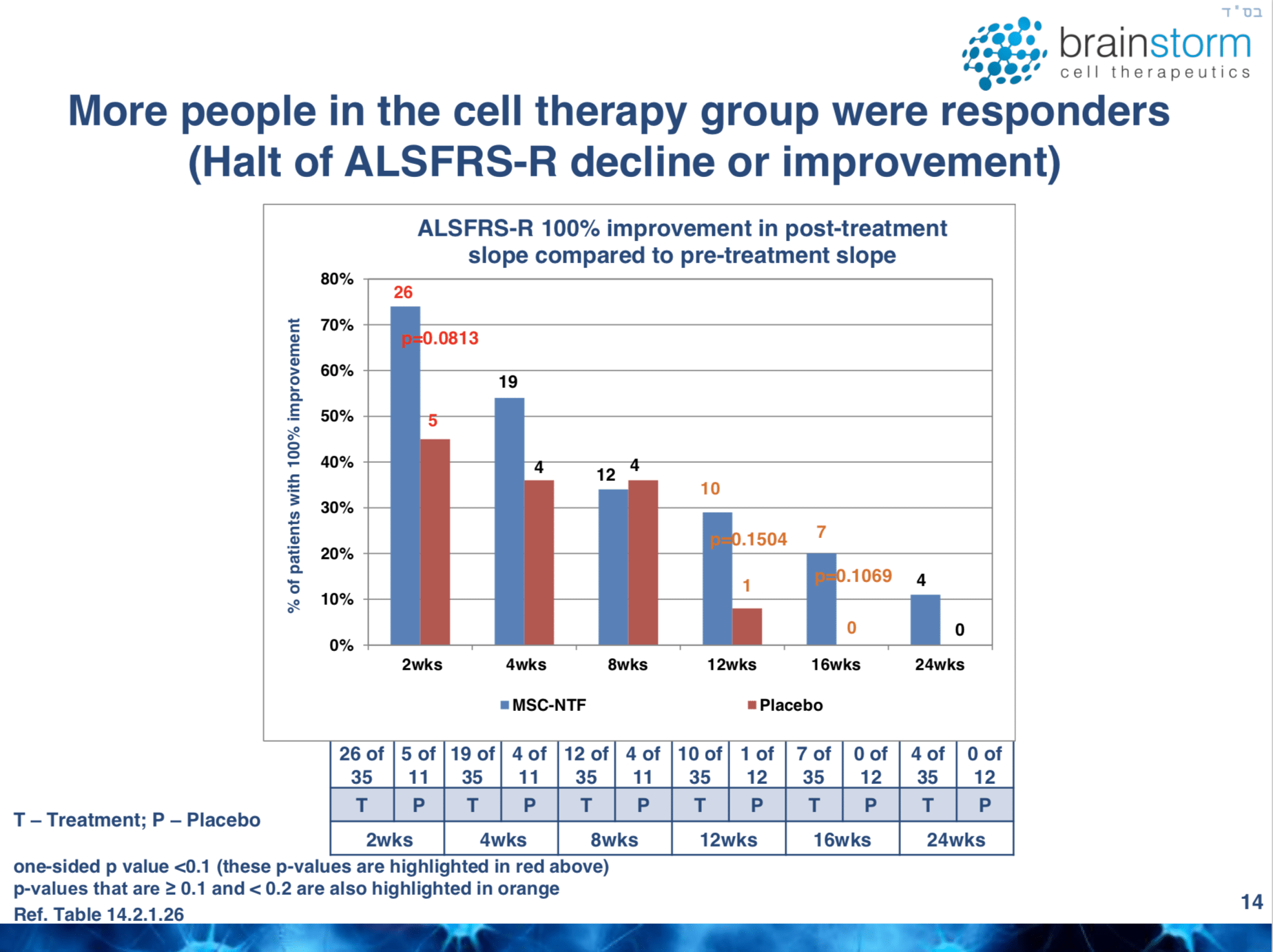 ---
That's why it's in Phase III, which is a bigger study — backed by the California Institute of Regenerative Medicine — that will show whether the drug can help a significant number of patients, or if it's a waste of time and money.
Until Right to Try was passed recently, the drug would only be available to people who made a plea to get the drug at cost, but the CEO evidently believes the new law gives him a right to market it. Health insurers are unlikely to even consider a reimbursement for an experimental therapy like this.
I asked the three key investigators in the Phase II study — Merit Cudkowicz, Massachusetts General Hospital; principal investigator Robert Brown, UMass Medical School; and Anthony Windebank from the Mayo Clinic — what they thought about the company's plans. I haven't heard back yet.
If they do, I'll add their responses.
At best the company has an ultra high-risk Phase III underway that investors are reluctant to back, especially after the era of stem cell trial failures we've been seeing over the past decade. At worst there's a good chance that the patients who do raise the cash for this therapy will find that the law would have been better called Right to Bankruptcy.
And we're not even into the first round of pure snake oil salesmen. 
---
The best place to read
Endpoints News

? In your inbox.

Comprehensive daily news report for those who discover, develop, and market drugs. Join 44,100+ biopharma pros who read Endpoints News by email every day.

Free Subscription
---
---
---