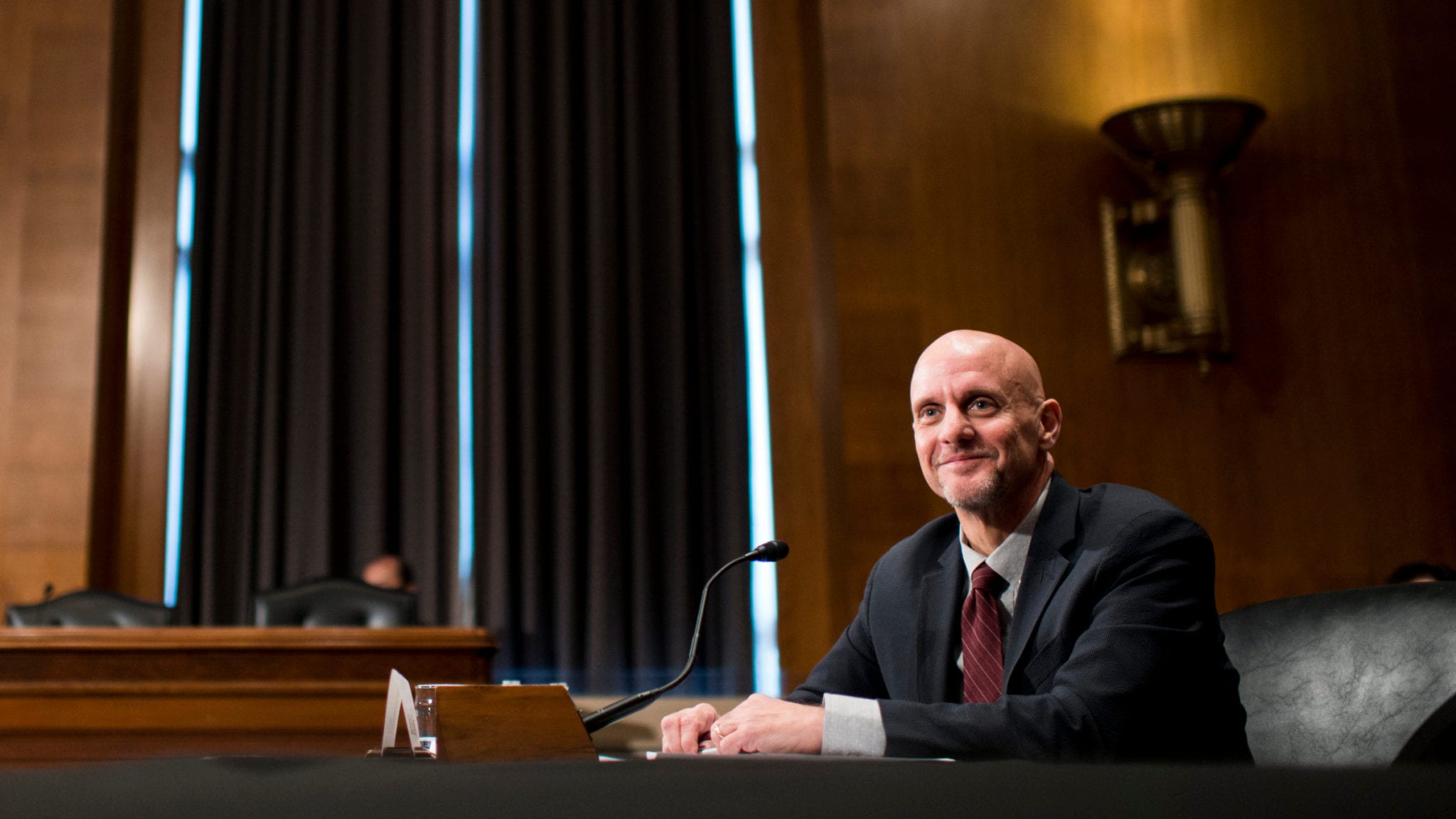 Stephen Hahn, FDA commissioner (AP Images)
Stephen Hahn: FDA will make some changes amid Covid-19 per­ma­nent
The FDA will look to per­ma­nent­ly im­ple­ment some of the process­es and poli­cies adopt­ed in its re­sponse to the Covid-19 pan­dem­ic, FDA com­mis­sion­er Stephen Hahn said dur­ing a vir­tu­al brief­ing host­ed by the Al­liance for a Stronger FDA on Mon­day.
Hahn's state­ments dur­ing the brief­ing close­ly mir­rored state­ments he made in a pre-record­ed video FDA up­loaded to YouTube on Fri­day.
"As this pan­dem­ic has evolved, it was clear to all of us that some FDA process­es need­ed to be ad­just­ed to ac­com­mo­date the ur­gency of the pan­dem­ic and I think the en­tire FDA team has now seen first-hand that we need to take a crit­i­cal look at some of our process­es and poli­cies," Hahn said.
Hahn added that many of the changes the agency will im­ple­ment "rep­re­sent an ac­cel­er­a­tion of where we were head­ed be­fore," and in­clude sup­port for de­cen­tral­ized clin­i­cal tri­als, greater use of telemed­i­cine tech­nol­o­gy in clin­i­cal tri­als and work re­lat­ed to lab­o­ra­to­ry-de­vel­oped tests.
Hahn said he has in­struct­ed FDA staff "to iden­ti­fy the lessons learned from this pan­dem­ic and what ad­just­ments may be need­ed, not just to man­age this or fu­ture emer­gen­cies, but how to per­ma­nent­ly make FDA more ef­fi­cient in car­ry­ing out [its] reg­u­la­to­ry re­spon­si­bil­i­ties."
Ad­di­tion­al­ly, Hahn said FDA is us­ing re­al-world ev­i­dence to mon­i­tor the use of med­ical prod­ucts dur­ing the pan­dem­ic. "We very much used re­al-world ev­i­dence and our Sen­tinel sys­tem and oth­er re­sources to look back at the re­al-world use of di­ag­nos­tic tests and med­ical prod­ucts and then ad­just our au­tho­riza­tions based on that," he said, adding that re­al-world ev­i­dence can al­so help "to bet­ter un­der­stand dis­ease, de­scribe and mea­sure im­mu­ni­ty [and] un­der­stand the op­er­at­ing char­ac­ter­is­tics of tests."
Hahn al­so ad­dressed con­flict of in­ter­est con­cerns stem­ming from the role of Cen­ter for Drug Eval­u­a­tion and Re­search (CDER) Di­rec­tor Janet Wood­cock and Cen­ter for Bi­o­log­ics Eval­u­a­tion and Re­search (CBER) Di­rec­tor Pe­ter Marks in over­see­ing the re­view of prod­ucts de­vel­oped to treat or pre­vent Covid-19.
Wood­cock and Marks were both ini­tial­ly slat­ed to take lead­er­ship roles on the Trump ad­min­is­tra­tion's Op­er­a­tion Warp Speed. Short­ly af­ter the an­nounce­ment, Marks left his new role to fo­cus on head­ing CBER, while Wood­cock was tem­porar­i­ly re­as­signed to the Of­fice of the Com­mis­sion­er dur­ing her work on Op­er­a­tion Warp Speed.
"We have been very clear in writ­ing, but al­so ver­bal­ly, that we will main­tain our reg­u­la­to­ry in­de­pen­dence, so that Janet [Wood­cock] will not par­tic­i­pate in the reg­u­la­to­ry de­ci­sions around ther­a­peu­tics and Pe­ter and I will stay out­side of any de­ci­sion-mak­ing that Op­er­a­tion Warp Speed has to make with re­spect to med­ical prod­ucts so that we can main­tain our in­de­pen­dence," Hahn said.
For a look at all End­points News coro­n­avirus sto­ries, check out our spe­cial news chan­nel.
---
RAPS: First pub­lished in Reg­u­la­to­ry Fo­cus™ by the Reg­u­la­to­ry Af­fairs Pro­fes­sion­als So­ci­ety, the largest glob­al or­ga­ni­za­tion of and for those in­volved with the reg­u­la­tion of health­care prod­ucts. Click here for more in­for­ma­tion.