Strike three: Bris­tol-My­ers' third I/O shot at glioblas­toma miss­es as Op­di­vo flops yet again on key end­point
Glioblas­toma con­tin­ues to de­fy about every­thing thrown at it.
Bris­tol-My­ers Squibb put out word Thurs­day morn­ing that its third Phase III as­sault on brain can­cer us­ing its star PD-1 Op­di­vo failed the first end­point, with no sig­nif­i­cant im­prove­ment in pro­gres­sion-free sur­vival for pa­tients who face grim odds.
Check­Mate-548 ap­pears head­ed for a com­plete col­lapse, though over­all sur­vival is still be­ing stud­ied. Re­searchers had tried to see if the check­point ther­a­py could out­do the stan­dard of care by adding it to the stan­dard — temo­zolo­mide and ra­di­a­tion ther­a­py.
They al­ready tried — and failed — ear­li­er this year with Check­Mate-498, a Phase III that com­bined Op­di­vo and ra­di­a­tion against temo­zolo­mide. That tri­al failed the mark on OS in May.
Two years ago the com­pa­ny was forced to con­cede de­feat on Check­mate-143, the first use of a PD-1 against glioblas­toma.
Bris­tol-My­ers has had a string of set­backs in the clin­ic with Op­di­vo, though the phar­ma gi­ant still en­joys block­buster rev­enue even as Mer­ck's Keytru­da con­tin­ues its clin­i­cal blitz that put them on top of the mar­ket.
In this case, though, the Bris­tol-My­ers team joins a long list of fail­ures in fight­ing brain can­cer, which re­mains one of the tough­est tar­gets in on­col­o­gy. Ab­b­Vie had its own bit­ter set­back to re­port in May when their an­ti­body-drug con­ju­gate de­patux­izum­ab mafodotin (or de­patux-m; pre­vi­ous­ly known as ABT-414) al­so failed in im­prov­ing sur­vival times for brain can­cer vic­tims.
Sev­er­al years ago Ab­b­Vie showed up at AS­CO with ABT-414 and Ro­va-T to tout their po­ten­tial. Ro­va-T failed com­plete­ly for the R&D team, forc­ing a com­plete write-off of a drug they bought for $5.8 bil­lion up­front.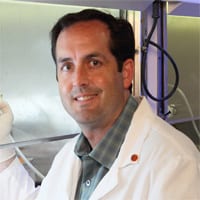 Robert Prins UCLA
A com­plete fail­ure here won't ex­tin­guish all hope that a PD-1 could yet play a role in glioblas­toma. Robert Prins at the UCLA Jon­s­son Com­pre­hen­sive Can­cer Cen­ter re­port­ed ev­i­dence ear­li­er this year from a tiny ex­plorato­ry tri­al that a check­point may help pa­tients when used ahead of surgery. But it's a long shot.
One of the few re­main­ing Phase III stud­ies for glioblas­toma like­ly to read out soon be­longs to Toca­gen $TO­CA which is mak­ing the dif­fi­cult as­sault with To­ca 511/FC. Re­searchers an­nounced sev­er­al months ago that they would con­tin­ue to the fi­nal read­out, dash­ing any hopes for an ear­ly suc­cess. There isn't much con­fi­dence in this drug, though, with the stock falling from a high north of $15 last fall to just above $3 a share this morn­ing. The mar­ket cap is hold­ing at a mi­cro-lev­el $72 mil­lion.
These fail­ures won't en­cour­age oth­ers to make a try.