THC ther­a­py tanks in PhI, send­ing Zyner­ba's stock tum­bling yet again
Zyner­ba's stock $ZYNE is get­ting crushed yet again af­ter news that its THC ther­a­py has flopped in a Phase I tri­al. At least this time, they're find­ing out ear­ly.
The De­von, Penn­syl­va­nia-based com­pa­ny was test­ing its trans­der­mal patch meant to de­liv­er THC, the psy­choac­tive cannabi­noid in cannabis, as a pro-drug in healthy vol­un­teers. The hope was to make a THC ther­a­py that didn't have to be tak­en oral­ly, which can cause high peak lev­els of THC in the blood caus­ing in­creased psy­choac­tive side ef­fects. Un­for­tu­nate­ly, the com­pa­ny wasn't able to get ZYN001 to take. The Phase I study re­sults in­di­cat­ed that tar­get blood lev­els of 5 to 15 ng/ml THC were not achieved.
Of­ten com­pared to GW Phar­ma­ceu­ti­cals, which has had some strik­ing suc­cess­es in the field, Zyner­ba has watched its stock yo-yo over the past year. This morn­ing, the com­pa­ny's stock is down 22% in pre-mar­ket trad­ing. And it's not the first time Zyner­ba has crashed on bad clin­i­cal tri­al news. Last sum­mer, its oth­er pipeline drug ZYN002, a CBD gel, flopped in mid-stage tri­als in epilep­sy and knee pain from os­teoarthri­tis.
The com­pa­ny has had more luck with ZYN002 in Frag­ile X syn­drome, an autism spec­trum dis­or­der that's tough to treat at the source. Zyner­ba didn't go af­ter the dis­ease it­self, but rather symp­toms that can make life mis­er­able for the pa­tients and their fam­i­lies. Since its THC pro-drug has flopped in Phase I, Zyner­ba said it's go­ing to fo­cus its ef­forts on Frag­ile X and de­vel­op­men­tal and epilep­tic en­cephalopa­thy (DEE), and adult re­frac­to­ry epilep­sy pro­grams.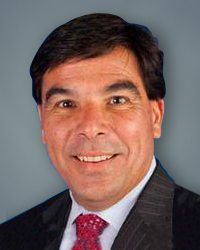 Ar­man­do Anido
We spoke with Zyner­ba's CEO Ar­man­do Anido back in April about how the com­pa­ny might com­pete with GW Phar­ma­ceu­ti­cals. At the time, Anido said he was con­fi­dent there was room for both play­ers.
"We do be­lieve that we have a dif­fer­ent way of de­liv­er­ing CBD, it is trans­der­mal, it by­pass­es the GI tract, of which we know GW has had a num­ber of GI dis­tur­bances with their prod­uct," he said. "It al­so by­pass­es first-pass me­tab­o­lism, which we be­lieve ac­tu­al­ly may min­i­mize some of the is­sues that GW faced with el­e­vat­ed transam­i­nas­es in the liv­er."
Anido al­so not­ed the com­pa­ny has enough cash to get "well in­to 2019," in­clud­ing the mid-stage tri­als they're do­ing in DEE and Frag­ile X. The com­pa­ny's press re­lease this morn­ing clar­i­fied that it has $52 mil­lion in cash and cash equiv­a­lents.