#ASH17: The big los­er in CAR-T, Juno is mak­ing a bid to seize the fast lane to fron­trun­ner sta­tus
Juno Ther­a­peu­tics $JUNO may be play­ing catchup in CAR-T. But if the lat­est cut of its 3-month DL­B­CL da­ta at the top dose holds up, the biotech won't be play­ing for sec­ond — or third — place.
In their ab­stract out for ASH this morn­ing, Juno ex­ecs spelled out a key piece of da­ta for the high dose arm of the ear­ly study on JCAR017. Ze­ro­ing in on that one snap­shot, re­searchers say they tracked an 80% over­all re­sponse rate and a 73% com­plete re­sponse rate at 3 months for the high dose among a "piv­otal core" group of 15 pa­tients.
Gilead's Kite and No­var­tis saw a slight de­cline in the CR rates to the low 30s go­ing from 3 to 6 months, leav­ing Juno a win­dow for con­sid­er­able im­prove­ment.
To be sure, Juno still has a long way to go af­ter its lead JCAR015 proved to be a lethal, tox­ic dis­as­ter in what was in­tend­ed to be a piv­otal study. But the biotech isn't at all con­tent to be re­main­dered to the sec­tion of the in­dus­try that counts the num­ber of pa­tients killed in a failed study. In­stead, Juno be­lieves that its fol­low-up pro­gram will prove that the big sums gam­bled on its tech­nol­o­gy will show that they came up with a bet­ter CAR-T, with a more ef­fec­tive man­u­fac­tur­ing process and a safer pro­file that will ul­ti­mate­ly carve out a big place for it­self in the mar­ket.
In­vestors liked what they were see­ing, dri­ving up Juno's shares by 10% this morn­ing.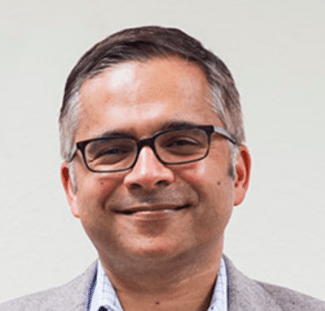 Sunil Agar­w­al
Every­thing is rid­ing on this one. There won't be much chance for a third shot at suc­cess.
What's dif­fer­ent this time?
"The anal­o­gy I'll give you," says R&D chief Sunil Agar­w­al: "Small changes in the an­ti­body world can make big dif­fer­ences; all CARs are not the same."
There's more to come at ASH, he adds, where they can re­view the re­sponse for a big­ger group of pa­tients. But the es­sen­tial ef­fi­ca­cy and safe­ty pro­file on dis­play to­day, he adds, isn't go­ing to change.
Says Agar­w­al: "I think these da­ta con­tin­ue to sup­port a best-in-class pro­file."
For one, there's the switch to the 4-1BB cos­tim­u­la­to­ry do­main, which al­lows for a slow and steady ac­ti­va­tion that sets the foun­da­tion for a more durable re­sponse.
Hans Bish­op
But that's a fea­ture that No­var­tis' CAR-T shares as well. Juno CEO Hans Bish­op tells me the "pre­cise pro­duc­tion" val­ues used now in mak­ing the ther­a­py from cells ex­tract­ed from pa­tients is just far more pre­cise.
"We know CD4 and CD8 cells act dif­fer­ent, CD8 cells are more po­tent," says Bish­op. Get­ting the right mix with a mea­sured ex­pan­sion of cells now is part of a pre­cise­ly arranged pro­duc­tion recipe that dis­tin­guish­es JCAR017 from the rest, he as­serts.
Bish­op isn't talk­ing ex­act pric­ing yet, and won't un­til much lat­er in the game. But he does want peo­ple to un­der­stand that to be com­pet­i­tive here in­volves beat­ing out some steep ex­ist­ing costs in treat­ing DL­B­CL or ALL. Safe­ty, he says, will play a big role in that.
The lat­est up­date on the da­ta re­mains with 1 pa­tient suf­fer­ing from cy­tokine re­lease syn­drome, and 14% with neu­ro­tox­i­c­i­ty run­ning from Grade 1 to Grade 4. That's not a per­fect score, by any means, but in this world Bish­op feels the num­bers give Juno an ad­van­tage over worse is­sues with the mar­ket lead­ers.
Close to two thirds of the pa­tients in their study nev­er ex­hib­it­ed any signs of tox­i­c­i­ty, ei­ther cy­tokine re­lease syn­drome or neu­ro­tox­i­c­i­ty, which ul­ti­mate­ly de­stroyed Juno's lead ther­a­py, JCAR015, af­ter it killed 5 pa­tients. In this world, any tox, Grade 1 or above, earns pa­tients a one-way trip to the hos­pi­tal, which doesn't come cheap. By avoid­ing tox, Juno hopes to prove that most pa­tients can be treat­ed in an out­pa­tient set­ting, vast­ly re­duc­ing their over­all cost — which some ex­perts say may well range from $1 mil­lion to $1.5 mil­lion, all in.
It's a com­pelling ar­gu­ment, and one that Juno has care­ful­ly craft­ed af­ter one of the worst clin­i­cal set­backs in re­cent his­to­ry. Their R&D work here will be care­ful­ly scru­ti­nized at every step. To get on to the mar­ket, they'll have to pass muster at the hands of a group of reg­u­la­tors em­bar­rassed by their abrupt and in­ex­plic­a­ble de­ci­sion to lift the orig­i­nal hold on JCAR015 af­ter just a few days — al­low­ing more pa­tients to die.
Juno has a high bar to clear, but they're tak­ing a run­ning leap at it.