We're just a little past the halfway mark in 2016, and we've got a mixed assortment of trends at play for FDA watchers in the big game of blockbuster approvals — John Carroll
---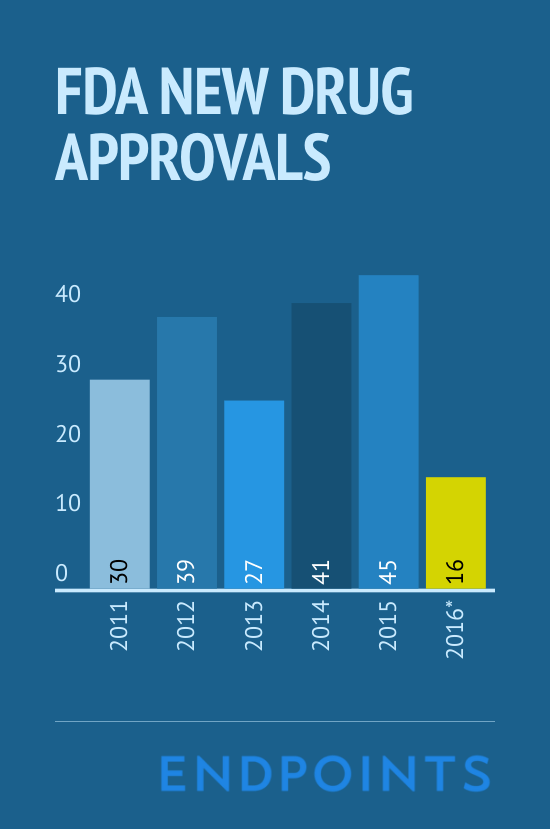 First—the FDA's list of new drugs which earned a green flag is now just at 15 (16 if you include last night's OK for Sanofi's diabetes drug lixisenatide). For all of last year, the FDA OK'd a generation-high record of 45 new drugs, leaving the industry far off pace. Any significant fall in that number is likely to trigger some new questions about R&D productivity.
But raw figures like these aren't everything. More than half of these new drugs have been tapped at one time or another as either blockbusters in the making or a key player in a company's franchise defense playbook.
The emphasis these days is on big drugs that deliver big revenue.
Second—it's seemingly pretty easy to land a breakthrough drug designation at the FDA to speed things along, especially if you have an interesting cancer drug. Five of the 15 drugs on the FDA's approval list had BTD status–matched by blockbuster sales projections–including both cancer drugs. Three of those BTDs won an accelerated approval, so you can see how big the payoff can be. The agency cancer czar Richard Pazdur has an open door policy for all the big cancer programs these days, which helps explain why CBER cleared the way so fast for Juno to get back into the clinic with its CAR-T drug after 4 patients were killed by their drug combo.
The big picture: Cancer drug R&D goes faster, more biotechs get to play early on, more money gets pumped into oncology startups.
Third—there are some clear big winners. And I'm putting the emphasis on big, as the pharma giants are dominating the NDA field in 2016.
Roche is a standout, earning the FDA's approval for its PD-L1 drug Tecentriq. The pioneer checkpoints have been racking up multibillion dollar sales, and Roche plans to be a contender. Its big Genentech subsidiary has a long lineup of studies in the clinic that mix and match its drug for a range of cancers. Roche also scored a big gain with an OK for the BCL-2 inhibitor Venclexta (three BTDs), another blockbuster in the making which is partnered with AbbVie. Both of those big players are facing first-wave biosimilars that could badly damage their aging franchises.
Just a few weeks ago the FDA also put Roche's multiple sclerosis drug ocrelizumab – uniquely tapped for both primary progressive as well as relapsing/remitting — on its fast track with a December 28 PDUFA date. (It's another BTD drug, natch, so an OK could come much sooner.) Evaluate Pharma has pegged peak potential sales at $2.9 billion, making this their number 1 drug of the year, with a bullet.
One reason why Eli Lilly CEO John Lechleiter could prep a move to stand down soon revolves around the recent approval of Taltz (ixekizumab). But it also has the CDK 4/6 cancer drug abemaciclib (another BTD drug) and baricitinib for rheumatoid arthritis on tap for near-term approvals. Those approvals could happen fast, as both earned 'breakthrough' designations, putting them on the agency's inside track.
Lechleiter has been batting back questions about Lilly's R&D operations for years. And while Lilly has a habit of muscling in on highly competitive drug development races, analysts like these drugs a lot.
Merck is another winner, with its hep C combo Zepatier angling for a blockbuster wedge of a big pie that's started to shrink around the edges as the competition hit the field. But Gilead, probably the most competitive biopharma company on the planet, also counter punched with an approval for Epclusa, an all-genotype hep C drug priced at a discount rate of $74,000. Gilead is trying to protect its enormous hep C franchise as well as it can.
Among the smaller companies looking to conquer big markets: Intercept scored with Ocaliva (obeticholic acid, or OCA) and Acadia won on Nuplazid (pimavanserin), a Parkinson's drug which analysts at varying times have tapped at peak sales of anywhere from $640 million to more than $2 billion. (Keep in mind, last year's potential blockbusters often turn into this year's commercial disappointments.)
So who are the big losers so far in 2016?
AstraZeneca, which can ill afford it, continues to dump anything that disappoints. So lesinurad went to Ironwood, which paid a fraction of what AstraZeneca shelled out for it. That deal followed its move to cast off brodalumab to Valeant. And one indication of tralokinumab was sold off. The key regulatory setback occurred when the FDA put its application for ZS-9 on hold due to questions regarding manufacturing.
No list of regulatory setbacks should exclude Clovis, which had to throw in the towel on rociletinib after it fell embarrassingly short of the competition. Clovis has yet to acknowledge that it has formally been handed a CRL, a sign of the times at that beleaguered company.
BioMarin's drisapersen was handed a rejection for Duchenne muscular dystrophy in Europe, following an FDA slap down. The company killed it, along with some follow-up programs.
Failure in Big Pharma tends to get a quick send off, especially at Novartis. So it was no surprise to see that a CRL for one of its top biosimilars was relegated to a one-liner in a recent financial report.
Blockbuster success gets a marching band in the R&D industry. Failure is buried quietly at night.
---
The best place to read
Endpoints News

? In your inbox.

Comprehensive daily news report for those who discover, develop, and market drugs. Join 51,100+ biopharma pros who read Endpoints News by email every day.

Free Subscription
---
---
---