The biggest win­ners and losers in the 2016 game of block­busters
We're just a lit­tle past the halfway mark in 2016, and we've got a mixed as­sort­ment of trends at play for FDA watch­ers in the big game of block­buster ap­provals — John Car­roll
---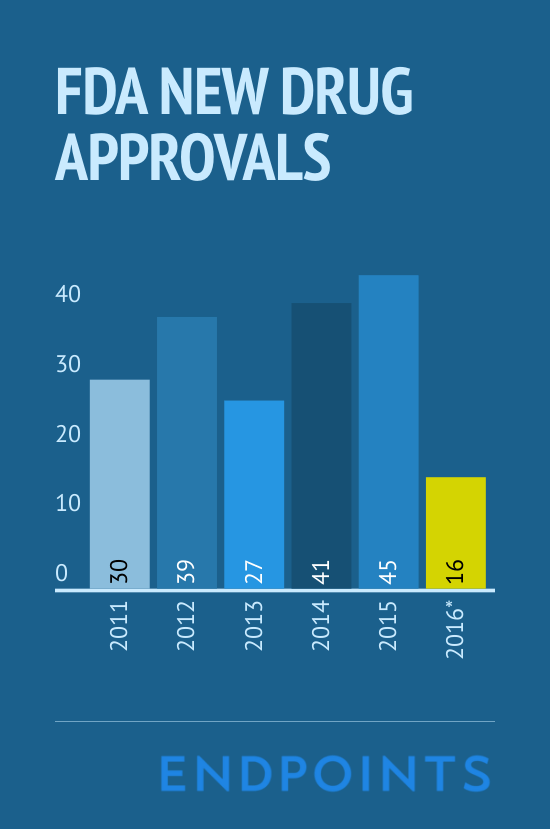 First—the FDA's list of new drugs which earned a green flag is now just at 15 (16 if you in­clude last night's OK for Sanofi's di­a­betes drug lixise­n­atide). For all of last year, the FDA OK'd a gen­er­a­tion-high record of 45 new drugs, leav­ing the in­dus­try far off pace. Any sig­nif­i­cant fall in that num­ber is like­ly to trig­ger some new ques­tions about R&D pro­duc­tiv­i­ty.
But raw fig­ures like these aren't every­thing. More than half of these new drugs have been tapped at one time or an­oth­er as ei­ther block­busters in the mak­ing or a key play­er in a com­pa­ny's fran­chise de­fense play­book.
The em­pha­sis these days is on big drugs that de­liv­er big rev­enue.
Sec­ond—it's seem­ing­ly pret­ty easy to land a break­through drug des­ig­na­tion at the FDA to speed things along, es­pe­cial­ly if you have an in­ter­est­ing can­cer drug. Five of the 15 drugs on the FDA's ap­proval list had BTD sta­tus–matched by block­buster sales pro­jec­tions–in­clud­ing both can­cer drugs. Three of those BTDs won an ac­cel­er­at­ed ap­proval, so you can see how big the pay­off can be. The agency can­cer czar Richard Paz­dur has an open door pol­i­cy for all the big can­cer pro­grams these days, which helps ex­plain why CBER cleared the way so fast for Juno to get back in­to the clin­ic with its CAR-T drug af­ter 4 pa­tients were killed by their drug com­bo.
The big pic­ture: Can­cer drug R&D goes faster, more biotechs get to play ear­ly on, more mon­ey gets pumped in­to on­col­o­gy star­tups.
Third—there are some clear big win­ners. And I'm putting the em­pha­sis on big, as the phar­ma gi­ants are dom­i­nat­ing the NDA field in 2016.
Roche is a stand­out, earn­ing the FDA's ap­proval for its PD-L1 drug Tecen­triq. The pi­o­neer check­points have been rack­ing up multi­bil­lion dol­lar sales, and Roche plans to be a con­tender. Its big Genen­tech sub­sidiary has a long line­up of stud­ies in the clin­ic that mix and match its drug for a range of can­cers. Roche al­so scored a big gain with an OK for the BCL-2 in­hibitor Ven­clex­ta (three BTDs), an­oth­er block­buster in the mak­ing which is part­nered with Ab­b­Vie. Both of those big play­ers are fac­ing first-wave biosim­i­lars that could bad­ly dam­age their ag­ing fran­chis­es.
Just a few weeks ago the FDA al­so put Roche's mul­ti­ple scle­ro­sis drug ocre­lizum­ab – unique­ly tapped for both pri­ma­ry pro­gres­sive as well as re­laps­ing/re­mit­ting — on its fast track with a De­cem­ber 28 PDU­FA date. (It's an­oth­er BTD drug, natch, so an OK could come much soon­er.) Eval­u­ate Phar­ma has pegged peak po­ten­tial sales at $2.9 bil­lion, mak­ing this their num­ber 1 drug of the year, with a bul­let.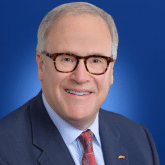 Eli Lil­ly CEO John Lech­leit­er
One rea­son why Eli Lil­ly CEO John Lech­leit­er could prep a move to stand down soon re­volves around the re­cent ap­proval of Taltz (ix­ek­izum­ab). But it al­so has the CDK 4/6 can­cer drug abe­maci­clib (an­oth­er BTD drug) and baric­i­tinib for rheuma­toid arthri­tis on tap for near-term ap­provals. Those ap­provals could hap­pen fast, as both earned 'break­through' des­ig­na­tions, putting them on the agency's in­side track.
Lech­leit­er has been bat­ting back ques­tions about Lil­ly's R&D op­er­a­tions for years. And while Lil­ly has a habit of muscling in on high­ly com­pet­i­tive drug de­vel­op­ment races, an­a­lysts like these drugs a lot.
Mer­ck is an­oth­er win­ner, with its hep C com­bo Zepati­er an­gling for a block­buster wedge of a big pie that's start­ed to shrink around the edges as the com­pe­ti­tion hit the field. But Gilead, prob­a­bly the most com­pet­i­tive bio­phar­ma com­pa­ny on the plan­et, al­so counter punched with an ap­proval for Ep­clusa, an all-geno­type hep C drug priced at a dis­count rate of $74,000. Gilead is try­ing to pro­tect its enor­mous hep C fran­chise as well as it can.
Among the small­er com­pa­nies look­ing to con­quer big mar­kets: In­ter­cept scored with Ocali­va (obeti­cholic acid, or OCA) and Aca­dia won on Nu­plazid (pi­ma­vanserin), a Parkin­son's drug which an­a­lysts at vary­ing times have tapped at peak sales of any­where from $640 mil­lion to more than $2 bil­lion. (Keep in mind, last year's po­ten­tial block­busters of­ten turn in­to this year's com­mer­cial dis­ap­point­ments.)
So who are the big losers so far in 2016?
As­traZeneca, which can ill af­ford it, con­tin­ues to dump any­thing that dis­ap­points. So lesin­u­rad went to Iron­wood, which paid a frac­tion of what As­traZeneca shelled out for it. That deal fol­lowed its move to cast off bro­dalum­ab to Valeant. And one in­di­ca­tion of tralok­inum­ab was sold off. The key reg­u­la­to­ry set­back oc­curred when the FDA put its ap­pli­ca­tion for ZS-9 on hold due to ques­tions re­gard­ing man­u­fac­tur­ing.
No list of reg­u­la­to­ry set­backs should ex­clude Clo­vis, which had to throw in the tow­el on rocile­tinib af­ter it fell em­bar­rass­ing­ly short of the com­pe­ti­tion. Clo­vis has yet to ac­knowl­edge that it has for­mal­ly been hand­ed a CRL, a sign of the times at that be­lea­guered com­pa­ny.
Bio­Marin's dris­apersen was hand­ed a re­jec­tion for Duchenne mus­cu­lar dy­s­tro­phy in Eu­rope, fol­low­ing an FDA slap down. The com­pa­ny killed it, along with some fol­low-up pro­grams.
Fail­ure in Big Phar­ma tends to get a quick send off, es­pe­cial­ly at No­var­tis. So it was no sur­prise to see that a CRL for one of its top biosim­i­lars was rel­e­gat­ed to a one-lin­er in a re­cent fi­nan­cial re­port.
Block­buster suc­cess gets a march­ing band in the R&D in­dus­try. Fail­ure is buried qui­et­ly at night.