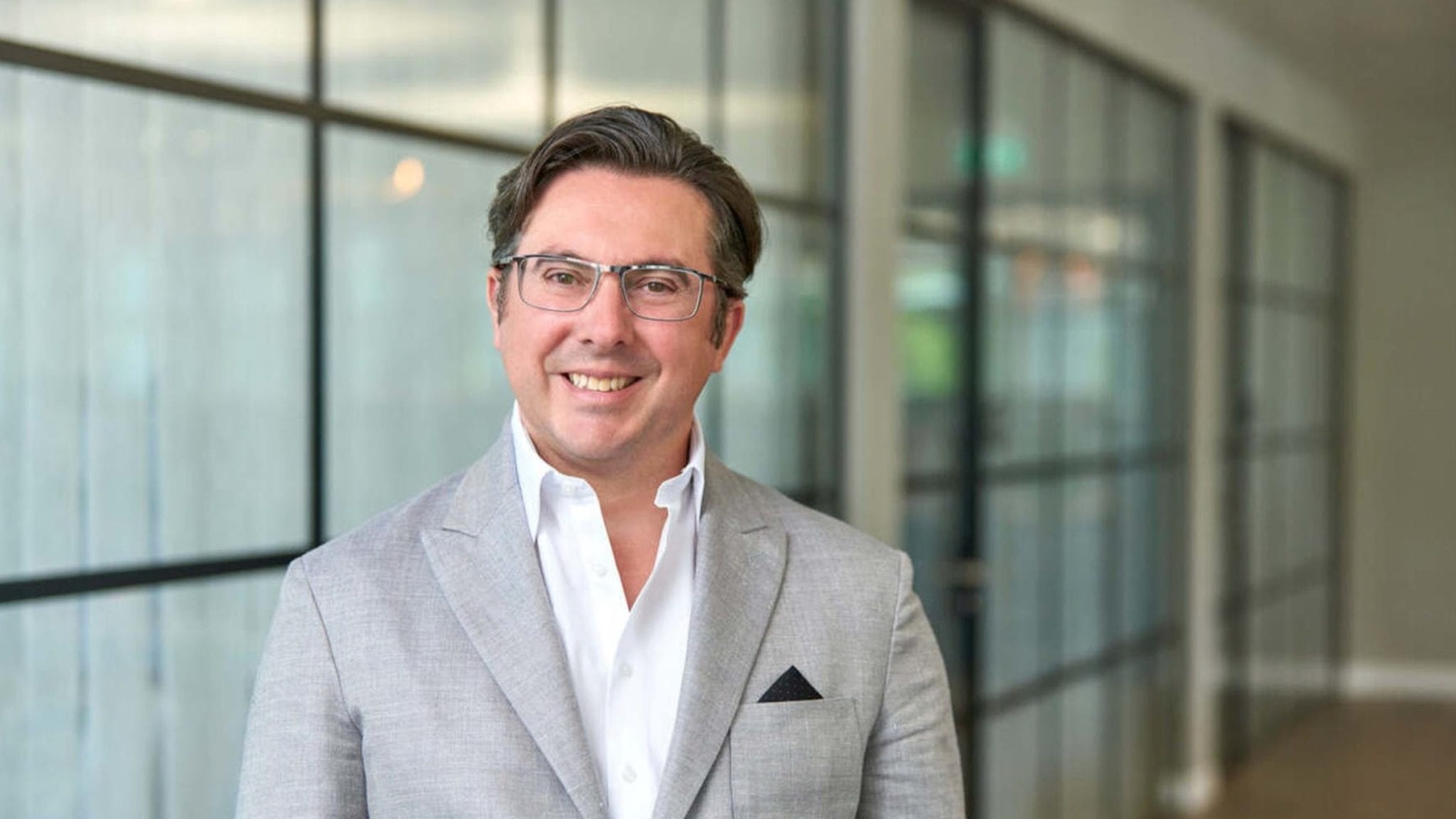 Andrew Hopkins, Exscientia CEO
The cash won't stop for Ex­sci­en­tia as it makes a $300M+ Nas­daq de­but
Ed­i­tor's note: In­ter­est­ed in fol­low­ing bio­phar­ma's fast-paced IPO mar­ket? You can book­mark our IPO Track­er here.
An AI biotech with lit­tle hu­man da­ta — but lots of hype — is once again drown­ing in cash.
Ex­sci­en­tia priced its IPO late Thurs­day evening, an­nounc­ing it pulled in $304.7 mil­lion with the raise. The pub­lic de­but marks Ex­sci­en­tia's third nine-fig­ure raise of the year, af­ter the biotech ex­pand­ed its Se­ries C to $100 mil­lion in March and raised more than half a bil­lion dol­lars in a pair of fi­nanc­ings in April. Ex­sci­en­tia shares will be­gin trad­ing Fri­day at $22 apiece un­der the tick­er $EX­AI.
Thurs­day, too, saw Ex­sci­en­tia raise more than just the IPO. In con­junc­tion with the pric­ing, the Ox­ford, UK-based biotech got an­oth­er $160 mil­lion in pri­vate place­ments from Soft­Bank and the Bill and Melin­da Gates Foun­da­tion.
With the de­but, de­tails about the big IPO win­ners are com­ing in­to fo­cus. The biggest share­hold­er is now Soft­Bank, which will get a 16.3% stake af­ter the of­fer­ing. CEO An­drew Hop­kins is sec­ond on the list with 15.8% of shares.
But al­so no­table are the stakes from Evotec, No­vo Hold­ings and Bris­tol My­ers Squibb. Evotec and No­vo will each get about 11-12% of shares when the of­fer­ing clos­es, and Bris­tol My­ers is cash­ing in on an old Cel­gene deal with a 4.7% stake. The Big Phar­ma ex­pand­ed a Cel­gene-era deal with Ex­sci­en­tia ear­li­er this year, promis­ing up to $1.2 bil­lion in mile­stones in May.
The biotech has re­mained busy at the deal­mak­ing ta­ble. Ex­sci­en­tia fol­lowed that up with a small ac­qui­si­tion for the mol­e­cule-screen­ing biotech All­cyte in June — us­ing Soft­Bank's cash — and less than two weeks lat­er joined forces with EQRx.
AI-fo­cused biotechs have proven large­ly suc­cess­ful at lur­ing in­vestors with bold promis­es about their tech­nol­o­gy, with Ex­sci­en­tia's ef­forts at the fore­front. The com­pa­ny has promised to cut down on the lengthy drug de­vel­op­ment process by months, if not years, and is join­ing one of its main com­peti­tors on Nas­daq in Re­cur­sion Phar­ma­ceu­ti­cals.
Re­cur­sion's IPO came in a bit larg­er at $436.4 mil­lion, but both com­pa­nies claimed to plant the im­por­tant AI mile­stone flag — be­ing the first biotech to put an AI-de­vel­oped drug in­to the clin­ic. Re­cur­sion did so in Ju­ly 2019, though the biotech has said the pro­gram came out of Dean Li's old lab be­fore he joined Mer­ck.
Ex­sci­en­tia, mean­while, made its claim in Jan­u­ary 2020 with a can­di­date de­vel­oped in part­ner­ship with Sum­it­o­mo Dainip­pon. The pro­gram emerged af­ter the pair syn­the­sized 350 com­pounds and test­ed them in a lab be­fore de­cid­ing on one to move for­ward. But re­gard­less of which biotech is re­al­ly the first to de­vel­op a drug with AI, both con­tin­ue to at­tract sig­nif­i­cant in­vest­ment and part­ner­ships.
Al­so wait­ing in the IPO wings is the ma­chine learn­ing biotech in­sitro, which hasn't an­nounced plans to go pub­lic just yet but raked in $400 mil­lion in a Se­ries C this past March. Ex­sci­en­tia plans to spend be­tween $50 mil­lion and $75 mil­lion on push­ing its plat­form for­ward, with an­oth­er $25 mil­lion to $50 mil­lion slat­ed to com­plete a Phase I study for EXS21546.
As the cal­en­dar turns to the fourth quar­ter Fri­day, the biotech IPO mar­ket is be­gin­ning to stir once again. Ex­sci­en­tia's de­but pushed the to­tal com­bined raise past $13.5 bil­lion, per the End­points News tal­ly, and the in­dus­try re­mains on pace to eclipse 2020's record raise of $16.5 bil­lion. But af­ter a sum­mer slow­down, the race will like­ly come down to the wire.
Clar­i­fi­ca­tion: This ar­ti­cle has been clar­i­fied to more ac­cu­rate­ly re­flect the na­ture of Soft­Bank's stake in Ex­sci­en­tia. Soft­Bank con­trols the shares, not part­ner Joanne Xu.