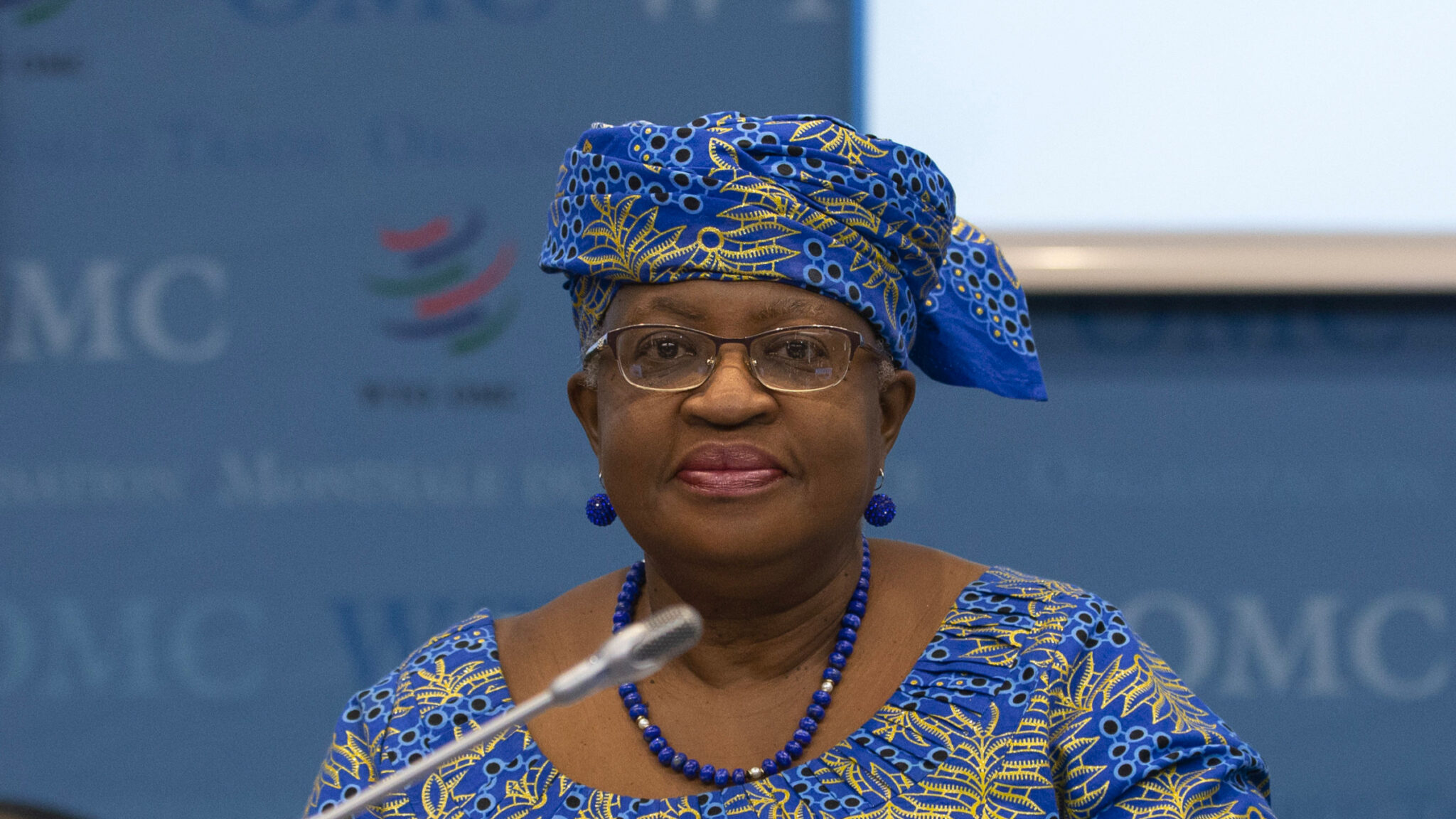 Ngozi Okonjo-Iweala, Director general of WTO (Salvatore Di Nolfi/Keystone via AP Images)
The Covid-19 vac­cine IP waiv­er is back at the WTO, with a new dead­line. Can it muster enough sup­port?
World Trade Or­ga­ni­za­tion di­rec­tor-gen­er­al Ngozi Okon­jo-Iweala called on mem­bers late last week to move swift­ly and forge at least a draft agree­ment on the di­vi­sive IP waiv­er for Covid-19 vac­cines by the end of Feb­ru­ary.
Those ad­vo­cat­ing for such a waiv­er, in­clud­ing coun­tries like the US, In­dia and South Africa and oth­er aid groups like Doc­tors With­out Bor­ders, have called to help more coun­tries man­u­fac­ture their own vac­cines more quick­ly, a task that has lost sig­nif­i­cant time due to these long ne­go­ti­a­tions. Some like MSF ar­gue that the waiv­er shouldn't just in­clude vac­cines but should pro­vide a "crit­i­cal le­gal path­way for coun­tries to fa­cil­i­tate more di­ver­si­fied and sus­tain­able pro­duc­tion and sup­ply" of all Covid-re­lat­ed tools, in­clud­ing tests and ther­a­peu­tics too.
Even Eu­ro­pean lead­ers, who at first balked at the idea, seemed to have come around in re­cent months.
On the oth­er side of the de­bate, the vac­cine de­vel­op­ers that de­vel­oped the cur­rent suite of prod­ucts (of­ten with sig­nif­i­cant gov­ern­ment sup­port) ar­gue that the IP waiv­er is not what's con­strain­ing pro­duc­tion. Pfiz­er and BioN­Tech say they ex­pect to pro­duce 4 bil­lion dos­es of their vac­cine in 2022, and the IF­P­MA has said that man­u­fac­tur­ers in the US, EU, In­dia and Chi­na will like­ly make more than 12 bil­lion dos­es by mid-2022.
"We don't want to cre­ate a sit­u­a­tion where peo­ple com­pete for re­sources, where there are dif­fer­ent ver­sions of the prod­uct," BioN­Tech CEO Uğur Şahin told End­points News in an in­ter­view in No­vem­ber. "We re­al­ly be­lieve the way to deal with that is to ask the ques­tion of how — how this can be pro­duced, and to be re­al­ly pa­tient. It took us 10 years to de­vel­op this; there are 50,000 steps, it's not just the man­u­fac­tur­ing, but the an­a­lyt­i­cal as­says, dozens of which need to be val­i­dat­ed."
Re­gard­less, WTO's Okon­jo-Iweala is push­ing ahead with her plan, de­spite an al­ready-missed De­cem­ber dead­line on the waiv­er.
"We should strive to get this re­sult out by the end of Feb­ru­ary. It will be re­al­ly sad if this or­ga­ni­za­tion keeps talk­ing and de­bat­ing on this pan­dem­ic, and that by the time we come up with a re­sponse peo­ple will not think it rel­e­vant. I think we should re­al­ly move with all speed to try and con­clude this by the end of Feb­ru­ary," she said in a state­ment.
On Feb. 11, the WTO will hold a tech­ni­cal work­shop to sup­port these on­go­ing dis­cus­sions around Covid-19 vac­cine R&D, man­u­fac­tur­ing and dis­tri­b­u­tion, with rep­re­sen­ta­tives from As­traZeneca and No­vavax speak­ing.
"I have heard that there could be some sort of deal by then. No de­tails yet But I know that the EU, In­dia, South Africa, and the Unit­ed States have been meet­ing at the min­is­te­r­i­al lev­el on this," Thiru Bal­a­sub­ra­ma­ni­am, the Gene­va rep­re­sen­ta­tive of the NGO Knowl­edge Ecol­o­gy In­ter­na­tion­al, told End­points.
Re­gard­ing these small-group dis­cus­sions on the IP-re­lat­ed as­pects of the pan­dem­ic re­sponse, Okon­jo-Iweala asked for WTO mem­bers' pa­tience.
"This is a very dif­fi­cult is­sue. If it were easy, it would have been re­solved in the al­most two years that this dis­cus­sion has been go­ing on (in the TRIPS Coun­cil). This small group process … is go­ing on but it is very tough. I have to say there is no easy road," she added.