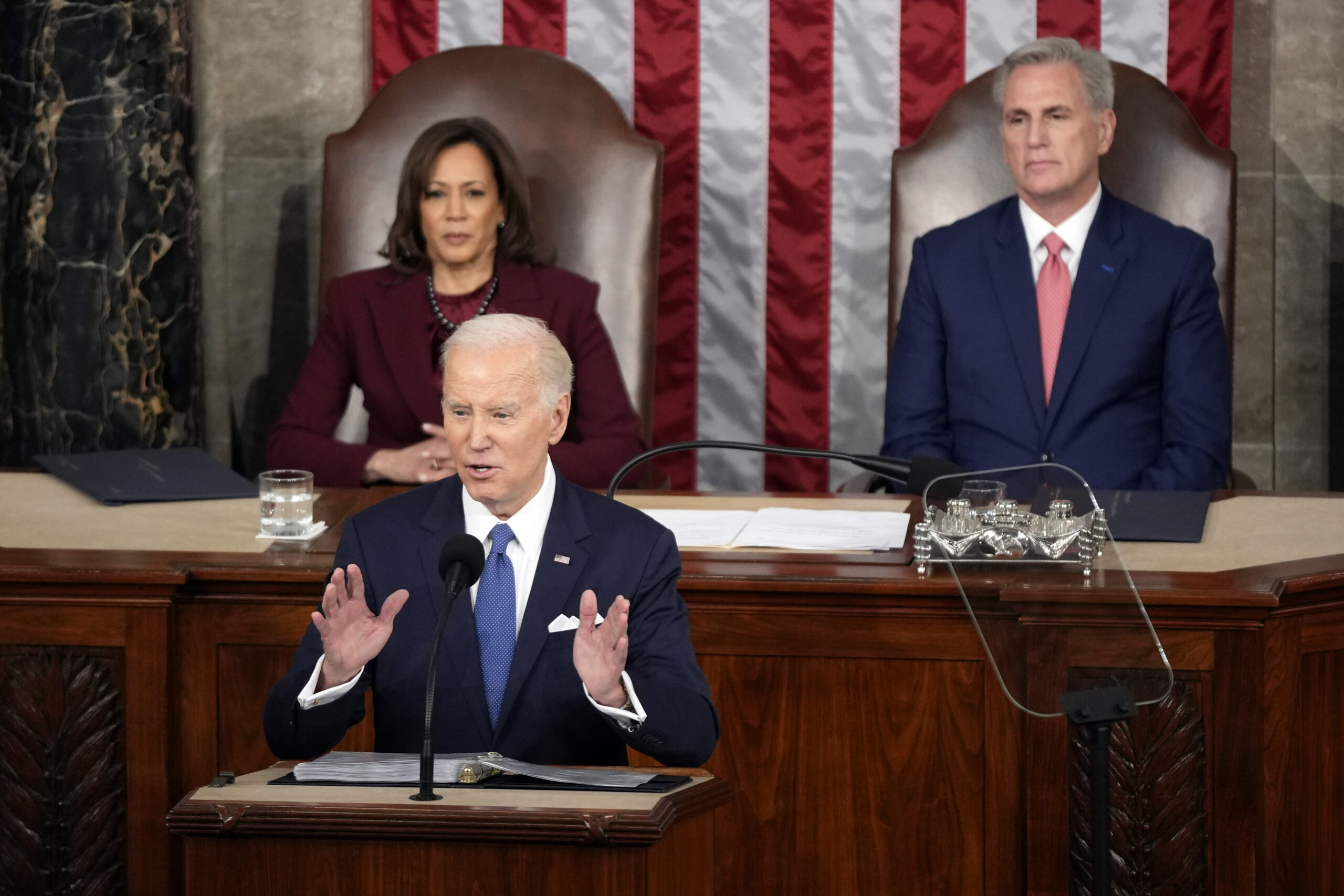 President Joe Biden at the State of the Union address with Vice President Kamala Harris and House Speaker Kevin McCarthy (Patrick Semansky/AP Images)
The drug pric­ing pres­i­dent: Biden warns of ve­to for any IRA re­peal at­tempts
Pres­i­dent Joe Biden made clear in his "fin­ish the job" State of the Union ad­dress last night that one of those jobs to be fin­ished is in­sulin prices.
Biden's push again to tack­le in­sulin prices, af­ter Re­pub­li­cans re­buffed the idea last sum­mer and just af­ter Biden won Medicare drug price ne­go­ti­a­tions/caps via the In­fla­tion Re­duc­tion Act, shows how heav­i­ly he's lean­ing in­to this work.
"You know, we pay more for pre­scrip­tion drugs than any ma­jor coun­try on Earth," he said last night, pledg­ing ac­tion.
We capped the cost of in­sulin at $35 a month for se­niors on Medicare. But there are mil­lions of oth­er Amer­i­cans who are not on Medicare, in­clud­ing 200,000 young peo­ple with Type I di­a­betes who need in­sulin to save their lives. Let's fin­ish the job this time. Let's cap the cost of in­sulin at $35 a month for every Amer­i­can who needs it.
The call to cap out-of-pock­et costs for in­sulin at $35 per month is not new, and even some of the biggest in­sulin mak­ers like Eli Lil­ly and Sanofi are back­ing the mea­sure.
In June, Sanofi al­so cut the month­ly price of its in­sulins for unin­sured Amer­i­cans to $35, down from $99 pre­vi­ous­ly.
Biden al­so played up the IRA's oth­er new cap — on out-of-pock­et drug costs for se­niors on Medicare, which is now set at a max­i­mum of $2,000 per year. He al­so touched on how if drug prices now rise faster than in­fla­tion, "drug com­pa­nies will have to pay Medicare back the dif­fer­ence. And we're fi­nal­ly giv­ing Medicare the pow­er to ne­go­ti­ate drug prices. Bring­ing down pre­scrip­tion drug costs doesn't just save se­niors mon­ey."
De­tails on both the re­bates and ne­go­ti­a­tions still need to be ironed out at CMS in the com­ing months, but Biden not­ed that some mem­bers (it passed on a strict­ly par­ti­san vote) are threat­en­ing to re­peal the IRA, to which Biden promised a swift ve­to.
"Make no mis­take, if you try to do any­thing to raise the cost of pre­scrip­tion drugs, I will ve­to it," he said.
Over­all, the speech con­tin­ued his pub­lic push against phar­ma.
From mid-Au­gust through ear­ly No­vem­ber, Biden was not ex­act­ly shy about how hap­py he was to have de­feat­ed Big Phar­ma with the pas­sage of the IRA and the sub­se­quent Medicare drug price ne­go­ti­a­tions that will kick off in 2026.
Biden's ral­ly­ing cry around beat­ing Big Phar­ma has been the high­light of stump speech­es.
"We beat Phar­ma this year," Biden said at a La­bor Day cel­e­bra­tion in Mil­wau­kee on Sept. 5. "We beat Phar­ma this year, and it mat­tered. We're go­ing to change peo­ple's lives. (Ap­plause.) We fi­nal­ly beat Phar­ma."